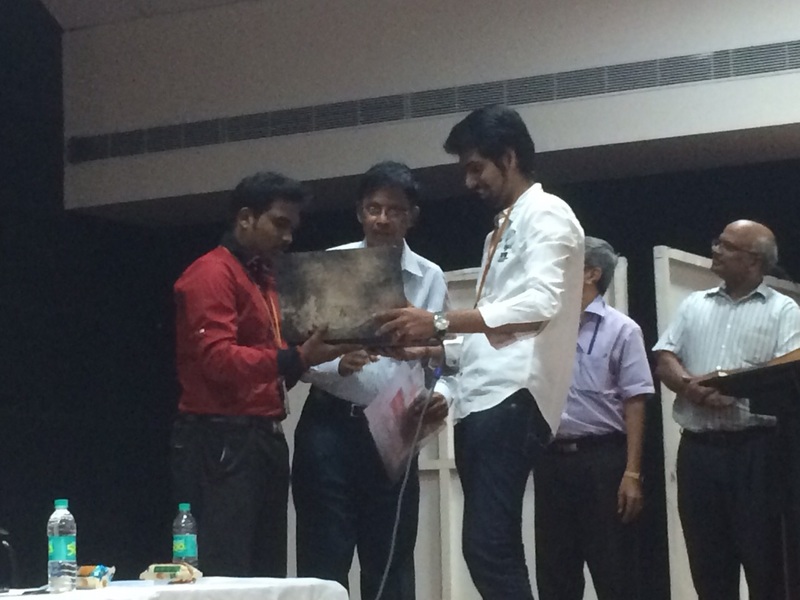 The launch of Green Brigade website http://www.greenbrigadeceg.in/ took place on 3rd February 2015 at 5:30 p.m at the Tag Audi, in CEG campus. It was launched by the honourable Chief Guest, Dr. M.B. Nirmal, Founder and Chairman, Exnora. The relationship between Dr. Nirmal and Green Brigade goes as far back as 2009, when he inaugurated the club and since then has been a pillar of support to them.
The event kick started with the welcome address by Dr. E. Natarajan, staff advisor of the Green Brigade. In his brief speech he welcomed the chief guest, and lauded Senthil and Arun of CSE 2nd year for making the incredible website. Following his speech, Ramya, Vice President, Green Brigade shed light on the events that were undertaken by the Green Brigade. She mentioned that the plan to launch the website started materialising in August 2014, mainly to explain to others the functions of Green Brigade. She elaborated about "Vriksha", the inter school competition that would be held at the end of February. She thanked NSS, YRC, NSO and NCC for helping them maintain the cleanliness of the campus.
Following Ramya, the honourable Dean Dr. P Narayanasamy, explained the importance of keeping the environments clean. He further elaborated on the activities of Green Brigade and how Green Brigade has been instrumental in keeping the campus clean. Following his speech, the website was launched by Dr. Nirmal, after which he took the dais for his inspirational "keynote" address.
Dr. Nirmal, "the human engineer" and "chronic optimist", as he called himself, started off with explaining how his desire to keep the surroundings clean has led to a great change in his life. He spoke about the 2000 varieties of plants present in his house, humorously quipped about it being a mini jungle. He further elucidated the need to keep the surroundings neat and suggested various methods to do so. He then openly invited green enthusiasts to join him in his march towards a greener tomorrow. Dr. Muck Broomstick Nirmal ended his speech by sharing his quote.
Stop Preaching. Start Doing. The world would become one scoundrel less, that's you
The event was followed by movie screening of "A Happening", a revenge story of the mother earth.