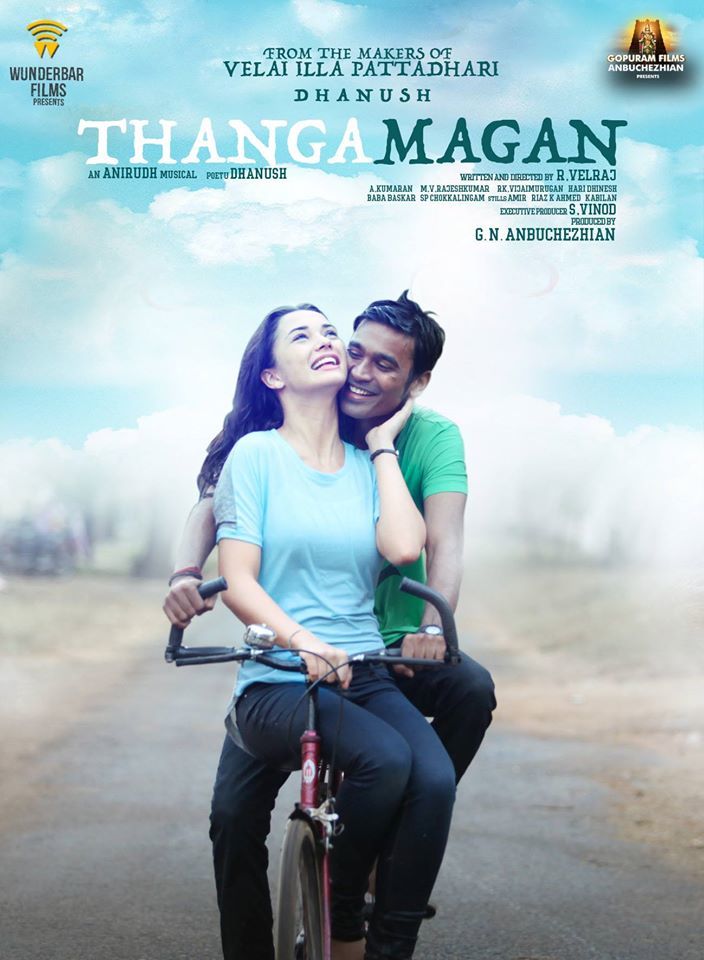 After the phenomenal success of Vellai Illa Pattadhari, director Velraj and actor Dhanush have come together for a sentimental family movie that is Thangamagan, named after an old Superstar movie.
Everytime Dhanush and Anirudh join hands, we expect something big. It started off with the famous VIP Theme music which still sends the crowds to raptures.
The story revolves around a middle class guy Tamizh (Dhanush) and his friend Kumaran (Satish) who find time to waste and subsequently fall in love for Hema (Amy Jackson) and her friend respectively. Tamizh and Hema have a rift and split, and the latter gets engaged to Tamizh's cousin. In the meantime, Tamizh gets an arranged marriage with Yamuna (Samantha) and what follows is the main story, where Tamizh's father (played by famous director K.S.Ravikumar) commits suicide after a betrayal
To put it in a nutshell, it is a well made breezy entertainer with all characters well etched out by the director. All of them give their best, and the comedy track in the first half between Dhanush and Satish make the movie an engaging venture. Amy Jackson has given a proper performance for the first time after Madrasapattinam.
Second half was a bit draggy, and in the name of a family sentiment, Velraj probably wanted some emotional moments, but it was over the top, which made the second half television serial-like.
Anirudh did not disappoint with the songs and the bgm. Perfectly-timed bgms kept the audience engaged.
Another negative of the film is that there are not many "mass" scenes which cater to Dhanush fans, particularly in the B and C audiences, which may not go well with people. This in complete contrast to VIP and Maari.
Verdict: Thangamagan is a one-time watchable movie, which family audiences and friends will enjoy till it lasts in the theatres.
Rating: 3/5