A GIANT LEAP FOR VIJAY WHILE A GIANT FALL FOR MURUGADOSS!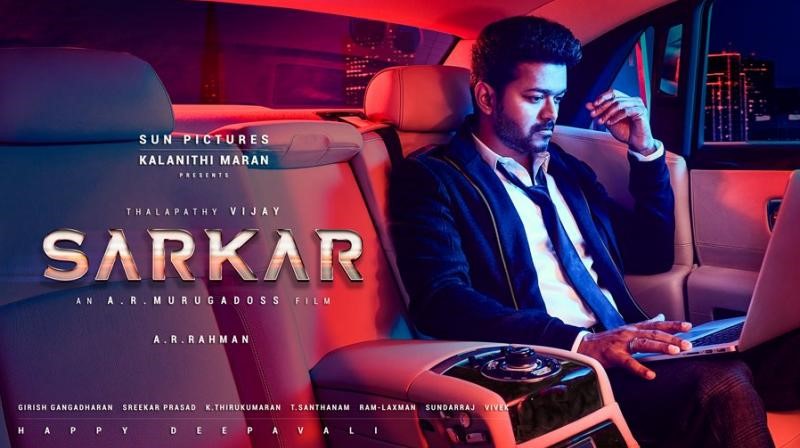 Usually, Diwali is synonymous with people garbing in new attires and dresses, salivating over a box full of sweets and snacks and finally celebrating their day with their friends and loved ones by bursting loads of crackers on the streets to celebrate this joyous occasion known as the 'Festival of Lights'. But now-a-days Diwali in Tamil Nadu is synonymous with another thing, a Thalapathy mass entertainer. It is hard to imagine a Diwali without this actor setting the cinema screens on fire with his gravity defying stunt moves, Michael Jacksonesque dance moves and MGR-like screen presence. This year, he returns with a bang in his latest outing Sarkar. Catch the review of Sarkar here.
After the humongous success of his previous film Mersal, Thalapathy Vijay returns to the big screen on the joyous occasion of Diwali as a returning NRI who wants to single handedly fight against the corrupt political system in Sarkar. The expectations for this film were sky high after the announcement of the famous director actor-combo of AR Murugadoss and Thalapathy Vijay returning again for the third time in their careers for this venture. After dishing out trend setting and simply rememberable films such as Thuppakki and Kaththi, the film's teaser and posters plus the recent controversy regarding plagiarism complaints against the film have only amped up the film's hype and buzz. Usually, Vijay's films are not without its controversies but Sarkar is definitely not like any other typical Vijay film. With Vijay's father, SA Chandrasekhar strongly suggesting that his son might make a political entry in the near future coupled with the Thalapathy's amazing speech delivered at the film's audio function, Sarkar is seen as the prologue to Vijay's imminent foray into politics. Bankrolled by Kalanithi Maran's Sun pictures and with the musical department helmed by Isaipuyal AR Rahman, the stage was set for the audience and fans to enjoy another Thalapathy Diwali mass entertainer.
The plot deals with a corporate monster Sundar(Vijay), a NRI billionaire, who returns to India to cast his vote. However, to his surprise and chagrin, it is revealed that his vote had already been cast without his knowledge illegally. While he plans to take the legal route to get back his right to vote, the circumstances force him to stay back and revolutionize the system which had earlier deprived him of his legal right. The director has chosen an apt subject which aims direct potshots at the existent government and its plans and he has judiciously utilized a variety of issues to neatly pack a social message about the current and corrupt game of politics. He establishes throughout the film that the world of politics is not in fact different from the world of business. The protagonist's clever usage of corporate world techniques such as branding, marketing and strategizing in the world of politics to rally the votes and gain the public's support is simple mindboggling and ingenious. For most part of the film, the director has got his act right. The certain scenes that are supposed to deliver have delivered, but it is interspersed or sandwiched between a couple of dragging scenes which slacken the pace of the film. The film is at certain times preachy, which doesn't make it an overall pleasing watch.
As for the performances, Vijay in a salt and pepper beard just oozes class and looks as slick as he has ever been in his long career. Although deprived of his much larger than life sequences, Vijay does complete justice to his role as an NRI and executes his role to a T with his charisma and well delivered punchlines. He carries out his role with nonchalance and after watching this movie, many of his haters might change their strong opinions of him. He shoulders the movie single handedly and it is definitely one of his best performances in his career, according to me. Except for Vijay, the rest of the performances are largely forgettable. Keerthy Suresh has no role of significance and does nothing but shake her legs for a couple of songs and sequences. Although Varalakshmi Sarathkumar impresses in her short role and has a meatier portion than Keerthy Suresh, her entry in the second half is seen as the last accelerated push to a slow-moving screenplay. Pala Karuppiah and Radha Ravi sizzle in their roles as politicians but they are not portrayed as the strong and cunning antagonistic characters that are a typical feature in all of Murugadoss's films. The lack of a strong villain who could go toe to toe with a man of Vijay's stature was the major drawback in this stretched out watch.
On the technical front, the movie has its own set of flaws and strengths. AR Rahman's music is surprisingly lackluster and acts as the major speed breaker at many portions in this political story. The feeble love track, erratic placement of the songs and the wafer-thin screenplay are the major negatives of this movie. The director and his team of producers must be applauded for their bold approach of presenting facts and adding credibility to a story based on the election laws of the country, but the insertion of certain scenes in order to corroborate a move seemed forced and superficial. It is quite evident that the director has done his homework on the subject, but his execution of it could have been better with some fine tuning. Although the message and the treatment of the plot were good, the movie loses its steam in the second half. The film's slick cinematography and action sequences are by far the most entertaining aspects of the film. The movie's running time of 2 hours 40 minutes could have been trimmed down greatly in order to have packed a far more entertaining watch for its audiences.
As for the film in general, it is nothing but old wine in a new bottle and with a new subject to tackle. Although the subject is highly necessary in today's world, the movie is portrayed in another age old cliched topic of a single man waging a lone war against the system. Sarkar is definitely worth a one-time watch that ultimately plays to the galleries. It is not the typical film we expect from a man who was able to churn entertainers such as Ghajini, Ramana and Thuppakki to name few, but it is a film that is relevant in today's world. At the end of the day, as a Vijay fan and a cinema buff, I left the theatre with mixed feelings. A big thumbs up for Vijay's political candidature but a big thumbs down for the director's portrayal and characterization. Although it may not have the feel and sharpness of Thuppakki and Kaththi, Sarkar is definitely another success for the hit director-actor combo and it can definitely be christened as a perfect action entertainer for this Diwali Season. Please do not miss out on this action packed political entertainer at a theatre near you.
Final Verdict: 3.2/5
Tweet