The South Indian film industry, one of the lucrative sectors of Media, never ceases to entertain the audience with its unique portrayal of emotions. The films provide a feast to the eyes and give us a taste of exhilarating experiences. Making movies on Motherhood, that are ethereal and rife with elegance & style, is not something new in K-Town.
This movie, a Keerthy Suresh starrer, Penguin is again a thriller that revolves around motherhood, a journey of a 'never-going-to-give-up' pregnant woman, from losing her child in the woods to finding him back after so many years, spans alongside the unveiling of everything lurking behind the tragedy.
Rhythm (Keerthy Suresh) a bold mother, leads a happy life and is about to have a second child.
The story begins with Rhythm's nightmares which features a tombstone, and a Charlie Chaplin figure with a yellow umbrella, who slices the flesh of her first son Ajay and gets drowned in the river as Rhythm is awakened by her dog's bark. The opening horror dream sequence of a pregnant lady's premonition keeps the audience on edge and piques our curiosity. Six months earlier, Rhythm narrates a bed-time tale to her son Ajay, about a penguin mother's grit in saving her son from the sea. This tale reflects the Rhythm's real-life where a ruthless masked monster kidnaps her son Ajay into the deep forests. She starts off on a deadly dangerous mission with her trained dog Cyrus to untangle the secrets behind the nightmares and protect her loved ones.

Six years passed and there is no trace of Ajay. Even the investigators suspected him to be dead. Rhythm, a strong-willed mother without any despair continues to search for her loving kid. And it paid her off. The story becomes more interesting after the arrival of Ajay who disappeared as a child and returns as a boy.
Lots of questions loom around Rhythm incessantly disturbing her. She attempts to find out the ruthless monster who deprived her son of a happy childhood. Then the second part of the story unfolds the mysteries one by one with an investigative thriller. Rhythm's trained dog Cyrus was a savior to her in finding the masked man. Towards the end, a sudden unexpected twist was revealed, which made it evident that sometimes our actions can provoke someone to the extent of causing us harm even if our intent isn't that. And unnecessary comparisons could produce devastating results.
There are three shots in the film by which the audience will be flabbergasted. The first is Rhythm's encounter with the Charlie- Chaplin figure wherein the filmmaker indicates his presence as omniscience in the midst of a fog. The second is when Rhythm finds her son in the dark forest. Albeit being nervous and afraid, she never gives up.This scene instills a sense of awe and respect towards mothers who shower unconditional love on their children and continue to remain the epitome of sacrifice. The third scene where she again ventures into woods to bring her son back by risking her own life, is pretty close to heart and proves Rhythm's profound love towards her son.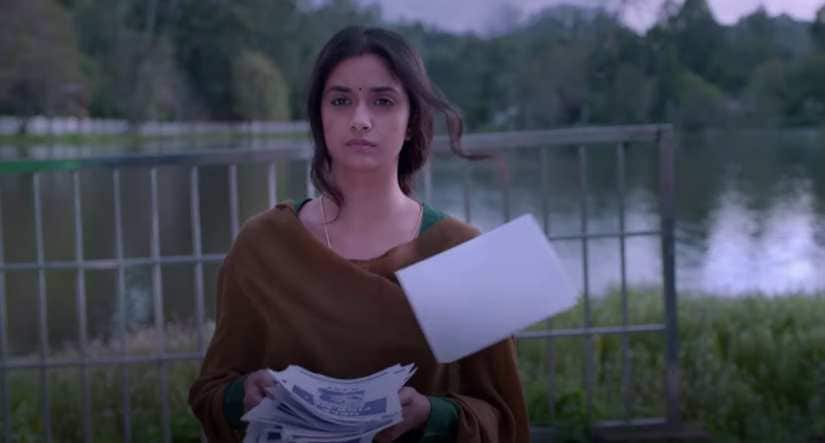 Overall, the film which is fraught with suspense, unimaginable twists and emotionally touching scenes, is worth watching and is perhaps a must-watch. The consistent and strong performance of actress Keerthy Suresh throughout the film delights the audience. The Penguin film adds another feather to her cap like the movie Mahanadi where she played an exceptional role. Her command over the language sprinkles more flavor to her movies.There are many such unsung mothers out there with stories that are adventurous & tragic more often than not and this movie emphasizes it really well.