Verdict: You have watched "Drishyam", no problem at all. But, "Papanasam" is still a must watch for every loyal Tamil cinema fan. It has good suspense and cast, what more can we ask for!
Rating: 4/5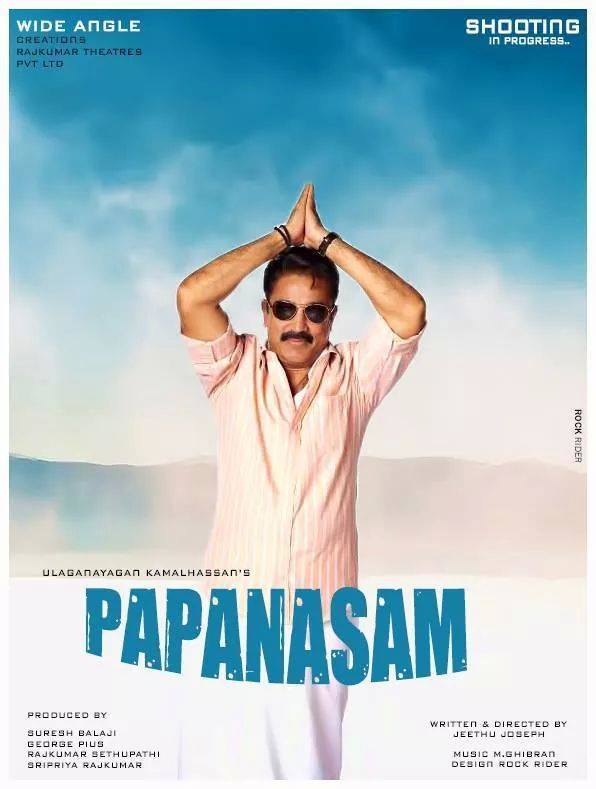 Good films need not have much big promotion at all. We Tamil audience are smart enough to pick them and give the necessary accolade for it. Films like "kaaka muttai" and now, this magnificent thriller from Kamal Haasan proves it clear.
Papanasam is not like those usual Kamal films where one needs to be attentive to get the meaning of the dialogs. It's a film which will make the audience sit erect till the end of the movie with its excellent storyline. Kamal Haasan (Choyambulingam) is a common man who boasts about himself being a successful person though being an illiterate and owes this success to his hard work and to cinema. Yes, similar to his real life, cinema becomes his school of knowledge in the film too. Gowthami (Rani) plays the female lead after a long gap and never fails to impress the audience. She is as beautiful as how she was in her early times and portrays the role of a perfect home maker and responsible mother. Nivetha Thomas and Esther Anil play their daughters and have done justice to their part. The story revolves around how Choyambulingam, a man who is ready to do anything for the happiness of his family handles when his daughter kills IG Geetha Prabhakar's (Asha Sarath) son who misbehaves with her. He uses all the techniques he learnt from his school of knowledge to safeguard his family and escape from police. One character in the film which deserves special mention is Asha sarath's role as IG Geetha Prabhakar .The lady's acting, dialog delivery and everything else was so pleasing to watch. The cry of the confident mother couldn't have been expressed more perfectly. It was one of her dialogs in the trailer which pulled me to watch the movie. The film also has other eminent actors like Kalabhavan Mani and M.S.Bhaskar who add delight to the screen. Ghibran has scored the music. "Yeye en kottikara" is pleasing and will definitely be in our playlist for some time. On a different note, one needs to thank Kamal Haasan for bringing to Tamil audience the splendid movie "Drishyam" in an equally good way and also praise Jeethu Joseph for directing it accordingly.