Padmaavat (formerly Padmavati) was one of the most awaited films this year, not just because of its grandeur, but because of its director Sanjay Leela Bhansali, known for his star cast and humongous production value. However, the hype surrounding this film was largely created due to the protests against it by Karni Sena members. When you try to ban something, that's when it gets a lot of attention and Padmaavat was no exception. Having been in the headlines for weeks together now, I had to see for myself if the film had besmirched the rich legacy and culture of the Rajputs as claimed. However, it actually glorified Rajputs and their culture. Then why did Karni Sena publicly announce a bounty for the heads of Sanjay Leela Bhansali and Deepika Padukone? Some serious food for thought!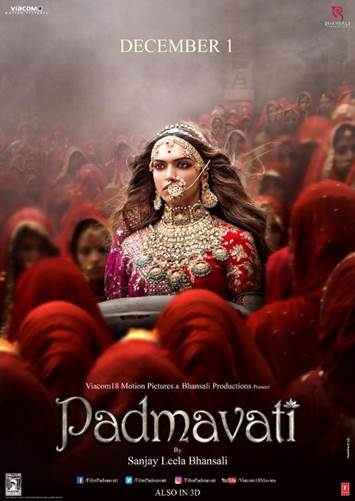 Okay, keeping the political drama aside, let's talk about the film itself.
The film based on the epic poem by Malik Muhammad Jayasi written in 1540, carries a star studded cast with the likes of Deepika Padukone as Rani Padmavati, Shahid Kapoor as Maharawal Ratan Singh and Ranveer Singh as Alauddin Khilji. Though Shahid Kapoor and Deepika Padukone brim with flair on screen and essay their roles to perfection, the real star of the show is Ranveer Singh. He brings the character to life through his rugged attire and crude attitude- possibly one of the best performances of his career. The confrontations that take place between Ratan Singh and Alauddin Khilji are some of the more gripping scenes in the film. The songs are not particularly astounding, but they do provide some visual delight. Another notable character in the film is Malik Kafur, the Sultan's homosexual slave general who was presented agreeably by Jim Sarbh. Aditi Rao as Mehrunisa, Alauddin's first wife, has also essayed her role well.


The visual effects though not at par with the Bahubali franchise do a great job of portraying the film's grandeur. However, the importance given to the film's opulence was not given to the writing of the script. As a result, the film's depth becomes inconsistent.

On the whole, Padmaavat is a good package, well worth your time and money. As a final note, here's a little piece of information, the Censor board didn't make 26 cuts in the film. There were only 5 modifications along with the title change as opposed to claims that half the film was edited before release.