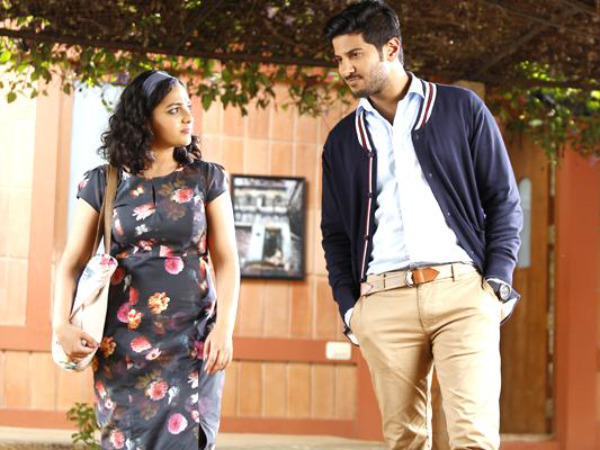 Right from the time when there was a buzz about Mani Ratnam's latest project, I was curious because the last two of his attempts had been utter failures. There was a wonder if Mani wanted to rebuild himself by staying within his comfort zone of romantic stories. But, O Kadhal Kanmani is not just about the flow of love; it has multifarious intricacies amidst the course of this movie.
The Dulquer Salman – Nithya Menon starrer kicks off at the railway station where Aadhi (Dulquer) meets Tara (Nithya) in a bizarrer situation. What continues is the plutonic bonding between these two without getting married. Maybe for the concept of live in relationship or for some of the seducing visuals and dialogues, OKK has been certified U/A by the censor board.
Dulquer continues to impress us with his charming look that suits him to the T for playing that carefree guy with an I-don't-give-a-damn attitude, which he has successfully manoeuvred in Vaayai Moodi Paesavum and Bangalore Days. He emotes, laughs, looks, drives and runs well. The geeky game developer in Aadhi resembles that of Dhanush's role in Anegan. Nithya Menon plays the girl of towering ambitions as an aspiring architect contrasting personal emotions due to her family situations. Her very first frame into the movie proves that Mani Ratnam has done a lot of groundwork in choosing the right person. Hopefully, OKK would transcend Nithya to the next level.
While Aadhi – Tara love story forms the heart of the story, Prakash Raj as Ganapathy Uncle and Leela Samson as Bhavani Aunty seem to grab the main roles at every now and then. Their portrayal as a loving couple makes us wonder Mani's prodigy while Leela playing the woman affected with Alzheimer's disease captivates and moves the audience. There is a particular scene where she forgets the way back to her own home and stands stranded in the road. She doesn't speak, she doesn't cry, she just gives a stare that seems to express the blankness of the affected person.
Prakash Raj plays the strict houseowner and caring husband to astonishing perfection. The characteristics and thought process of a retired public sector employee are conveyed effectively through his role. With no separate comedian in the movie (of course, it isn't required), the responsibility of humour is also carried by himself and Leela Samson. It is notable that while these mild jokes bring laughter, they are natural and do not protrude as oddities, making us reminisce the lighter moments that happen around our family.
There are two, who indirectly shoulder the duty of taking the movie forward. First is P.C. Sriram, the cinematographer. Since the whole movie has been shot at the hotspots of Mumbai, which has become a regular location for almost all the directors today, cinematography plays an important role in order to distinguish OKK from the other Mumbai – based movies. There are two particular visuals, which made me mindboggled. First is the mosque scene, which explained the artwork within a minute or two. P C can very well collaborate with the one who would be directing Dan Brown's novels in order to bring out the beauty of churches. Second is the part when Ganapathy would be caressing Bhavani in order to comfort her pessimistic thoughts and opinions. The doors of that room would be open slightly and Aadhi and Tara would view them emotionally, tears welling off their eyes. Hats off, PC!!
The second concealed contributor is A. R. Rahman. Right from the title block, there is ARR almost everywhere. After hearing the audio, one could very well comprehend that this is the one for a perfect love story, questions arose from the scepticism on how they would be represented in the plot. But, 2 minutes into the movie and one would not resist praising and applauding the genius in ARR. The background music convey the essence of visuals then and there and the versatility of ARR lies in his balancing the melancholic slow strings during sentiments with absolutely no score in certain portions where they were not required. Regarding the songs, Mental Manadhil has already been the chartbuster. Aye Sinamika and Theera Ulaa deserve special mention. It is heartening to see the classical blend back to the core in ARR's albums, after Kaaviya Thalaivan.
Choreographer Brinda should not have found this project difficult because there was not much dance movements throughout the movie, apart from the steps we would perform naturally to the tap of music. Mani Ratnam, as always, has frittered away one track (Naane Varugiren), which disappears in a train conversation. Editing by Sreekar Prasad also necessitates heaps of praise as such a non – commercial movie with no item numbers and punch dialogues must be short so that the audience don't get bored. 138 minutes is well below the span of an average Kollywood movie and I, frankly, didn't feel the time, apart from some melodrama at the fag end.
Last but not the least comes the master of ceremony, the one and only Mani Rathnam. Each and every frame and dialogue made me blurt, "Where was this Mani Ratnam in Kadal and Raavanan?" Dialogues like "3:45 ku oru coffee thappu panlama?" strike a chord with the youth of the present day. Although some of them make us feel 'Has this man been affected by the Chetan Bhagat Syndrome?', the overall theme makes us forget all that.
Finally, this movie is worth a watch (even more than once) for its decent storyline, naturalness, technical crew and eventually for the comeback man, Mani Ratnam.
Verdict: If you really wish for a 'movie' sans guns and growling antagonists with blaring music, this is the one for you.
Rating: 4.5/5 (I would gladly award 5 on 5 but Thermodynamics law states, 'Nothing can be 100% efficient'. Perhaps, that re – defined for the sake of OKK)
Five Facts
1. Incidentally, Nithya Menon has also played a role in the co release 'Kanchana 2'
2. Mani Ratnam has the rare distinction of having a Malayalam based father (Mamootty) and son (Dulquer) acted in his movies. Mamootty played the lead alongside Superstar Rajnikanth in Thalapathy.
3. This is Mani Ratnam's second Mumbai romance plot after the movie 'Bombay', although the latter had other messages into it.
4. The song 'Mental Manadhil' is written by Mani Ratnam and A. R. Rahman. This is the second time they have written a song after 'Endrendrum Punnagai'.
5. '100 Days Of Love' is a Malayalam movie starring both of them on screen now.