Cast: Ajith Kumar, Shraddha Srinath, Rangaraj Pandey
Director : H.Vinoth
Music : Yuvan Shankar Raja
Plot: Three women find themselves in hot water when they are convicted for a crime and they
seek the help of a retired lawyer to bail them out of the mess.

Nerkonda Paarvai, the remake of the 2016 bollywood hit- Pink, is an all-out courtroom drama
which we haven't seen for a while. The story begins with three girls meeting three youngsters
and going out for dinner with them. But when under the influence of alcohol, one of them (Advik)
tries to molest Meera (Shraddha Srinath, the main protagonist). She defends herself by beating
him with a bottle and escapes from the place. Though both parties file complaints, due to the
influence and reach of Advik, the police frame Meera for attempted murder and twist the story
by accusing Meera to be a call girl who assaulted Advik for not receiving her due payment. The
story then focuses on how Bharat (played by Ajith) claims justice for the wrongdoings against
the girls.
Shraddha shines as a perfect lead, aces all her scenes throughout the movie and captures the
hearts of the audience with her powerful acting, especially in the scene when she breaks down
in the courtroom. Ajith also gives one of his career best performances. Rangaraj Pandey also
aces his role as the public prosecutor. The courtroom scenes where Bharat establishes justice
through his investigations are intriguing and delightful to watch, thanks to the director H.Vinoth,
whose hard-hitting dialogues resonate loud and clear throughout the movie. To add value to the
commercial stardom of Ajith, Director H Vinoth adds a fight sequence for Ajith, but it is
heartening to see that he doesn't force it into the script. Yuvan's music, however, falls short of
creating an impact on the audience's minds. Bharat's flashback is boring and slows down the pace of the film.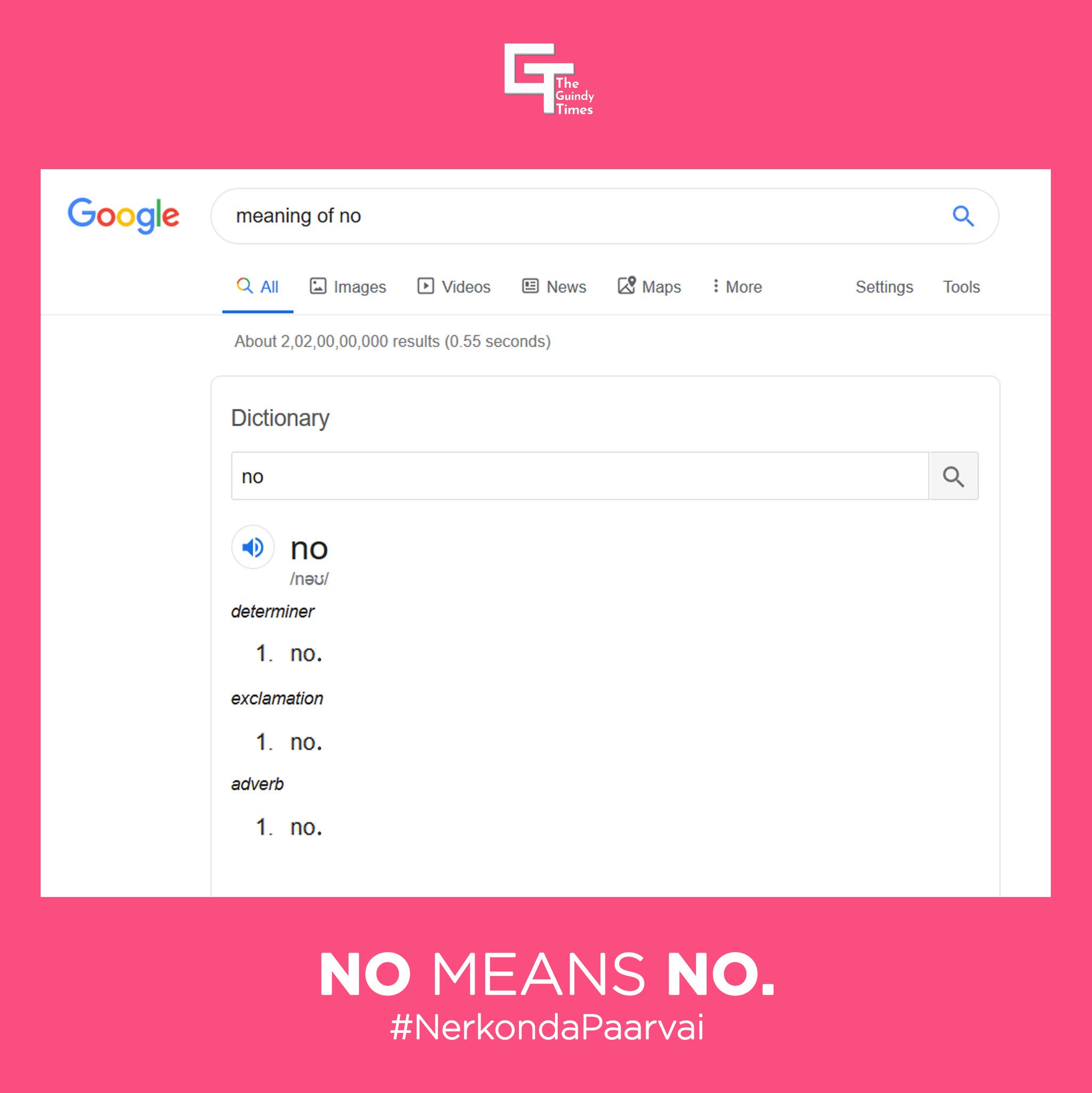 The message the film conveys can be summed up by one of Bharat's dialogue, "No Means
No" which is of great impact with regard to the current state of affairs. Overall Nerkonda
Paarvai, true to its title gives us a straightforward glimpse of various stereotypes women are
being subjected to by society and delivers the message loud and clear. This movie is distinct
among the list of movies trying to talk some sense into society about stereotyping women and is
a recommended must-watch for everybody.
Bottomline : Stellar performances from artists and a neat screenplay makes NKP shine !
Behindwoods: 3.25/5
Firstpost : 3.5/5
Times of India : 3.5/5
IMDb: 9.1/10
Our Rating: 3.5/5