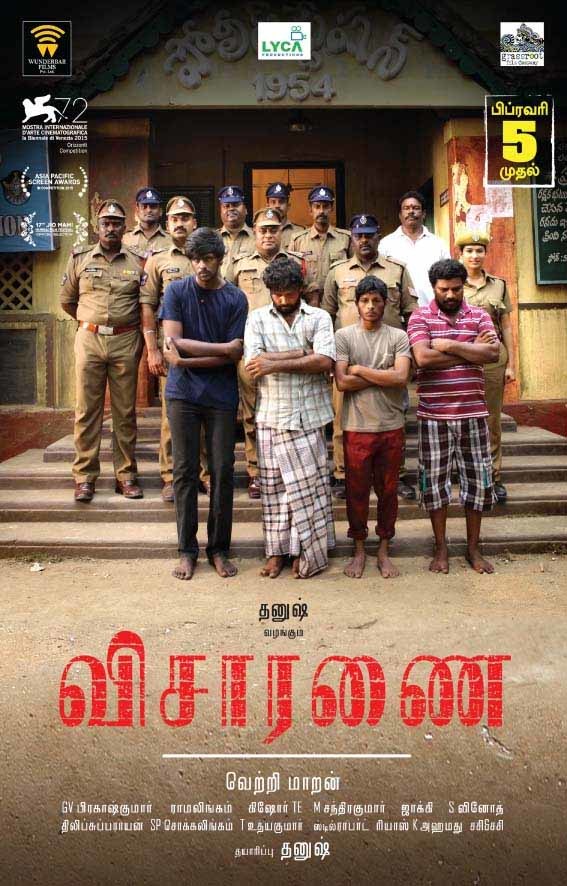 You know there's something special about a film when it performs well in an International Film Festival.
That's the case here, as Vetrimaran's Visaaranai releases worldwide after getting accolades from the 72nd Venice Film Festival. Kaaka Muttai, remembered for its standing ovation at the Toronto Film Festival and critical acclaim, was also produced by him.
Visaaranai is a combination of a good story, tight and gripping screenplay, crisp editing, well-etched-out characters and wonderful acting performances.
The plot is centred around the story of three people, whose lives encounter twist after twist. They get brutally beaten up by the police from the get go. But a sudden twist of things change their whole life (not without ruffling feathers in the police headquarters, though). The objective of this film is to outline the harsh reality of police brutality; Vetrimaran shows a classic example of this with a case where the convicts get wrongly identified and thrashed inspite of repeated pleadings.
The four main convicts get beaten and forced to confess in court, after they are wrongly suspected of a theft in an important place, but it takes a twist as the police commissioner is proved guilty and Samuthrakani comes to help and proves their innocence by showing how they had gotten beaten up with blood stains all over the body. Kishore gets involved in a political party, and Samuthrakani, with the help of those four, try to extract information out of him and make him lose the elections along with another higher officer.
But Kishore gets killed without Samuthrakani's knowledge and Samuthrakani make people believe that he hanged himself. How the lives of those three change after this incident forms the rest of the plotline.
Dinesh, Aadukalam Murugadoss and Samuthrakani do a perfect job. Ananthi didn't have too much of a role; all supporting cast members do just enough to support the main characters. Editing was as crisp as it can get. But the real hero is Vetrimaran, who deserves more recognition as a Tamil director. This is his third successful film after Polladhavan and Aadukalam, as a director, having earlier produced many films. There aren't songs that disrupt the film's rhythm. Though, GV Prakash scores well in the BGM part.
The only negative may be the fact that the first half was fully made in Telugu with Tamil subtitles, which may make people find the dialogues difficult to understand.