Idhu Namma Aalu is more than just a breezy romantic comedy that is lifted by performances by Silambarasan, Nayanthara, Andrea and of course, Soori.
Pandiraj has brought out a decent amalgam of love and comedy in the right proportions, although you might feel that it could have been less prolix. His past films like Kathakali and Pasanga 2 were shorter and garnered better responses.
Shiva (played by Simbu), an IT company worker, is engaged to be married to Myla (Nayanthara), when she questions his former love. A flashback begins when Shiva and Priya (Andrea) meet up in a closed store and begin with an advertisement that becomes an instant hit; from there on they become close till they break up (caused rather unimaginatively by Priya's dad having arranged for another person to marry his daughter). Then Shiva and Myla fall in love, and there begins another love story, and they finally marry, not before two run-of-the-mill twists where their marriage gets cancelled and Myla nearly dies after attempting to kill herself.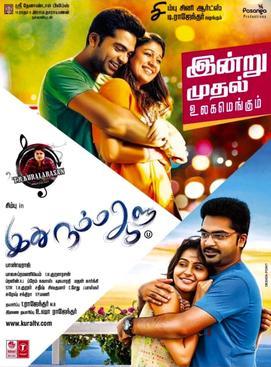 The controversial Silambarasan has got a move on after his last three debacles, and he would want to call this film his comeback one. His chemistry with Nayanthara and Andrea were good on screen, and the flashback portions didn't give audience much to scratch their heads about.
Nayanthara seems to choose sensible movies nowadays, and not glamorous ones, like many heroines do just to cater to a larger crowd. Andrea, too, after the disastrous Valiyavan, has put in a good performance. Soori's cracks are good, and his running commentary during phone calls between Simbu and Nayan is hilarious.
Another positive is the cinematography by Balasubramaniam, whose camera-work was good, though the editing by Pradeep KL could have been better.
There are segments in the film where one feels positively peeved, such as when the couple marries for the third time, which one feels they could have left out. A kuthu song featuring Simbu and Adah Sharma could have been completely avoided. These served to dilute the overall experience a little.
All in all, the film is another typical rom-com with all the idiosyncrasies peculiar to the genre, and the movie is undoubtedly certain to do well in the box office, despite boasting little or nothing in the way of novelty, either in terms of plot or writing, and since it was probably not intended in any way to break new ground in the aforementioned areas, any critical commentary in the same will have to be made keeping in mind the goals of the director, and not any absolute standards, in which case the movie could well be found lacking significantly.
Rating 3.5/5