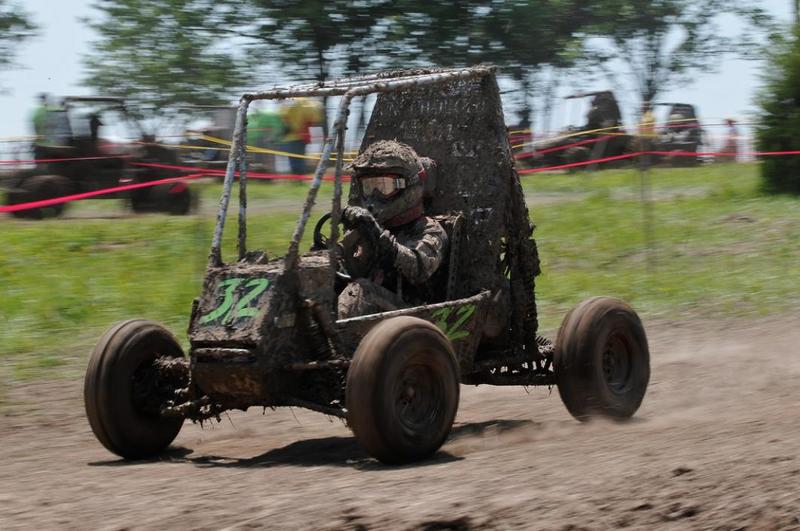 BAJA (Pronounced Ba-Ha) SAE is the annual inter collegiate competition for the design and fabrication of an All Terrain Vehicle (ATV), held by the Society of Automotive Engineers in India. CEG has always been an ardent participant in this competition since its inception in 2007 and this year, the 25-member team has already cleared the Virtual Inspection round.
Congrats on clearing the Virtuals. Tell us about the team.
Thank You. We comprise 25 students of the Mechanical Department, 20 fourth years and 5 third years. We've divided ourselves into 5 sections – Steering, Transmission, Suspension, Roll Cage and Brakes.
How were you tested in the Virtuals?
We were expected to present a design of each section, perform analysis on the design showing that it is safe and rugged. What people don't realize is that we also have to function as a company, estimating its economic feasibility.
How has it been so far?
We're ecstatic by the results so far. Considering there are around 330 teams participating and only a third of them go on to the next round, it's definitely an achievement, but there's still a long way to go. It'll be even harder this time, as 12 international teams are also in the mix.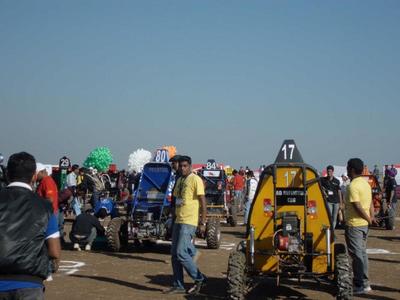 How difficult is it to actually put up the vehicle?
As you can imagine, we are novices in the field of design. We've never designed anything so significant before and because it is an open ended design, there's no specific set of guidelines to follow. So there was a lot to learn.
You said that there was a lot to learn. How have your college subjects helped in this?
Being mechanical engineers, we have very little exposure to automobile engineering. Certain subjects like Strength of Materials, Engineering Mechanics, and Dynamics are useful but we had to learn a lot more by ourselves, especially the fabrications elements involving grinding, welding, cutting etc.
When did the preparation start?
Although we were asked to submit the initial design by the end of July, we had been working on it for around 3 months, with work commencing in the last week of April.
How was the team formed?
The recruitment process was a lengthy one. It had a written test on basic automobile knowledge and common sense ("very important", he said!), followed by subsequent rounds on market research and then the final interview.
What have you been doing after the Virtuals?
The most important aspect is to collect finances, which come around to about 6 Lakh Rupees. We are making efforts to get sponsorship, which comes with its own set of challenges, after which the fabrication will commence; with prime focus initially given to the roll cage – the body structure of the vehicle.
What's next in the competition?
In December, there will be a technical inspection by the BAJA officials, of our vehicle, on campus. Following that, the Mains will be held in Indore, in February. The Mains are split up into 4 days, with a series of static and dynamic inspections and challenges.
What facilities are provided by the Department?
We are extremely thankful to our faculty advisor Dr. G Nagarajan for his guidance. Our HOD, Dr. L Karunamoorthy and Professor D Mohanlal have been very supportive and generous in providing us with a workspace. The help given by our seniors has also been invaluable; as a side note, we would like to thank Karthik Siddulagari from Guru Nanak Institute of Technology, Hyderabad, for his valuable advice. We have also been granted permission to organize a workshop on the assembly and de-assembly of bikes.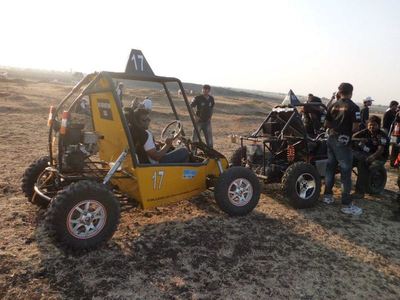 Tell us a little about how you guys work.
Although we do have separate sections, we all work together. That's because, any change in one aspect affects the others also. Each group has an overview of what the others are doing, only then will the final design be seamless.
How has our college been faring over the previous editions?
Not upto our potential. Our design section has always been strong and we have won a few awards for green design, 4-wheel steering and the innovation award for adjustable acumen steering. The key thing that people neglect is Vehicle Testing, where failures, if at all, are detected early on; so that we don't get caught off-guard at the main event.
What are the tests your ATV will be subjected to on the Main day?
After the initial specifications check, there will be an acceleration challenge, tests for suspension, traction, brake and maneuverability followed by the hill climb from a stand-still. Based on our vehicle's performance, we will then face the endurance test, which can last upto 4 hours.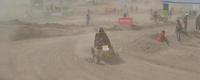 What are the positives that you can take from participating in this?
It's a conducive atmosphere for learning as the other participants themselves are very helpful and friendly. We now know the basics, from the nut and bolt to the detailed working and functioning of a vehicle, something that one only learns after working in an industry. Big companies like Mahindra& Mahindra, ANSYS, John Deere, etc recruit from the pool of participants, as they recognize the fact that candidates chosen from this sampling are likely to be stable and self-motivated employees.
Anything else…
We intend on putting our efforts into making a good ATV and at least finishing in the top 20 not only because our team can but because we want to improve the awareness of the event in the college. We would like greater recognition and involvement from the students of our department so that subsequent teams have fewer hassles.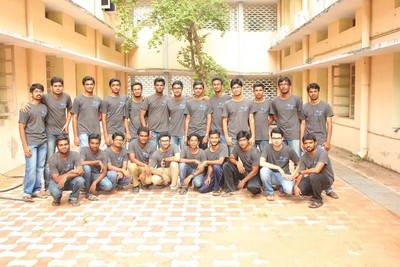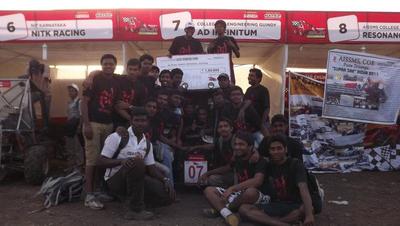 Although they will be up against stiff challenges the BAJA team has successfully crossed their first hurdle. With the top 5 ATVs being selected for the international competition there is a lot to strive for and we wish them all the best for their future endeavors.