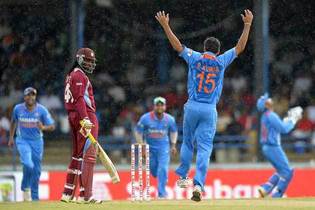 India and West Indies have shared many eye-catching moments in the past. Who can forget the memorable World Cup triumph at Lords on June 25, 1983? Or the game where West Indies took revenge against India after their earlier loss in the same edition? Will this be another close encounter? Only time will tell.
Head-to-head
West Indies and India share a 60-52 head to head record in all One Day Internationals. India edge West Indies 4-3 in World Cup fixtures.
Pitch and Weather Conditions
This pitch has got a reputation of being one of the fastest pitches in the world, and one that will have good bounce and carry. It will only be good for batsmen if the ball comes on to the bat well.
The weather conditions at Perth are scheduled to be sunny throughout the whole game
Briefing on both teams
India has had a smooth sailing with 3 massive victories and are at the driver's seat. West Indies have had a topsy-turvy campaign. Their wins against Zimbabwe and Pakistan have been overshadowed by the hammerings they received from South Africa and Ireland. West Indies need to pull off a miracle to beat India
Players to watch out for
Umesh Yadav
Currently India's fastest bowler, he has proved his critics wrong in this world cup, taking crucial wickets against Pakistan and UAE. With the pitch having good speed and bounce, Umesh Yadav along with Mohammad Shami, should take advantage of the conditions to good effect
MS Dhoni
The most cool and composed player you can ever get to see, MS Dhoni has the reputation of taking the opposition bowler's to the cleaners at the death overs. He hasn't had much to do so far, but will prove very handy and he has got a good record against West Indies, which he can carry on.
Marlon Samuels
Probably the only person who can time the ball sweetly in an array of big hitters in this line-up, Marlon Samuels can take away a game single-handedly. He recently belted the Indian bowlers at Kochi during an ODI fixture and consequently blew them away. He is another star watch.
Sulieman Benn
The tallest player in this line-up, he too can generate bounce from this wicket being a slow bowler. This guy is 201 cm high. Waahh. He can easily generate extra bounce and trouble the Indian batsmen, who have been vulnerable to the short ball.
Win percentage
Stats favor batting first slightly more 38-35. Since this pitch has a good bounce and carry, my advice to the captain would win the toss and bowl first
Teams
Shami is likely to replace Bhuvi after being out with an ankle injury. Otherwise, no changes to either team
Prediction
India bowling first and win by the 45th over chasing around 250+