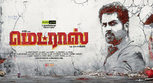 Director Pa. Ranjith made a promising debut with 'Attakathi'. His second movie "Madras" stars Karthi, who aims to make a comeback after a series of mindless disasters. The credit goes to the director for giving the much needed breakthrough for Karthi and making him deliver what he is good at.
Plot:
The feud between two warring parties who want to take control of the wall and the bloodshed, tears, love, politics and revenge revolving around it form the crux of the story. The wall represented as a symbol of power plays a key role here.
The biggest strengths of the movie are the acting and the music. Speaking about acting, Even the wall which contains the big smiling picture of a politician has acted well. The man who portrayed the lunatic "Johny" who mixes English and Tamil has done remarkably well and surprisingly he is the one who got maximum applause from the audience. Karthi has done a good job in a very neat portrayal of an educated software employee who lives among the North Chennai housing board people. The heroine, Catherine Teresa is passable. The Characters seem to gel well with the movie and we don't even feel like they are acting especially Anbu and Karthi's mom have done a commendable job. Kudos to the director for the perfect casting and maintaining the North Madras slang and the background very well. The twists are excellent and the interval bang requires a special applause.
The Music is undoubtedly another big plus point in the movie and Santhosh Narayanan proves for the nth time that he can compose any kinds of songs for any genre given to him. What a versatile talent this guy is turning out to be. The BGM further elevates the mood of the movie. The Suvar theme and Naan Nee song stands out.
The Stunt sequences in the movie is probably one of the best ever you can see in a Tamil film. The art direction is aesthetically done.
While the movie travels at a brisk speed in the first half, it loses its pace due to the positioning of 2 back to back songs in the second half and then gets back on track again only to lose it all in an abrupt and unconvincing climax. The biggest and probably the only letdown in this otherwise perfect movie is the climax. In a need to keep positive ending to ensure box office success, the director settles for a Commercial climax which may not go down well with people who were expecting an extremely good classic movie given how well it was built up for the climax.
Anyhow, the movie comes as a breath of fresh air amongst the mindless horror comedy movies like 'Aranmanai'. This sincere attempt by the director successfully follows the path of realistic cinema and emerges victorious. If you like movies like Polladhavan and Aadukalam you will end up liking this also. Go for it!