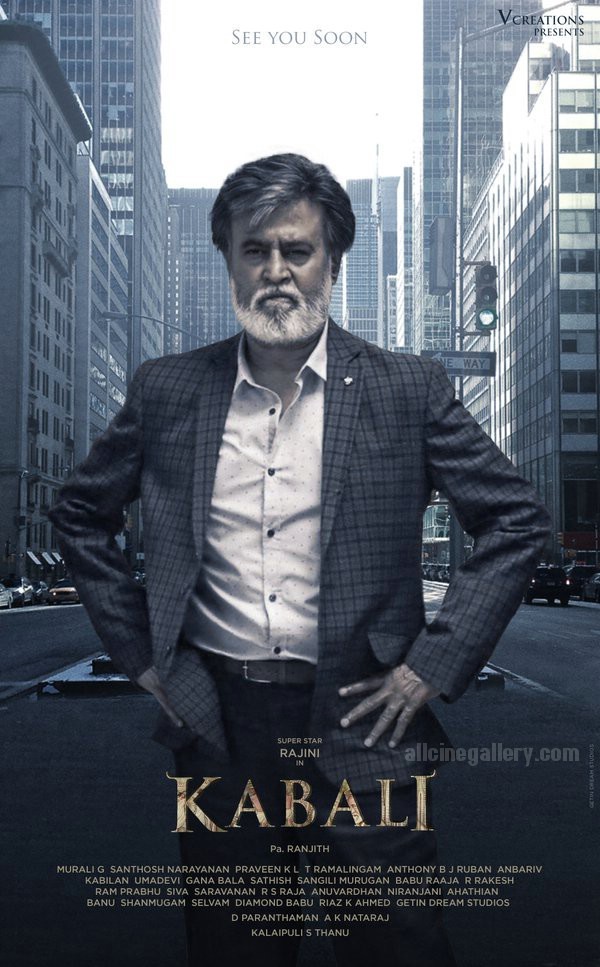 Of all things that I have to do this month, the most interesting and challenging one right now is to give you a suitable review of the most promoted, hyped, and anticipated movie of the year - KABALI. I can confidently say that even the assessments are a breeze when compared to this task! Depending on your opinion of the movie, you face two different factions of people. If you say the movie was good, you have a unique group to debate with. If you think the film was bad, you have an even larger group to answer to. No matter what you say, you will have people to contradict or support you. Maybe that's why many chose to simply leave their status with "Magizchi" and "Kumuthavalli". Finally, there's a group which acts indifferent to this frenzy, portraying themselves as activists of the society - the kind who act like they have time only for discussions of utmost importance.
Before I watched Kabali, I had become active on many dormant groups just for Thalaivar. I read reviews, status updates and followed a string of conversations, all of which had completely different takes on the movie.
To begin with, Kabali is not only about Rajni, and it's too early to determine if this is a mainstream Ranjith movie; after all, the director is just three films old. So what was really in store for us?
Kabali in a nutshell, tells us a story of struggle, a hero's comeback, an old man's loneliness, and a family that has been torn apart. Director Pa.Ranjith conveys two important messages as the story unfolds. He brings to the table a story of a Tamil community in Malaysia and the story of a lost family. He chooses to portray Superstar Rajnikanth for the former and Rajnikanth the actor, to do the latter.
The movie opens with a glimpse of the poor state of Tamils in Malaysia and yet, half the audience doesn't seem moved by their plight. Maybe they were preparing themselves to cheer for Rajni's ostentatious entry?
The story
The film is set in Kuala Lumpur, Malaysia where a section of the working class Tamils are ill-treated and also live in fear of the mafia. When Kabali (Rajnikanth), a veteran leader fighting for the people's rights is released from prison after 25 years, he realizes that his contributions to the society haven't gone in vain, under the care of his loyal aides. However, he is also disappointed to know that the mafia still dominate the people's lives. He returns as powerful as before, but has a lot of questions that remain unanswered. He often evokes memories of his wife Kumudhavalli (Radhika Apte) and is riddled with the loneliness of having lost her and their unborn child. His search for knowing her whereabouts, and efforts to defeat his enemies ( the Mafia a.k.a 'Gang 43') form the crux of the story.
Critic's perspective
Director Pa.Ranjith is great at portraying the lifestyles of people in niche areas. If you have seen his film Madras, you can see how he portrays North Chennai in a new light.
In Kabali, he introduces us to the Tamils of Malaysia. Taking a film about Srilankan Tamils would interest our audience but not one about the struggles of Malaysian Tamils. The preconceived notion that Malaysia is a second home to the Tamil community is thrown into the spotlight.
Ranjith seems to forget that when Rajni is on screen, all that the fans care about is their star winning. But he sure does have scenes and dialogues that will be cherished for years to come. For example, when Rajni says to Tamilnesan's (Nasser) son, "Gandhi dress venam sonadhukum, Ambedkar dress poda aaramichathugum neraya artham iruku da" (There is a reason why Gandhi chose not to wear Coats, and why Ambedkar chose to wear them).
There are many other dialogues of this kind where he brings in ideas about capitalism, slavery, Chennai, and Tamils. In all these aspects, he is a wonderful Director. He has brought in the entire crew from his previous films and they don't disappoint. From Kalayarasan to 'Johnny' Hari, everyone has done their part well, but fail to make their mark. Having said that, there are two characters that you will fall in love with instantly. Radhika Apte as Kabali's wife and "Attakathi" Dinesh as Kabali's sidekick. Radhika frequently appears throughout the film and you're bound to like her on-screen presence. Though her character itself is quite charming, eventually you fall for her as an actor. On the other hand, Dinesh is fantastic; he makes us laugh with just his body language. His tension around Kabali is so real -the kind of emotions one would express when suddenly walking beside own Superstar. Few others who also make thier mark include John Vijay, Vj Lingesh and Dhansika. John Vijay in Kabali is Sivaji's Vivek and Baasha's Janagaraj. Dhansika as Yogi, Kabali's daughter, is a treat to watch. Her mannerisms and accent are impressive.
The music becomes the backbone of the film. From "Nerupu da" to "Maya Nadhi", all the songs were perfectly timed. 'Ulagam Oruvanaka' serves as more than opening for the superstar; the lyrics tell us about the story itself. 'Veera Thurandhara' again brings the fans to the edge of their seats as Kabali begins to take down his enemies. Santhosh Narayanan impresses us yet again by bringing us yet another album for our playlist. Cinematography by G. Murali perfectly captured Rajni in his element, giving the fans goose bumps.
Speaking about the Thalaiva himself
Kabali would have been just an ordinary film with good message if not for this man. But one wonders if the man promotes the message or mesmerizes the audience instead?
Well, he does a good job of both. For nearly half the film he is an aged man who, although fighting for the Tamils, yearns for his love. The very sound of a young girl saying 'appa' makes him turn, a sign of his desire to be reunited with his family. He is tensed, as a teenager who proposes for first time, when he is going to meet his wife after years. He is fast, he is slow, he is emotional and yet, totally brutal. He does everything with finesse. Though one might say he has gotten slow with age, some would beg to differ when they see him in action. The car stunt scene in particular was simply amazing. Ranjith brings out the Rajni of the old days from Apoorva Ragangal and Mullam Malarum which made him the Superstar he is today. A treat for the current generation!
Verdict
Kabali is an interesting entertainer with a slow screenplay. Although Director Ranjith has been cautious while directing Rajni, he does make a good third film.
Bottom-line: Watch it for Thalaiva, a wonderful set of supporting actors and an intriguing story.
Rating: 3/5.