Vasanthabalan, who has directed good and critically acclaimed movies like Veyil and Angadi Theru is back with his latest offering "Kaaviya Thalaivan". With an impressive starcast which includes Prithiviraj, Siddarth, Vedhika, Nasser and music from the Maestro A.R.Rahman, the expectations from this film was quite high among movie lovers.

PLOT
Set in the backdrop of British rule in the early 20th century, this period film focuses on the lives of 2 actors Kaaliyappan(Siddarth) and KomathiNaayagam(Prithviraj) who learn acting from the same Guru Sivadaasan(Nasser). Komathi, though very sincere in acting and learning, it is Kaali who walks away with fame and gets the chance to play 'raajapart' (Hero role) in plays. This creates jealousy in Komathi. The newly joined actress in the sabha Vadivu(Vedhika), whom Komathi falls in love with, eventually falls for Kaali adding fuel to the fire. To what extent this enviousness pushes Komathi and how the life of all the lead actors change forms the rest of the story.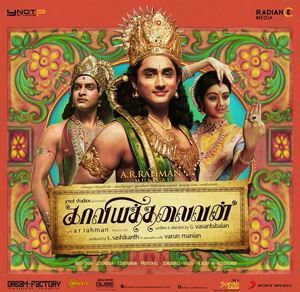 ANALYSIS
Performance wise it is Siddarth who has the maximum scope to perform and he does quite well delivering his careers' best performance but it is Prithviraj as Komathi, who is the show stealer. He perfectly underplays his role in the required scenes and delivers a stellar performance. We all know about the powerhouse performer Nasser. He delivers yet another superb performance and is the perfect choice for the role of the Guru. Vedhika proves that she is not just eye candy like other contemporary actresses. The actress who played Rani was only passable. All the supporting actors especially Thambi Ramaiah gave good performances.

One of the biggest plus points in the movie is Nirav Shah's amazing cinematography. A.R.Rahman delivers yet another unusual but as usual, stunning album. The tracks "Yaarumilla" and "Sollividu" in particular stand out. This album was very much a story and script oriented one and is especially beautiful when you see it with the visuals. The BGM was quite ordinary but films like these does not deserve such extravagant BGM's as the mood of the movie is very calm.
The dialogues were quite ordinary considering the fact that it was a period film. The story was average with too many songs within the first 30 minutes. The second half appeared quite dragged, and the climax seemed forced.

However, it is still a good movie which must be supported by our tamil audience. That is unlikely, as the movie does not have any sort of commercial elements and the usual moviegoer who expects entertainment without class would come out calling it a bore. Kaaviya Thalaivan is a classic attempt which every tamil cinema fanatic can be proud of.


Rating:- 3.5/5