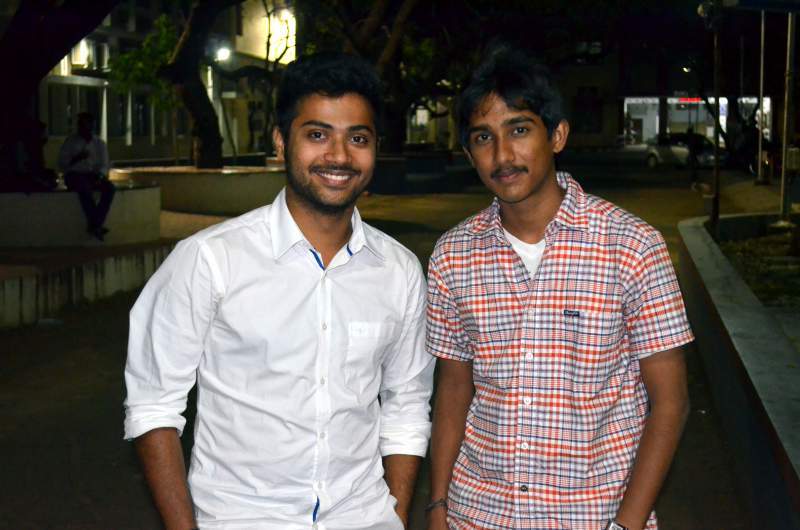 Kurukshetra is retained in the peak due to its quality and this is ensured by the QMS team of CEG Tech Forum. We meet Hariharan and Venkatesh, the QMS K!ores for an interview, taking them away from all tension.
How do you contribute to QMS?
Few of you won't know what QMS is. Quality Management System is abbreviated as QMS. As the name suggests, it ensures quality on all outcomes of Kurukshetra and other CEG Tech Forum activities. Kurukshetra has a standard that has to be maintained. As you all might be knowing, we are the first college to show UNESCO that they could offer a patronage for a technical fest and this is a very big thing. QMS exists to perpetuate this grade of Kurukshetra. We set the right path for the 17 teams whom we share our stage with.
17 is a huge number, do you end up in disagreements often?
Not exactly, managing 17 teams is a tedious task as each of them may or may not be familiar with each other and we may end up in disagreements at the start. But this is for the betterment of Kurukshetra and it's never taken to heart by any of us. It prevails and is resolved within the four corners of CTF. CTF is very much similar to a corporate setup so we abide by the protocols of a typical corporate world.
Being only two in number, how do you manage all 17 teams?
We two don't split works or teams within us. All the teams report to us and at the end of the day we share and keep track of the day's progress. We think that's what keeps us going and we are able to manage all the teams efficiently. If we both don't go in sync, that's when problems arise and we wouldn't wish that to happen anytime.
What is your part during the four days of Kurukshetra?
From the day we step into CTF, our job is to ensure all the outcomes are of exemplary quality and this pertains during Kurukshetra also. Let's take the case of events and workshops, they have to be wrapped up successfully without any commotion. We strive to make Kurukshetra a great success from day one but during Kurukshetra, we put that extra effort and try to conduct everything without a hitch.
Could you outline few difficulties you face?
Fixing an agenda involves a lot of discussion. Consider the case of e-glove launch by Dr. Kiran Bedi. We had to arrange the activities that will take place in a strategic manner. The product launch has to be put before the guest lecture so that more attention is given to the task at hand. There are many other circumstances where ideal decisions have to be made to make it a success. Now that's what we call Quality.
What do you do if you don't like, say a poster that has been designed?
If poster is not up to the mark we have to decline it. We have 40k+ likes in our Facebook page. Hence we have to match the level. Competing with colleges like IIT, we make meticulous efforts which keep up the name and strive to make it better.
That was just an example, if one team comes up with an idea and it's not good, do you just ignore at point blank?
No, if we do that, it would be foolish. The team might have taken days to come up with a concrete idea. The effort they have put in, speaks for their work. We listen to them and think of all possible aspects and if we think the reach is achievable, then why not?
What do you think are the advantages of being in CEG Tech Forum?
As a QMS Kore, we learn how to communicate with higher officials such as The Dean. Mistakes are pin pointed by the staff members and it is relayed to the respective teams and we also learn from it. As we have mentioned before, CEG Tech Forum is very much identical to a corporate setup. We get to work with 44 people under a single roof for one full year for a techfest.