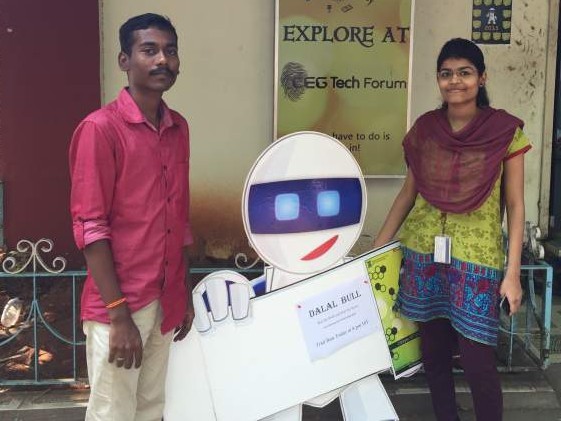 Here we are with the next interview, an interview of the team that manages the strength and numbers other K teams require to run their operations- Human Resources Team. The two K!ore members of the team are Nandhitha and Muruganandam, who have a tremendous job this year and the following is asked to Nandhitha. Read more to find out what HR truly means.
Tell us about how you became a part of K!?
I am Nandhitha from IT dept. I wanted to try something in my time in college. So I went for the team selection process at the end of my third year. I was a part of Hospitality team in my first year, and in my 2nd & 3rd years I worked for Human Resources HR. A main reason for choosing HR was due to my senior Rohini who was the sweetest person I know, guiding me whenever I needed help.
What does HR do as a team?
As far as Kurukshetra is concerned, it's almost like a corporate. Whatever responsibilities are found in corporate for the HR, the same will be put on us, the K! HR team. We also handle internal marketing. The duties of HR are managing the juniors and the numbers required for each team in K!, conducting open calls and social responsibility of K! is our part. As for the Internal Marketing part, the advertisements such as banners, posters, etc. within the college will be spread out by us. Yes, it does sound similar to the responsibility of the Marketing team but they have split up the work into External and Internal Marketing and we help them out with the latter.
What responsibilities do you have on the day of K! or is it mostly before it?
Before K! we conduct open calls. Around 370 students signed up for the open call for second years this time. On the day of K!, the HR team should manage and schedule carefully the number of students required for each event, providing support to every team whenever required.
How big is the HR team?
Muruga has been working in HR since 1st year and has good experience in this line of work. We've chosen organisers from almost every department so that the word of our events can spread out and reach others easily through them. There are 15 female organisers.
Which teams in K! do you work with mutually?
Human Resources has to work with every team in K!. Specifically Logistics, Marketing and Hospitality. It's because every team needs a certain number of workforce and that information is given to us. Accordingly we select juniors who have their first preference to work in a specific team, sort them out and send them to work under a team in K!
Do you have any fun memories in K! you would like to share?
Fun memories in CTF yes a lot actually. Its quite mundane to share it though. People who walk past the CTF building think that we are stressful workaholics but to be honest it's more of an enjoyable work with a lot of chit chats here and there. I remember this one time I had loads of fun when most of the K! teams together went out to Bessy Beach. We bonded a lot that time.
What should the students expect this year in K!?
This year we are trying to keep up the standards of previous editions of Kurukshetra and hopefully accomplish more. We have 14 workshops confirmed, most of which are aimed to be helpful in developing skills for the students who take part in it.
What are the problems you have faced in HR?
There are always hurdles to be found in HR because maintaining juniors is quite a big task.Its unpredictable,say for instance when their assessment schedule clashes with the work to be done as per our schedule. We cannot rely on any specific junior to do it. Last year this particular problem occurred. We tried solving it by assigning slots to those who would be able to accomplish tasks beforehand,without stalling the progress.
Why is there so much emphasis on internal marketing?
I've noticed something that bothers me during K!. Participants from outside the college,who have to pay a registration fee, are more in ratio than those from within our very own college. Our students are not taking advantage of the fact that registration is free for us. So I request everyone reading this, especially my Juniors, to not let a chance this profound go untouched and participate in Kurukshetra cause you can go along with your friends and enjoy a memorable experience during K!.