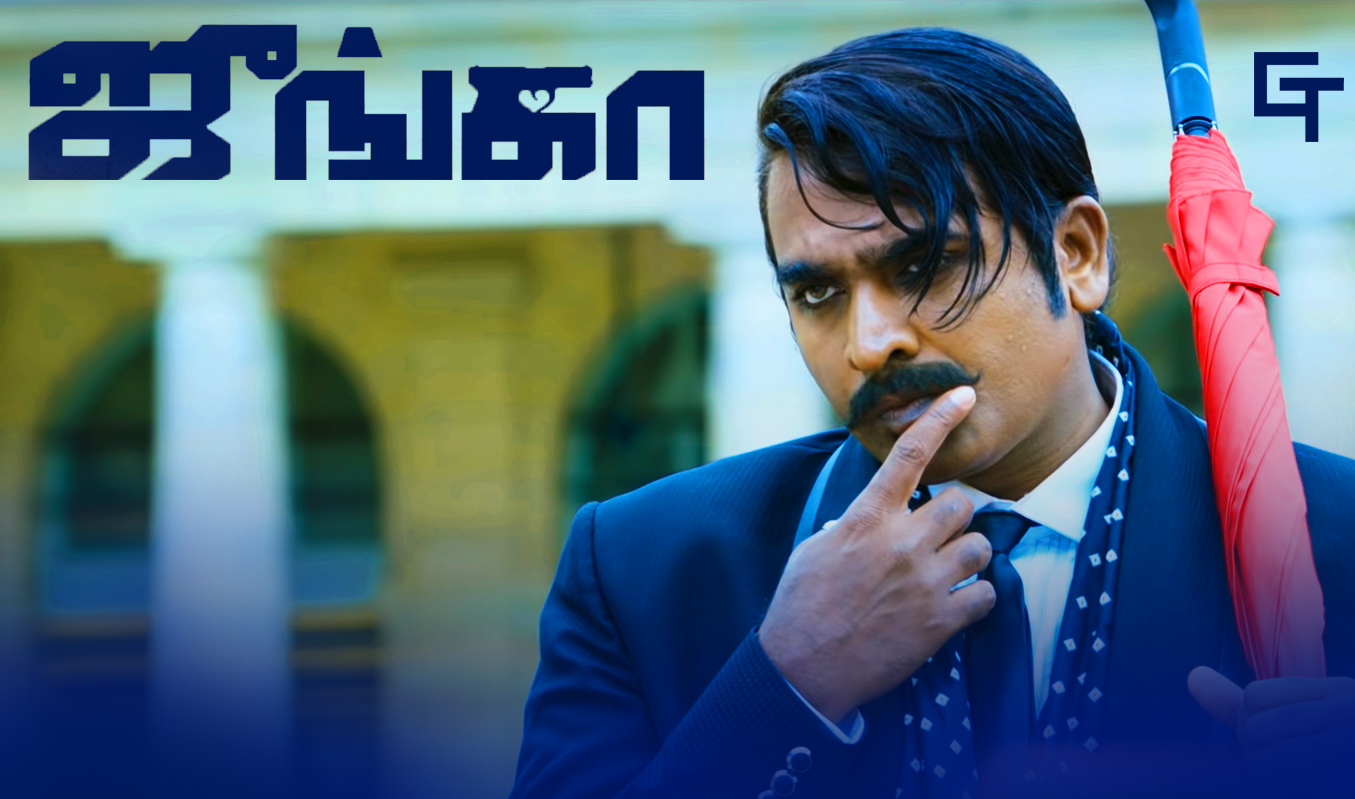 Vijay Sethupathi's massive comic acting resembles his acting in "Oru Nalla Naala Paathu Solren". Comedy plays a major role in this film, as the script and screenplay flow only through that genre. The director Gokul wants the audience to laugh, sitting comfortably in their seats, munching on popcorn and nuggets.
Getting into the movie, VJS proved once again that he's one of the mass heroes of Tamil Cinema by a very simple intro inside the jail, which in turn produced a different cheer and ambience among the audience. Mottai Rajendran as Duraisingham is one of the coolest parts of the movie. The movie deals with a don narrating his own flashback in a police patrol car during a travel to reach an undesired destination. Madonna Sebastian is used quite less, as she doesn't play any major role in this film, but she looks gorgeous!
The transformation scene of Junga to 'Don' Junga (at the bus stand), is awesome. Though the VFX plays a major role in it, the funky and funny flashback of Lingaa and Rangaa are classic and has a retro touch. Saranya Ponvannan's Local Madras slang is catchy and too good to hear. Another plus point in this film is the combination of VJS and Yogi Babu and the perfect timing of their comedy brings about a roar of laughter in the theatre.
In each and every frame, Gokul wants to show that Junga is frugal, dedicated and determined towards his only goal, "Cinema Paradise".
The best part of the movie comes before the interval block where the Junga and his gang get confused between Paris and Parrys which is too hilarious! The scenes featuring Chettiyar is quite annoying but watchable. The break-up scene in this film is very funny, but the BGMs and songs fail to impress us.
Saayesha as Yaazhini has played her role perfectly in this movie. The dialogues about poverty and Junga explaining his pain to Yaazhini are too good.
Car chases were perfectly shot in high-level standards and the vibrant locations are attractive. The unexpected twist in the climax is epic. The screenplay and cinematography are at their best.
The main drawbacks of this film are 'song shift' and discontinuity. Though Gokul uses his cinematic liberty, the movie lacks something.
But Junga is a perfect treat for VJS fans and general audience. Of course, it's worth the money. Please do not miss out on having a great time laughing, by watching pirated versions of this great piece of work.
My Rating: 85/120
Tweet