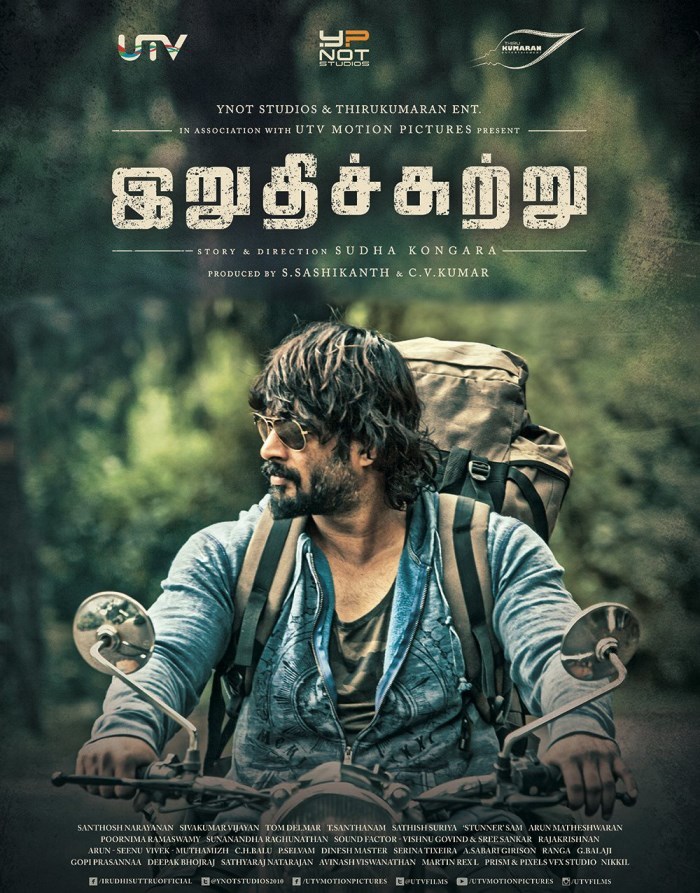 A film featuring debutants and one lead actor who charmed Kollywood about a decade ago has surely weaved magic this month. R. Madhavan in posters was enough for the Tamil audience to fill theaters up on the first week of release, and Sudha Kongara made sure our choice wasn't wrong. When two polar opposites collide to create a new entity, it is sure to be delightful, and Irudhi Suttru was one such film.
Irudhi Suttru tells us the story of Prabhu (Madhavan), the lone lion in the battle of bringing out true talent and Madhi (Ritika Singh), who gives him a tough time. Prabhu is introduced as an exemplary boxer who failed to overcome the politics prevailing in Indian sports and, as a result, loses his championship card. His ex-coach, now Head of Boxing Association Dev Khatri (Zakir Hussain), who betrayed him during the 1996 World Boxing Championships, continues to charge him and sends him to Chennai, where boxing for women is still fighting to find its place on accounts of sexual harassment. But all his plans turn out to be in vain when Prabhu finds himself in young Madhi. He goes to great extremes to train her and show her real talent to the world. But Lakshmi (Mumtaz Sorcar), the elder sister of Madhi who has been trying her luck at boxing for eight years now, resents the special treatment and attention bestowed on Madhi by Prabhu. More and more challenges come in the way of Prabhu's attempts to make Madhi the champion she is.
The film strikes every chord that leads to completeness. From the way Prabhu reacts to the different things around him, the Tamil dialogues penned by Arun Matheshwaran is exactly what we feel at heart and hesitate to say and ones you will love watching after finally being said by someone, Madhi's energy, her love for her sister and family, the life of people from different situations and how all of them fit in perfectly to form the success story, everything is essayed up perfectly by Sudha. And just when you miss romance in a Maddy film it comes in and makes us fall in love with the film all over again. Santhosh Narayanan adds more and more flavor to an already perfect dish and makes it very desirable. Be it the BGM or songs everything was in his usual style but in a unique way. Every song in the film stays at heart and finds its place in our playlist. "Poda Poda" is one song that perfectly tells out the character of Prabhu. The lyrics are truly a booster for young minds and very apt to the situation going on in the film. Cinematographer Sivakumar Vijayan has done a decent job especially in parts like the road trip from Harayana to Chennai.
The film teaches us to be ourselves if we feel we are correct no matter what the world throws at us, it teaches us to fall in love, to let go of things, to believe, to fight, to keep things simple and straight, to talk our hearts out and finally to live for what we long. Every actor in the film has performed really well, Veterans like Naseer and Radharavi have a cake walk with their roles which brings out the most from the talented people. Ritika deserves a mention for her extraordinary pace in acting, she is fast and witty and an exact portrayal of a girl of that type, coming from boxing background becomes the cherry to the wonderful dessert. And of all people in the film R.Madhavan is one whom you will never want to lay your eyes off. He is charismatic as he was decade ago but not in the same way, three years of hard work has sure paid off and he is built extraordinary. His acting has sure improved a lot and there is not a scene he over acts but just keeps it subtle in some very emotional scenes and its enjoyable. At last Sudha Kongara wins it all.
Rating: 3.5/5
Bottom-line: Irudhi Suttru is more than the weekend flick to catch on theatres, filling itself with many wonderful punches!