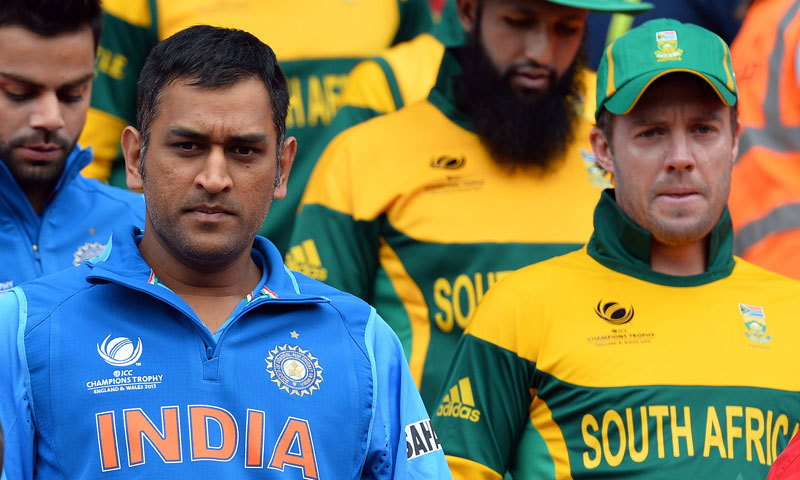 India's next counterpart has started chanting the mantra what India did just a week ago. "MAUKA MAUKA" blah blah blah. In case if you still didn't get it, India haven't beaten South Africa in a world cup fixture. They came close in 2011, only for Robin Peterson to belt Ashish Nehra for 16 runs off the final over to send Nagpur into stunned silence.
India and South Africa have started off with comfortable wins, but this fixture will all but decide who will top Group B. And this fixture will not get a better venue than the great Melbourne Cricket Ground, which is scheduled to be a sell-out, even though not the quickest in terms of ticket sales as Australia vs England and India vs Pakistan.
Head-To-Head:-
South Africa has got a superior record in terms of overall fixtures and in terms of World Cup games. Of the 3 meetings between them, South Africa have got past India in all and quite comfortably.
The only time these 2 heavyweights clashed Down Under was in Adelaide in the 1992 World Cup, where a superb knock of 84 from Peter Kirsten, a relative of former India and South Africa coach Gary Kirsten, who has been roped in as a batting consultant recently for South Africa, took them home.
Pitch and Weather Conditions:-
The weather in Melbourne for this crunch game is expected to be partly cloudy throughout the morning, and gets sunny as the day passes by.
Generally the ball doesn't swing much in Melbourne. A hard pitch, and some pints of grass on it gives the batsmen a chance to create havoc in the opposition camp, should they get through the new ball overs.
India:-
After a torrid tour of Australia, where they got belted soundly in the Test series and the Tri-Series, they have found their rhythm via a terrific performance against their arch rivals Pakistan. But still, they have got some wounds to nurse.
Their finishing against Pakistan was absolutely abominable. They couldn't even score at a run-a-ball in the death overs, due to which they could just touch the 300 mark. The Adelaide strip was a treat for batsmen, and the equivalently same nature of Melbourne should also help them.
Umesh Yadav and Mohammad Shami, their strike bowlers, despite having good pace, tend to err in length and spill runs unnecessarily. Umesh Yadav was absolutely toothless in his opening spell, before he came back well in his second to snare Ahmed Shezhad and Sohaib Maqsood. Shami needs to consistently bowl Yorkers in the death in order to survive against the dangerous trio of ABD, Duminy and Miller.
South Africa:-
As mentioned at the start of the tournament, they are the best side to have not won a world cup. They have got a side capable of beating any team any day, right from Hashim Amla, Du Plessis to ABD To Morne Morkel.
They had quite a few hiccups in their opening game against Zimbabwe, their rivals. Their start was horrible, before a miracle from Duminy and Miller took them past them 300. Their bowling hasn't been good, and worse, Dale Steyn has suffered a flu which could rule him out of this game.
They also had a short tour of Australia comprising of 5 ODI's and 3 T20's. They suffered a 4-1 loss in ODI' s and 2-1 in T20's. And their batting has quite clicked in those games. Only Quinton De Kock, India's nemesis scored a notable century.
Imran Tahir has been a positive along with Vernon Philander in the bowling department. Tahir has to be wary of Kohli, who has taken him apart in the past.
Predicted teams -
India - No change in the team
South Africa - Kyle Abbott, in place of Steyn, if not fit