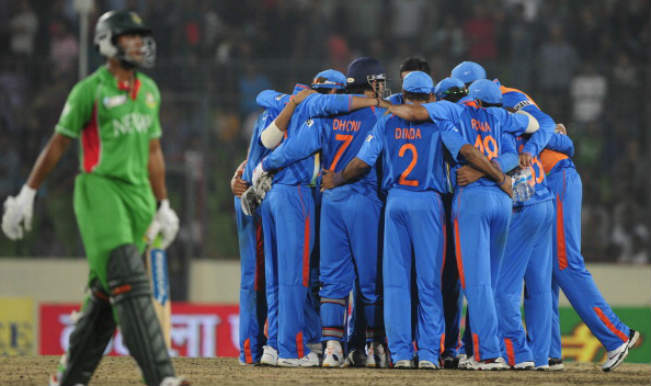 "We'll play the quarterfinal with India and sent them back to India.", "We can beat any big country now.", "We want Australia and Bangladesh in the final".
In case you are being made to guess, these are some celebratory words uttered by Bangladesh fans after they qualified for the quarters when they beat England, and eventually sent them tumbling out of the World Cup. It's India vs Bangladesh in the quarter final and it is slated to take place in the Melbourne Cricket Ground.
Pitch and Weather Conditions:
The weather in Melbourne for this game is expected to be sunny throughout the whole game.
Generally the ball doesn't swing much in Melbourne. A hard pitch, and some coverinh of grass on it gives the batsmen a chance to create havoc in the opposition camp, should they get through the new ball overs.
Head-to-head:
India has got a 24-3 record in ODI'S against Bangladesh. In World Cups, they are tied at 1-1, with India getting revenge for their loss in 2007 by winning in 2011.
Briefing on both teams:
India have got a clean sheet in this world cup, winning six out of six, whereas it has been a topsy-turvy campaign for the green tigers, their only notable win being against England which sent them into the last 8. They came agonizing close against New Zealand but for some wayward bowling at the death. Bangladesh would need more than a complete performance to halt India's streak in this World Cup.
Win Percentages in Melbourne:
Advice to any captain would be win the toss and bat first, considering the flat nature of the wicket. Batting first had just edged chasing first on this ground by 3 games.
Players to watch out for:
Shikhar Dhawan:
The southpaw has been in some good form, with 2 hundreds in this current edition and has scored a ton in the game he played here against South Africa. Though he was out of touch in a swinging pitch in Auckland, the sub-continent nature of this pitch will help him.
Ravichandran Ashwin:
This Chennai guy has got 12 wickets from 6 games, and can unsettle anyone with his bag of tricks, with the carom ball being his favourite. He has been a lucky charm for Dhoni ever since he was spotted at Chennai Super Kings and continues to be so. His variations are a constant threat to any team, and he will test Bangladesh too.
Tamim Iqbal:
He is one of the best left-handers to be playing this game. He is a man gifted with timing, and can occasionally get his dancing shoes on right from the fast bowlers to the spinners. On a flat wicket, many will fancy him to have a go at India, and he has got an average of 40 against them.
Rubel Hossain:
A rhythm breaker, he is often known as Bangladesh's golden arm, for his knack of picking crucial wickets, His spell against England took them to the last 8, and he would like to gain revenge from the pasting he got from Virender Sehwag in 2011. He is another player to watch-for.
Teams:
No change to either side
Prediction:
India bat first, and defend a total of 270+