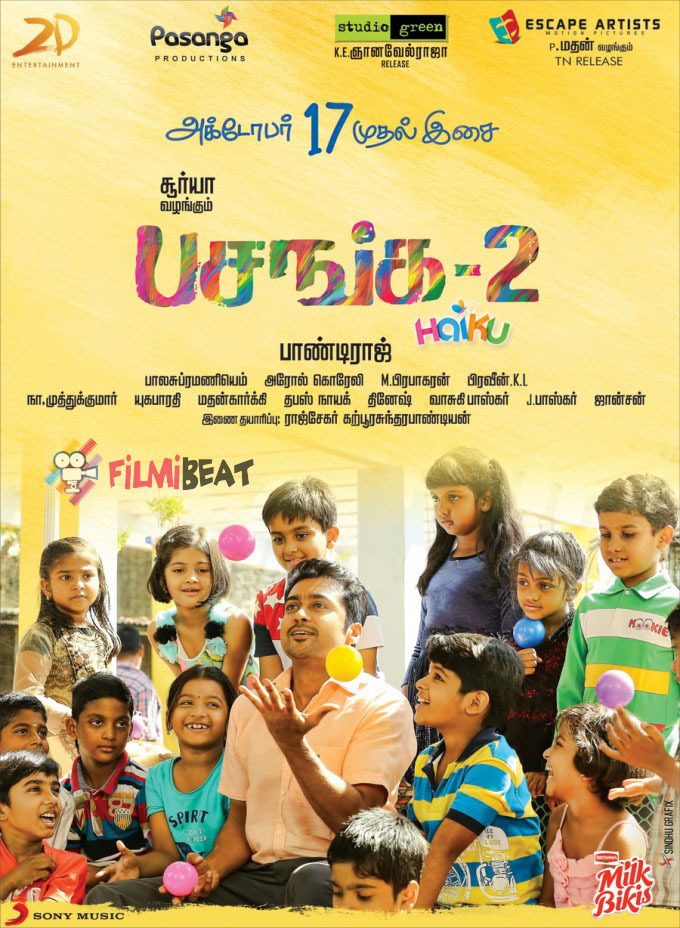 ALERT: CRYING BABIES AT THE CINEMA HALL.
The cinema hall was housefull for a midday show on a Tuesday. I am guessing that the schools are all closed for the Christmas holidays and the parents are taking out the children to watch the film.
In short, the movie is for children and newly married people to learn about raising children the right way. I certainly wouldn't recommend it for teens like you and me unless you have kids or are a kid at heart. The songs and the kids' imaginative stories are captivatingly captured on camera (Balasubramaniem). The visuals are very colourful and are set to an appealing musical score (Pisaasu fame Arrol Corelli).
The director (Pandiraj) packs in lots of emotions and manages to extract a fascinating performance from the children. This film is not Anjali (a dying mentally disabled child) or Taare Zameen Par (dyslexia) or Deiva Thirumagal (a mentally impaired father), but is close enough. Pasanga 2 is about Attention Deficit Hyperactivity Disorder (ADHD) and dyscalculia of 8 year old children.
Not disclosing the storyline, this is a message movie and it is about the educational institutions and their branding of children based on their academic performances. If Shankar/Rajkumar Hirani made Nanban/ 3 Idiots to redeem college life, Haiku (Pasanga 2) is for school life.
There is this scene where we see a small group of parents accepting that they had not decided their children's designations. On the other hand, we had the sequence where the Caesarian operation's schedule was decided based on an astrologer's prediction that a child born at that hour would become a doctor. Is the film trying to convince us that the alignment of the stars is not going to affect the personality of human beings – it is too short a scene to make any impact in that direction.
Both these scenes exaggerate the mindsets of parents – probably as an act of satire. But the point to be noted is that the child born at the astrologer's advice turns out to be as "saintly" as another kid who is born at an apparently inauspicious time.
Keep your eyes peeled for cameos of personalities you may not recognise by name - but by face. For example, Mr. Pakkada from Pasanga. Also, be on the lookout for cheeky pokes at other films like Ghajini and Madarasapattinam.
As for the casting, the actors playing the fathers (Suriya, Karthik Kumar and Ramdoss) look the age, but the mothers seem a bit young to be mothers of 8 year olds (Amala Paul, Bindu Madavi and Vidya Pradeep). There was a running gag about kleptomania that doesn't actually benefit the storyline, but works for character development.
The fact that the films "selling stars" Amala Paul and Suriya come up only close to the interval is a sign of how much the director believes in his script and not just the actors.
Suriya plays a doctor (Dr. Tamil Nadan), a child psychiatrist to be precise - but he packs in more punch as a stage performer - he juggles, he mimics, speaks in puns and does dinosaur and clown impressions. It is impossible not to compare with Aamir Khan's dance and song routine during "Bum Bum Bole" in Taare Zameen Par.
His wife, Venba (Amala Paul, defying the unwritten law that married actresses mustn't act) works in a school that is meant to help the children be themselves and let them grow at their own pace without forcing a syllabus onto them (this had me wondering about which affiliation they would hold, but it was just me).
Bottomline, it is a movie worth watching if you want to babysit kids over the vacation or if your friend books the tickets and you can't have them cancelled. I would give it a 6/10 especially for the cinematography, dialogues and the kids' performances.
P.S.:
One thing I couldn't understand at all was the fact that there are Spiderman, Hulk, Dora, Chhotta Bheem and Hanuman sharing screen space.
If that doesn't boggle your brains – try to accept the fact that you are watching Marvel, Pogo, Chutti TV and Ramayana at the same time.
I present to you the art of pissing off multiple fandoms at the same time.
If that doesn't boil out your common sense - Spider man wears black&blue (or was it white&gold?) and has a freaking LIZARD LOGO emblazoned across his chest.
I present to you the facepalm of copyright loopholes.