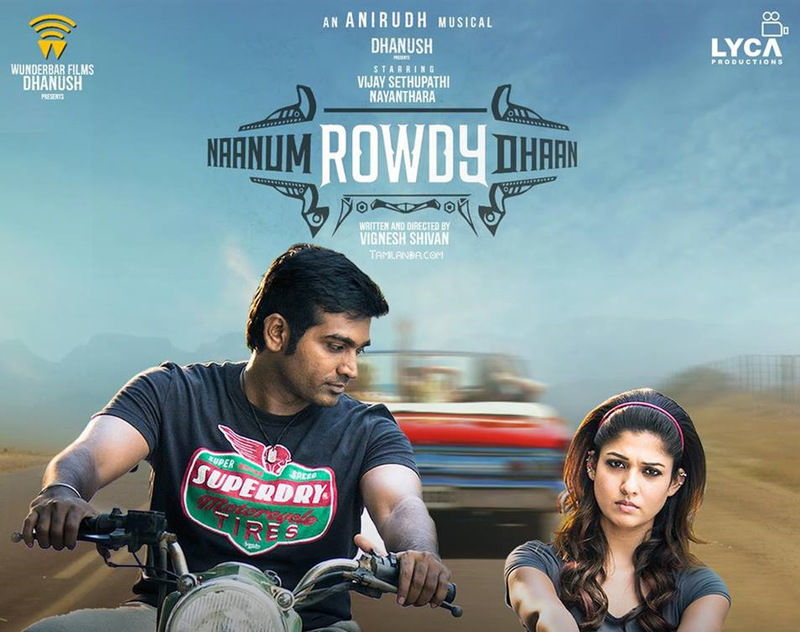 Films are made to create impact, bring change, reveal truth, show an unimaginable thing possible or leave us with an enthralling experience when we step out of the cinema. However, sometimes all we need in a film for it to hold a place in our heart is to make sure it makes us feel light at the end of the day. Naanum Rowdy Thaan from Vignesh Shivan stands out to be one such long awaited film.
Though there isn't a big storyline to unveil, the movie sure leaves us happier when it ends. Vijay Sethupathi (Pandi) is shown aiming to become a rowdy (or a local goon) after hearing the perks of being one from Naan Kadavul Rajendran (Raja) as a young boy. His mother Meenakumari (Radhika) is keen on making him a police like herself and takes great effort to do so. Pandi runs an aimless life pretending to be a rowdy with his friend RJ Balaji (Balaji) until he meets Kadhambari (Nayanthara) and totally shifts his focus on her. The story then moves on, to how he tries to impress her by fulfilling her aim to take revenge on Killivalvan (Radhakrishnan Parthiban) who killed her family and left her deaf.
The unconditional love he showers on her is excellent to watch and the lyrics of the songs go well in hand with the storyline. But one definitely would want to question why so much love? Just because the girl is good looking as he describes in the song "Thangamey", he is ready to go to any extreme where at one point of time he knows his mom is dead and still continues to romance with Kaadhuma. It seems kind of disturbing as it brings out a wrong message. Nayanthara essays her role perfectly and deserves applause for having dubbed her own voice for the stammering ascent, which has actually come out really well. The idea of Director Vignesh to show her dependant seems fitting in the film yet shows women as very weak which is in contrast to his other movies with female lead such as "Poda Podi". RJ Balaji finds a bright future in comedy with this film where every line of his is just thorough enjoyment especially the one where he says "kaadhu kekadhadhuku Bluetooth headset'u payasam kudika palset'u" (having Bluetooth headset for a deaf person is like having artificial teeth to drink liquid). The whole crew starting from Vijay Sethupathi to Rahul thatha brought out extraordinary humor till the very end and kept the movie enjoyable throughout. Radhakrishnan Parthiban has done excellent job as villain who also keeps up the film's main theme 'black comedy'.
Anirudh has scored music although rejecting the lead offer and has done a decent job with the songs and BGM. George C. Williams had already proven that he is the best in showcasing heroines in a classy manner in "Raja Rani" and has repeated the feat in this film. Nayanthara is indeed the best treat in the movie through George's lens, while all other characters have made sure they make the movie a feel-good one and deserve appreciation for achieving the same.
Rating: 3/5
Bottom line: Worth watching once for Nayathara and the witty one-liners throughout the movie.