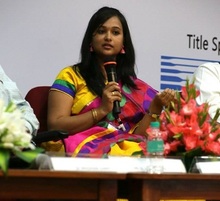 M. Priyadarshini, a Printing Technology Graduate [2010] from College of Engineering, Guindy is now a features reporter and anchor in Thanthi TV. As a speaker at CEGAM 2.0, she had a lot of things to share with us. Here are excerpts from the Interview:
How and when did the transition from a corporate employee to a journalist happen?
During my college days, I constantly had a strong intuition that Engineering is not my cup of tea. After joining Cognizant Technology Solutions (CTS), I realized that it's time for me to opt for a job that interests me. My dad initially opposed my idea of quitting my job. After a couple of years in CTS, I began to explore various career options wherein my passion for media became a serious driving factor. I pursued PG in Broadcast Journalism from Asian College of Journalism and started working as a reporter for New Indian Express.
How would you describe your journey in the media industry?
Media is definitely not a smooth industry, especially for women. I was working round the clock in New Indian Express with back to back event reporting and very few hours of sleep. It was a highly competitive environment where there is always a pressure to keep performing well. I specialized in Film Journalism and joined Thanthi TV where I review movies and interview film industry-based celebrities. It has been a wonderful experience. Personally, I learnt a lot about documentaries, gained huge exposure and widened my network of people.
What kind of student were you while at CEG?
I was an above average student in CEG. I did my Engineering just for the sake of doing it. I was neither too knowledgeable nor too poor. I was just strong in my subjects. I was awarded the best student award from the Print Week Magazine, Mumbai after I completed my B.E.
What are some of the unforgettable moments from your college life?
My final year was ultimate fun. I had very good friends with whom I enjoyed a lot. Our implant training in Times of India was quite entertaining, during which we bonded well over food and work. At times, we jumped over walls after lunch to go out. We went to Goa for Industrial Visit which I would always cherish. This could never end without the fond memory of our favorite hangout spot, Gurunath and of course CEG Canteen's Bajji!

Is there any change in CEG that you observed over the course of the past 4 years?
Yes. CEG has become technically more connected. There are lots of Wi-Fi spots which we didn't have.
Your views about Engineering
About 75% of the engineers are not employable. It's high time that all Engineering colleges should take some measure, like a collaboration with a Corporate Company, at least for a year and provide training to the students. It should bridge the gap between Engineering Students and actual Engineers.
As a panelist for the panel "In pursuit of passion beyond Engineering" at CEGAM, what are your thoughts on alumni interaction?
CEGAM is a wonderful platform to enhance interactions between students and alumni. I feel honoured to be amidst the great people here. I take this as an opportunity to look back where I am from. Whether I deserve to be a speaker here or not, I strongly see CEGAM as a motivating tool to accelerate my steps towards succeeding in my field.