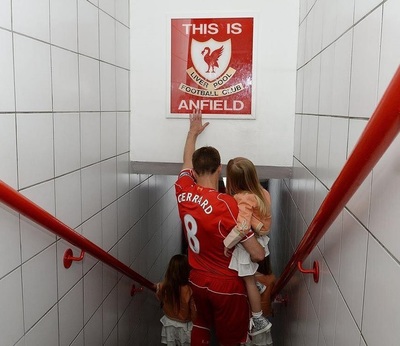 Last week, Merseyside flocked to Anfield, home to Liverpool, one of the biggest premier league clubs to say their farewell to a person who filled their resigned hearts with that glimmer of hope every single time. The stadium erupted with chants for that local lad who set foot on that pitch 17 years ago as a young ambitious kid and transformed into their champion, talisman and leader, Steven George Gerrard. I still remember watching the Champions League final in Istanbul and rooting for AC Milan, so that Kaka would get his hands on that cup and having taken a three goal lead into half time Milan looked to be set on the road to glory. With stars like Kaka, Maldini, Shevchenko and many more it wasn't a surprise that they were winning, but Liverpool's young captain had something else in mind. The captain took it upon himself to spark an unforgettable comeback to resurrect Liverpool from the dead and lead the club to its fifth title. This day is etched forever in history as the 'Miracle of Istanbul' but there was no miracle that day, there was just one man, one leader who didn't give up and kept his head high. That game was one example of why this game is called 'the beautiful game'.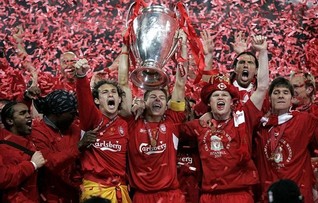 Football today has become a game controlled by money and as time progresses the game that was once driven by raw passion has been replaced. In such an era of football, here is one man who stood by his club and his passion for the game and stayed clear of the big bucks.
Being one of the best midfielders of the world in his prime, it was no surprise that every club in the world wanted him. He had been targeted by top clubs such as Real Madrid, Inter Milan and Chelsea and also by top managers like Mourinho, Ancelloti, even Sir Alex Ferguson. Gerrard always had the choice to leave and go in search of greener pastures but he stayed on. He stayed on even when everyone left, his best friends, his trusted comrades and managers he looked up to. Xabi Alonso departed to Real Madrid, Torres to Chelsea and recently Suarez to Barcelona. All of them left him behind and went on to win many a trophies. Liverpool never overpaid their captain to stay put; in fact 20 year old youngsters at other clubs earn more weekly wages than him.
I wouldn't say they had no loyalty but I will say that Steven Gerrard had so much of it that he stuck on even during Liverpool's darkest days. Like Brendan Rodgers, the manager of Liverpool said "Steven Gerrard has given more to the city of Liverpool than any politician has" and that is every bit true. He will always be remembered for some wonderful strikes but what he will be remembered for the most will be his loyalty. He's the last of the kind who means it every bit when he kisses the badge.

The Premier League has been something that has always eluded this legend but that doesn't make him any less of the player he is. After all Mahatma Gandhi who's been the epitome of peace is still not a recipient of the Nobel Peace Prize. Hopefully he would return as the Liverpool manager someday and lead them to glory. Like Joey Barton said "Will there ever be another who epitomizes a club like him", well I don't think so. I really hope this is not the last I see of him at Anfield and he returns to the people he calls his own.