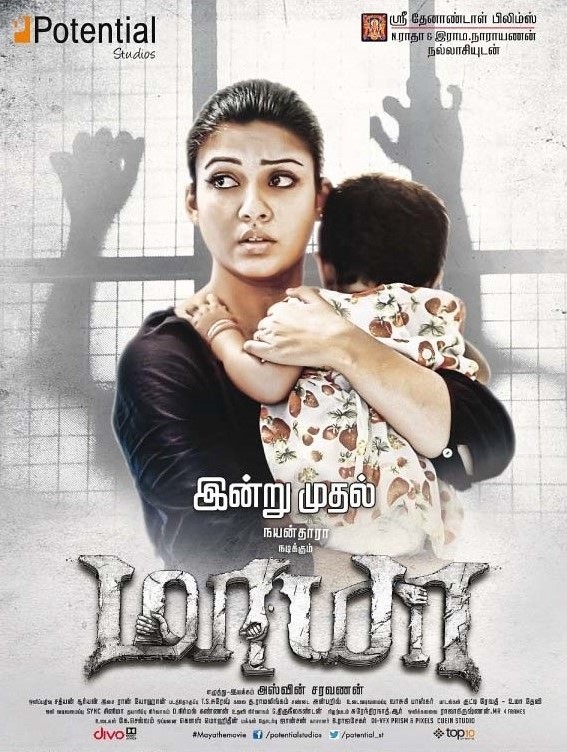 A true horror film has become outdated in Tamil Cinema after movies like Kanchana, Aranmanai,etc. Maya by debut director Ashwin Saravanan brings back to us the original fear-filled horror movie. The story begins with two friends discussing ghosts, evil spirits. Vasanth (Aari) unfolds the history of Mayavanam to his friend and ends up giving him a big surprise for his birthday. He draws sketches for this story which is written as a series in the magazine he works. The next day Vasanth is warned by his Editor–in-chief Ram Prasad (Amzath Khan) and the writer of the series Madhan (Uday Mahesh) as they show someone standing in the pictures he had uploaded from the previous day's celebrations. In parallel we are introduced to Nayanthara (Apsara) attending a film audition and being in crisis for money with her broken marriage and a one year old child . She is supported by her friend Swathi who ropes her in for the audition conducted by her director.
Though there is not much thrill or suspense as the storyline is quite predictable, Cinematographer Sathyan Sooryan has succeeded in haunting the audience with his great job of playing alternate cards with color. The rest of the story reveals to us things we already had in mind and brings in connectivity between Vasanth and Apsara plots respectively.
More than horror, Maya stands in the hearts of the viewers as an excellent emotional flick for portraying the struggles and love of a mother in a very unique and gripping way. Nayanthara sure has proven that she is a beauty with brains by selecting this film in her career. The team is due to thank her for pulling in audience in the theater initially which has resulted in it being packed till date, now for the storyline. The director knows he has achieved success when the audience realize and feel the love in the movie.
Verdict: With movies like Trisha ilana Nayanthara and Puli running in theaters, Maya is best choice for the long weekend.
Rating : 3/5.