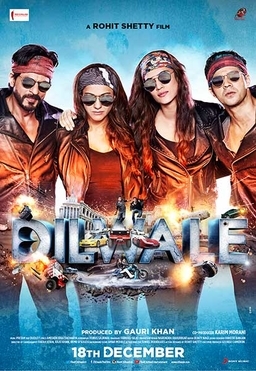 This Friday, Bollywood saw two biggies clashing at the Box Office - Bajirao Mastani and Dilwale - leaving fans in a tizzy over which one to watch. As you can see I chose the latter (don't ask me why). And here I am penning this review.
So we begin with the plot which revolves around Raj (Shah Rukh Khan) and his younger brother Veer (Varun Dhawan), whom he adores. Veer falls in love with Ishita (Kriti Sanon). But troubles ensue in the perfect paradise in the form of Raj and his past. What is his past? You'll know if you watch the movie.
Rohit Shetty's Dilwale works mainly because of the sizzling chemistry between Shah Rukh Khan and Kajol. This pair never fails to have us agape. Both of them look amazing, act amazing and are overall amazing. But they try to save a damp squib in vain. This pair definitely deserves a better canvas. Their fiery love leaves you screaming for more. But no! Shetty won't have it. He tries to induce twists and turns which fall flat. They are very predictable and unsurprising.
Next up is the young kid Varun Dhawan. You wonder why he overacts so much. At times he's splendid but at times he's a drab. Kriti Sanon on the other hand is just a showpiece in this movie. All she ever has to do is wear dresses which are never below her knees to look like the glam doll she signed up for. There isn't much scope for her to prove her mettle either.
Dilwale scores big on the music part. Superb songs put together with great locales blow our mind off.
The movie plummets down a drain when it comes to comedy. Humour at some instances is rib-tickling, agreed, but at most times it actually incited groans from the audience. There were a lot of jabs, digs and comebacks from the audience which, truth be told, was hilarious in comparison to the ones on screen.
Overall, Dilwale tries too hard to be the film it never is. In a scene, SRK asks Kajol out on a five-minute date. Had I chosen that five minutes sequence to review the movie, I would have had much better words to tell. It definitely is a good masala film which does entertain audience at times during the two and a hour stretch. But a movie of this calibre should do a lot more than entertain only in short bursts, here and there.
Verdict: You need a big heart to ignore the flaws and watch the movie. So, agar aap Dilwale ho toh zaroor Dilwale dekhiye.