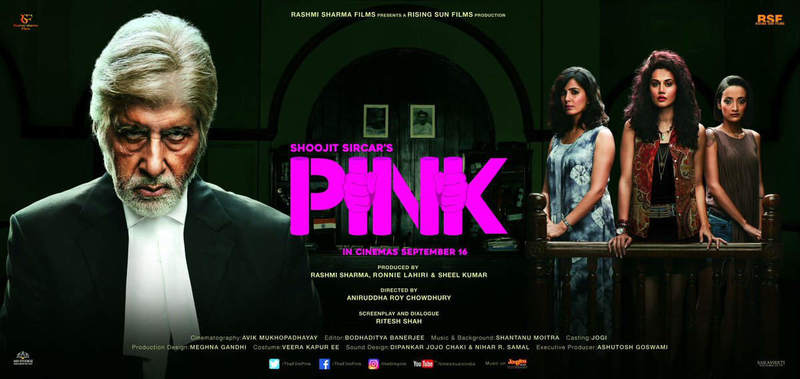 MOVIE REVIEW: PINK
Cast: Amitabh Bachchan, Taapsee Pannu, Kirti Kulhari, Angad Bedi, Andrea Tariang, Piyush Mishra, Dhritiman Chatterjee
Director: Aniruddha Roy Chowdhury
Rating: 4.5/5
Synopsis:
The movie features a courtroom drama between two sides depicting the two facets of our Indian society. The misogynistic men versus the modern day women who speak their mind and are bold and fearless. How a bipolar lawyer defends three independent Delhi girls accused of solicitation and promiscuity against influential men forms the crux of the story.
Critic's Perspective:
Pink is a significant step by Bollywood in reiterating to the men of our society about the importance of a woman's choice. Be it as a girl in a bar, a girlfriend or even a wife, a woman is entitled to certain rights and it is about time these are respectfully upheld.
The first half establishes the storyline depicting two sides of an incident that took place in a resort lying in the outskirts of Haryana, post a rock concert.The second half focuses on the trial.
The stress, anxiety and fear the girls go through while trying to defend the accusations of the arrogant boys has been portrayed in a very realistic manner. Taapsee Pannu enacts the role of a brave and bold beauty, yet made to feel helpless when pushed into a dire situation. Kirti Kulhari and Andrea Tariang give fresh performances as Taapsee's support system and victims of the incident.
The characters of the women are highly relatable to the modern Indian woman, feeling the same agony and agitation at being wrongly accused in a judgemental society.
However it is Amitabh Bacchan who steals the show. With his spectacular performance as a bipolar lawyer fighting his own personal battles as well as the girl's case, he stuns us with his wit and wilful determination. Piyush Mishra as the Prosecutor signifies everything that is wrong with the mentality of the society.
His convincing ating skills bring out the thoughts that harbour in the minds of men when they meet women at night and judge them for smoking and drinking.
Angad Bedi and the supporting cast as his friends are highly believable as the 'tum nahi jaante mera baap kaun hai' Delhities who can't take a 'No' as a woman's answer.
The emotion and conviction with which the Director brings out the truth that 'No' is not just a word, but an entire sentence and an entire emotion, is absolutely honest.
Watch the movie to understand the finer aspects of a girl's life, her trials, tribulations and to celebrate her remarkable grit even in the face of adversity.