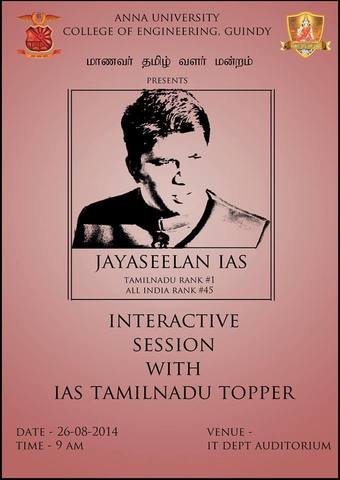 Madhavam is a club which primarily focuses on the development of the Tamil Language. The club encourages people who are proficient and passionate about Tamil and conducts regular events for them. Madhavam welcomes any student who loves Tamil, even in today's scenario, where some of the natives themselves are not appreciating the beauty of this oldest and richest Civilian language.
Maanavar Tamizh Valar Mandram aka Madhavam presents an interactive session with Mr. Jayaseelan I.A.S on 26th August, 2014(Tuesday). Mr. Jayaseelan is a Tamilian who truly deserve to be called so. He cleared the Union Public Service Commission examinations, in Tamil itself and achieved the Rank One position in Tamil Nadu, with an All India Rank of 45. He is the perfect role model for thousands of IAS aspirants in Tamil Nadu, breaking the language barriers and instilling a sense of pride and confidence in the young Tamil minds out there.
So, AU's future IAS officers, kindly attend such a great person's lecture, which is going to happen on Tuesday in the IT department Auditorium, from 9A.M. till 12 noon.