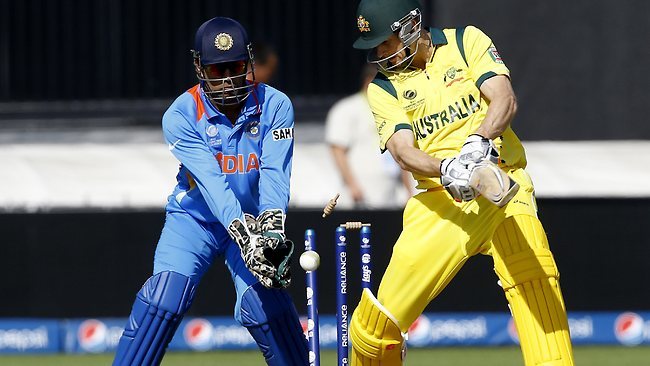 This game is more like a final. The winner of this one will win the World Cup 90%, as these 2 teams are used to the conditions in Melbourne more than New Zealand, who have so far played all matches in New Zealand. So let us look at 4 players who can be potential game changers and take their team for the big ticket in Melbourne.
Virat Kohli
Undoubtedly, India's second best batsman when it comes to pressure situations. He scored 2 blistering hundreds back in India against the same opposition not so long ago, and he showed the same form in the Test Series, scoring 4 hundreds. He has always been a thorn in the Aussie side, and will continue to be so. And sometimes he tends to get under the skin of other players as well.
MS Dhoni
If India's second best pressure batsman is Kohli, his captain and partner in crime MS Dhoni is the best finisher India has had in a long time. He may not boast of a good record in Australia, and he is not like AB De Villiers or Gayle who smash sixes from ball one, but he is a player who can steal the game single handedly from the opposition.
Shane Watson
His place in the side has been questioned for long periods of time. No doubt that he is one of the cleanest strikers of the cricket ball the world has produced, but he became so inconsistent that Australia pushed him down the order, closer to finisher's role, alongside Maxwell. He started off with a golden duck against England, but played a responsible role against Pakistan, and he can do it again.
Josh Hazlewood
He hasn't played too much, but has already done too much to stay in the international circuit for at least 1-2 years long. He had memorable debuts against India in the tests and South Africa in the One-dayers. He also impressed against Pakistan taking 4-35, even though he didn't do great against England. He is another player to watch out for, due to his ability to generate extra bounce to his height factor
Prediction
India win by chasing a total of 250+