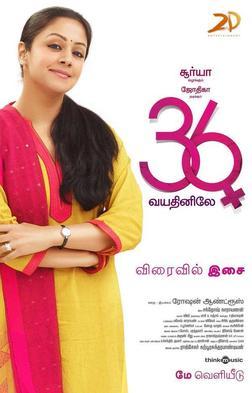 '36 Vayadhinile' comes as a welcome movie in the current scenario where women are suppressed in and out of the family in some way or the other. This is not just a mere entertainment package but an inspiration for every woman and a lesson for every man. Underlining two facts, viz. "Dream is not the one which comes during sleep; dream is that which doesn't allows one to sleep" and "Your Dream is Your Signature" with respect to the present day context in a common woman's terms, 36 Vayidhinile is nothing short of a mindblowing comeback by Jyotika. The film has been remade from 'How Old Are You?' (Malayalam) but the exceptional acting skills of Jyotika make the audience wonder if this could be the original one.
The first few minutes of the first half reminds the viewers of English Vinglish (also a comeback movie but for Sridevi) but then Vasanthi Tamilselvan (Jo) carries the movie single–handedly with elegance and enhances the involvement into the story. The various faces of a 36–year–old woman - a loving mom; a caring wife; a routine office–goer; an average lady wanting gossips from serials, are handled just like that by Jyotika. Though she forms the crux of the story, credit must be given to all supporting casts who play their role to perfection. Girija (Devadharshini) features as the 'best buddy' for Vasanthi and her natural reactions to Jo's feelings of joy and depression add color to the movie. Abhirami also makes a comeback to the Kollywood industry after Virumandi (2004), playing Susan. Rahman comes in as the male chauvinistic husband Tamilselvan, who regards his wife to be fit for nothing.
The screenplay is very fluid as the scenes seem to be arranged like the photos of a chronological album. The emotions of a mother due to the generation gap caused by the sudden technological expansion can be witnessed by the relationship between Vasanthi and her daughter, Mithila (Amritha Anil). Dialogues like, "Neenga Avalukku Appavaa vaenum na Irundhudalam; Aana, Amma ah Irukkave Mudiyadhu" (You can be her (Mithila's) father, but none except me can be her mother) deliver the utmost affection of any mother towards her child when she is crossing through puberty.
The YouTube sequence, where Vasanthi speaks about her first and failed meeting with the Honorable President of India not only depicts her confidence but also the need for women to participate actively in social media to bring in a change. Vasanthi is sure to be embraced as an epitome of positive energy and vibrancy by the women. The fusion of the Green Terrace Farming concept is worth noting here because at today's rate, we would be pushed to zero agricultural productivity in no time if drastic progressive measures are not implemented.
Santhosh Narayanan's unorthodoxy tunes with husky, coarse voices has created a new wave in the Tamil cine industry and seems to continue in this album, too. Vaadi Raasaathi has been making the rounds in FM stations recently and Pogiren, with boosting visuals, provides enthusiasm. Happy Happy looks like the dupe of 'Aendi Aendi' from Enakkul Oruvan.
Verdict: Watch it and relive the experience several times. Definitely, this would result in the transformation of mindset of too many chauvinistic men.
Rating: 4.25/5
Reasons for deduction:
1) The movie is a remake
2) Some resemblance to English Vinglish