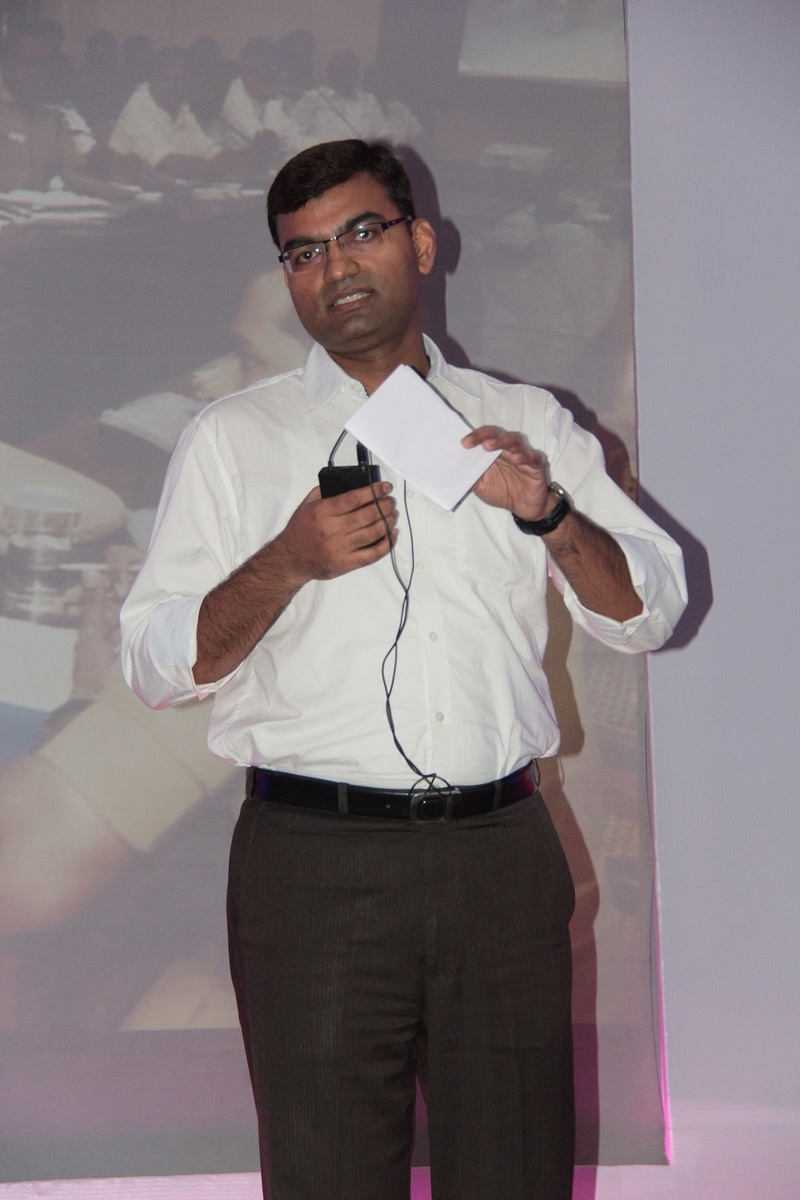 Conclave – Merriam Webster dictionary defines this word as a 'private or secret meeting or group'. The private group was the students CEG and Conclave, organized by the Rotaract Club of CEG, was an enriching experience. Captioned Converging Minds, this was the conglomerate of people coming from various walks of life. Held at the Tag Auditorium in the fine evening of 9th March, 2015, the motivational talk session made its audience crave for more.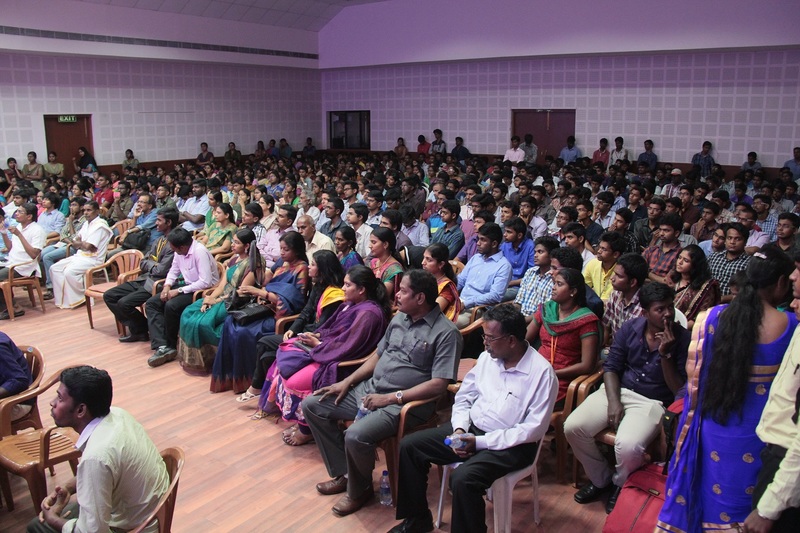 TO ELEVATE YOURSELF, BE YOURSELF:
The first speaker was Mr. Sidhharth Jayakumar, who had cleared his Economics degree with distinction. The mindboggling part of this story is that Sidharth is a man affected (he doesn't like to be called 'affected' but still) with cerebral palsy, a disorder that causes problems in the muscular movements, resulting in awkward postures. Moreover, body temperatures remain constantly high for such a person that it sweats more than the usual optimum limits.
This has, in no way, discouraged Sidharth from targetting his goals. He studied all of his subjects with a typewriter:with just a finger, except for Mathematics, which couldn't obviously be done. From being in Vidyasagar, a school for the disabled, the transition to regular schooling was difficult, but he had to get accustomed to it and in the end he emerged victorious with 90% in his final board examinations.
Although big corporate giants rejected him due to his physical disability, he got a job at the ABN Amro bank. According to this legend (if movie actors can be stars, why can't this man be called a legend?), whatever be the situation, in order to win over it and elevate oneself, one should be oneself.
FROM A FAILURE TO A FAIRYTALE:
Taking up the proceedings from the inspiring Sidharth, Shankar, Founder and Managing Director of Shankar IAS Academy, which has been acting as a crusader for the dreams of aspiring Civil Servants in and around Tamil Nadu, enlightened the crowd on how his life wavered and how he was able to finally settle down. Glimpses from his talk showed how much he had suffered before reaching the relieving and peaceful life accompanying his current identity. He had completed his higher secondary schooling only at 22. This was after scoring 32 marks altogether in his 10th standard final examinations and repeating the 'feat' (as he mentioned it) with some other meagre total in his +2 hurdle. Fate didn't stop its cruel smile and he was debarred in college once for misbehaviour. And finally, he completed his degree at the age of 27.
At 32, his father passed away even before Shankar had made any significant achievement. But then, positives, including his wife, started coming towards him, and he is now the person who is looked up to, admired and respected in the society.
His words, "Your achievement, in whatever extent, doesn't matter if you don't do it when your parents are alive. Please do not repeat the mistake I did", suddenly moved me to tears and I could feel the hardships he should have crossed before becoming what he is now.
ONE'S FIRST ENEMY IS A BAD ATTITUDE:
Following up Mr. Shankar was Ms. Malvika Iyer, the 2002 bomb blast survivor, whose routine life took a turn after her dreams of becoming a Kathak dancer had been shattered. Imagine a 13 – year old girl losing her hands; with legs damaged to such an extent that speedy movements weren't possible: the problem looks woeful. But, that was not to be. She started chasing her dreams even after that. She took up private tuition classes for her 10th standard as regular schooling was not feasible and cleared the public exams, scoring 98%, with a preparation period of just around 3 months. The story doesn't end here! She wanted to enter into St. Stephen's college (Yeah, the one where Madhav Jha meets Riya Somani in Half Girlfriend), which required devouring the syllabus of the 12th grade. Of course, she did, coming out with flying colours , and entered her dream college!
All the while, she was all praise for her mother, who according to her 'has made her independent in the way nobody would have'. "She didn't feed me, she didn't make me comfortable, but wanted me to come out on my own" . Malvika is now a social worker, motivational speaker and model for Accessible Clothing in India. The bio – electric hands don't remind her of the accident. According to her, they are more of an inspiring encouragement, forcing her to be positive and content.
A BIT OF COURAGE IS WHAT EVERYONE REQUIRES:
The fourth speaker of the evening was Mr. Anshul Mishra, IAS, the role model and inspiration for almost each end everyone dreaming of a career as a Civil Servant. He highlighted four virtues required for a man in general and a public servant in particular, with due reference to his life as a Collector in Madurai.
Honesty – Mr. Mishra stressed honesty as the first pre – requisite for the UPSC – savvy people, describing that had the steps not been taken without fear by him and Mr. Sahayam, his predecessor, the Granite Scam would not have come to the limelight and people would still be clueless about what really happened.
Competition – "This is analogous with a word called 'ego' in government jobs. One has to counter and tackle the complex between one's fellow workers and colleagues in order to survive."
Courage – Mr. Mishra had been called by a reporter through phone, enquiring about the situations of the case, when the granite scam had not been fully revealed. This man, without knowing the consequences, reiterated that whoever involved in the scam would be dealt with severely by law. Whoever! The program was aired and this became viral suddenly. So, the words had to be followed. "Though I arrested the men responsible and behind the scam, I too had a family. I would suddenly wake up in the midnight after some gory dreams, thinking about my wife and child, in spite of having a Personal Security Officer (PSO) and police patrol." These words indicated his sense of responsibility and reminded one of the fact that Bravery is that final step separating the safe from danger.
Humility – "It is important for any person, who has grabbed media attention, to keep himself grounded. Any word uttered without self - consciousness would result in trouble".
MEDICAL MIRACLE:
Dr. Rajendran, one of the forefathers of surgery in the country, recalled the traumatic moments while examining the then Prime Minister Rajiv Gandhi's corpse after the suicidal attack that took his life. "It was really hard for me to tell Priyanka and Rahul that it's no use coming and seeing the MANGLED body." He also detailed the hardships faced by him while doing his Masters.
CHANGE YOUR THOUGHTS, AND YOU SHALL CHANGE YOURSELF:
The last speaker (and performer) of the day was Ms. Suhani Shah, the renowned magician, illusionist, mind – reader and motivational speaker. The two most important things that distinguished her from the others were:
Though she hasn't studied beyond her first grade, she could speak good, fluent English, challenging an English RJ in the process
She could do something which the others couldn't even think of – MAGIC and mind – reading
She started off with an illusion where she puzzled the spectators with a glassless frame that she wore; she brought 10 rupee – note from nowhere; she tore and burnt the same note and got it back. But, what surprised the whole crowd and made the people go rapturous was the way she could write whatever someone wrote on a board, with both her eyes oblivious to the surroundings, covered with thick, opaque dough and enveloped by a rigid cloth. This included a 10 – digit phone number (oh, wow). She also made a 4*4 grid and completed it with some numbers whose row – wise, column – wise, diagonal – wise and wises of so many other sequences' sum equalled the number that a person imagined. OK, this resembled the Ramanujam's Magic Square to some extent (courtesy, Whatsapp videos)
She recalled some funny experiences when people mistook her for a godwoman and started querying and worshipping her with unimaginable and undoable wishes. She finally concluded telling the exceptional, extra – ordinary power of mind almost always remains untapped due to lack of focus and concentration.
This was the fitting end to the evening that captivated the students, made them re – think about their futures and encouraged them to live out a daring life stepping out of their comfort zones.