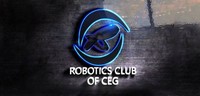 The Robotics Club of CEG conducted its Valedictory Function for the year 2014-2015 on Monday the 23rd of March. The function was held to facilitate the members of the club with a letter of appreciation. It was presided over by Dr. B. Umamaheshwari (Technical Advisor), Dr.K. Udayakumar (Staff Advisor) and Mrs. Kamala J (Staff Treasurer). "4 years have passed in CEG and I'll have to bid farewell to college but not to the club because I'll always be in it!" says Md Nihal (ECE, Final Year) who is well-known as the 'Robotics boy' of CEG.
Excerpts from the interview with the President of the Robotics Club of CEG.
Since when have you been a part of the Club and why did you choose to be a part of this club?
Well, it all started with the club orientation day when I was disoriented partly due to my Ramzan fasting and partly due to plenty of clubs doing so many different things in CEG! It was on the tone of the flute played by the guy representing the Robotics Club on stage that day which made me go for the club and I have never regretted it ever since!
How was your experience in the club? What did you learn from the club?
Apart from learning and teaching Robotics, there was a lot more fun in the club! One thing would be the seniors I got introduced to who would not be bothered by 'after 11 PM calls or chats' for any help needed (Robotics or placements or whatever) and the juniors who would do the same to me! There were even times when I had stayed in hostel rooms of my seniors doing Robotics and slept off through the next day bunking classes!
Apart from circuits and coding in the club, I also did Photoshop! In fact I learnt designing by doing posters for the club. As it is in every club, I guess, we meet up with our passed out seniors over food every now and then. Best part is 'They earn, they pay'. Obviously guys from Caterpillar, Cisco, Ericsson or CEAT will have deep pockets! I'm just bragging about where Robotics Club people are placed if you got me right.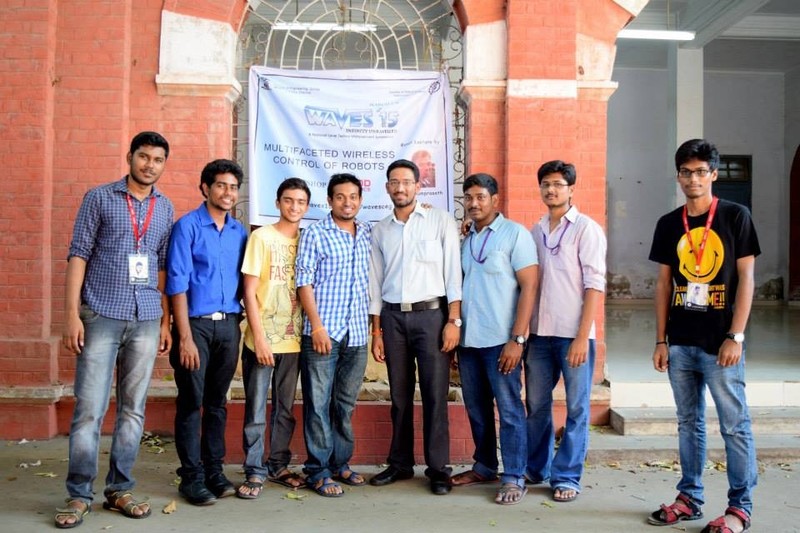 Teaching is a tough task. How were the basic robotics classes conducted?
The aim and objective of the basic robotics classes is to provide students basic knowledge in the field of Robotics. Around 300 students had enrolled. These classes were taken on a regular basis throughout the second semester. The classes were organized and conducted by the robotics club of CEG. Students invest their own money in buying necessary components. We, members of Robotics club, assist them on components to buy.
The fruits of your own hard work is the sweetest. Tell us about the achievements of the freshers.
Around 50 teams (roughly 4-5 in a team) actively took part. 15-20 teams successfully completed manually operated wired robot while 15-20 teams successfully completed autonomous robot which is capable of tracing lines. Remaining teams faced little tough times with circuitry and coding whom the club will help in completing the robots.
What does the club mean to you?
Personality wise I saw a huge changeover in me from being a silent, introverted person to a someone who can give a speech to a mob at any time! My senior in the club would say, "If you can't help a junior with his problem or at least guide him to a person who can solve his problem, you aren't a senior". With this in mind all the time I continuously had that urge inside to keep on improving at what I do and it shaped me really well! In my final year, I learnt a lot about management being the president of the club.
And after four years of being in CEG, I got the most interesting chapters from the club. It sort of became an identity. No joke when I say 'identity' because the CUIC Director once recognized me as 'Robotics boy'.
Duty makes us do things well, but love makes us do them beautifully. Can you please highlight a few achievements of the club?
The achievements of the club are as follows :
A team of 10 students won first place in First Tech Challenge Event conducted by CAT ELECTRONICS INDIA.

About 12 teams of first years participated in the 'I-robots' event conducted during 'Indcon', The best design prize and third place were secured by them.

4 teams participated in the image processing event conducted in Vision and first place was secured by the second year team – Sanjey.S, Krishnamoorthy M and Sree Vishnu G.

The team of second years R.Alagappan, A Firnaz Ahamed, G Raghul Kumaran, V.S.Arunkrishna and V.Shravan secured second place in the 'Internet of Things' event in Pragyan (NIT Trichy's techfest)

One team went till the finals in the circuit design challenge event conducted by IIT-M's Shaastra (M.Sankara Subramanyan, Reuben V Mathew, Thick Vijay, Raghu Raman)
One team won the first place in circuit design challenge event conducted by NIT-T, ECE department symposium Embedtronix.

Two teams completed and displayed their projects in kurukshetra'15 – 'Auto green' and 'Robotic Scavenger' by Hari Kumar.S, Ashwin Kumar B, Priya. M,Sai Mohit Srinivasan, Swathi S,Bhargavi S and Saranya Lakshmi.

Third year team – Ashwin kumar and Noor Mohamed won second in 'Robosurf' event in Waves.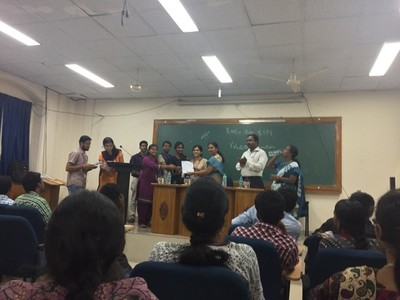 What message would you like to pass on to the new office bearers?
To the next set of office bearers we already passed on the experiences we had in managing the club! But more than that I would be happy if they keep the tempo alive! The tempo is that every year, the passing out seniors contribute some new thing to the technical side to the club! So it's like when my juniors complete 4 years in the club, they probably know more than me! And when their juniors leave college, they know more than them! But more than anything else I would want to tell them to spend good time on all their commitments like friends, non-technical interests and all in addition to the Robotics Club because it's only one more year for them in college! Looking back into our diaries one day, none of us would want to have that feeling of regret "I could had done that in my college!"
We wish the new team and all the office bearers of the Robotics Club good luck!