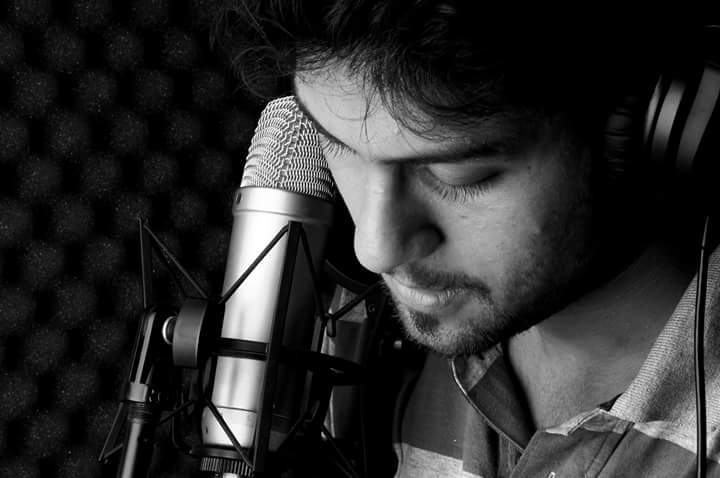 With its breezy rhythm and radiant visuals, the track "Kannala Kannala" from the recent blockbuster movie "Thani Oruvan" is evidently a sensational hit that has led to much speculations about the mystical voice behind it. Kaushik Krish, a 23-year old Visual Communication graduate from Loyola College, Chennai, is the soul of this romantic melody. Being a vibrant youngster, he was so enthusiastic in sharing his experience with a student magazine like us. Here is an excerpt from the interview:
Can you talk about landing as the singer of this song?
My association with Hip hop Tamizha Adhi and Jeeva dates back to my college days. Jeeva was my classmate and he fed my hunger for music. I have worked in their independent albums and even in their movies, as a background musician. Surprisingly, one fine evening, Adhi anna made me sing a song and recorded it overnight. And boom, the next morning, the song became part of the album.
What challenges have you had to face in your chosen field?
Although this song came as a trophy for me, the journey was a bit challenging. My previous song didn't work out as my voice didn't suit the male lead. Still, I am not sure whether it will suit all actors of this industry. The fear of continuing to be a good singer, and not just a one-time lucky person, is the ultimate challenge.
When you knew you wanted to be a singer?
It all started after my 10th standard. I was crazily impressed by film music and aspired to become a singer in those days. But being from a non-filmy background, I had no idea of how to pursue this ambition of mine. After gaining enough knowledge on how to stroll through the path from people around me in my college, I found the way to my goal.
Do you have any formal music training?
No. I had a very basic music education and learnt a lot only by experimenting.
Do you play any instruments?
I play the Keyboard. In fact, I was initially more passionate towards it rather than singing.
Who are your inspirations?
I have drawn inspirations from many musicians since my childhood days. My favorites include Yuvan, Anirudh, Vishal Dadlani and most importantly my mentor, Hip hop Tamizha.
What kind of music do you love?
I love romantic melodies and folk songs. I am looking forward to sing a perfect "kuthu" song!
What was your reaction after being appreciated widely for this song?
Wishes from various unknown fans melted me. I am so glad that this song was liked by all age groups of people. The transition from a simple Chennai guy to an overnight sensation exhilarated me. The recognition is exciting and binding me to render beautiful songs in the future as well.
Visual Communication to Music - What was the reason behind it?
Music is my all-time passion. I was not academically too strong and ended up taking the course without even knowing what it is all about. Yet thankfully, it was my college life which educated me towards growing as a musician, increasing my awareness about the film industry and igniting me to go after it. College was all about fun and a quest of gaining awareness about life.
Where do you see yourself in a few years from now?
I wish that I could sing under all my favorite music directors' compositions. I would like to be established as a singer who is cherished by all people. Most importantly, I want to be known as a musician who never fails to impress the audience.
Tell us about your forthcoming works.
I am singing a song in the movie "Aranmanai 2". I am currently working on an independent single for which I have composed the tune and penned my own lyrics. The album is themed on "happy love" and hope it will get the pulse of youngsters.
How was it penning your own words for your song?
It was a nice experience. My life, the people in it, the situations I have crossed and seen have influenced my lyrics. (But this doesn't mean that I have a girlfriend!) I will not say it is poetic but surely it is simple and catchy.
What are your hobbies other than music?
I watch a lot of movies and frequently hang out with my friends. I love travelling.
Any words you would like to share for many aspiring young singers…
Though this may sound so clichéd, work hard. Talent grows only by nurturing. Explore the various genres and discover yourself. Never let any downfalls prevent you from growing. All the best to all those hidden stars within the AU campus!
And we, the Guindy Times Team wish Kaushik Krish a hearty congratulations and good luck for his future endeavors!