Selvi J Jayalalithaa was born in the Mandya district of Karnataka, in a middle-class family. Her father died at a very young age and she was brought up by her mother. Jayalalithaa moved to Chennai immediately after her father's demise and studied at Church Park Convent. She was awarded the State Gold medal for being the highest scorer in the matriculation exams. Jaya aspired to be a lawyer or an IAS officer but due to family circumstances, had to foray into the cinema industry at the tender age of 16. By the end of 1980, she had acted in over 150 films in various languages and had won 27 awards.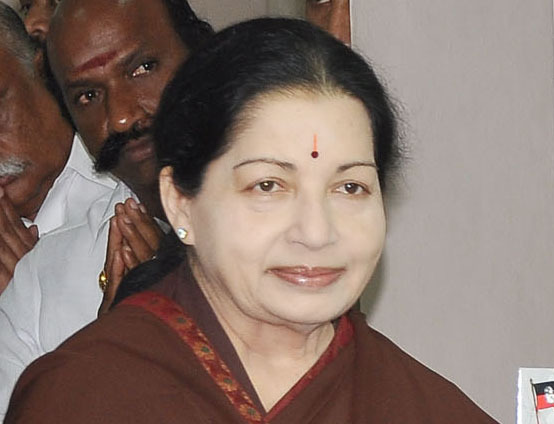 Photograph: https://en.wikipedia.org/wiki/File:Jayalalithaa.jpg
Having conquered the cinema industry, Jaya decided to pursue a career in politics by joining her mentor's (Late Chief Minister Dr. M. G. R.) party, the All India Anna Dravida Munnetra Kazhagam (AIADMK) in1982. She was the propaganda secretary in 1983 and was nominated to the Rajya Sabha in 1984 due to her fluency in English. During her five year tenure as an MP, several leaders appreciated her talks and speeches in the Parliament. Following MGR's death, Jaya contested the Assembly elections in 1989 and with her party of 27 MLAs and eventually became the first woman to be elected as the leader of the opposition. In June 1991, her party, in alliance with the Indian National Congress, won 225 out of 234 seats in Tamil Nadu which made her the first female and youngest Chief Minister of Tamil Nadu. During her term, she introduced schemes for the upliftment of women such as:
Cradle Baby scheme for orphaned children

57 all-women police stations in the state

30% quota for women in police jobs, state government, libraries, co-operational stores and banks
Jaya eventually lost her power and was arrested in 1996, after serving a full term. She was in jail for 30 days and was later acquitted in May 2000. Despite being barred from contesting in the 2001 elections, her party won the majority and she was installed as the Chief Minister, but could not continue due to legal wrangles. Subsequently, in March 2003, she assumed the position of CM.
On 16th May 2011, she was sworn in as the CM of Tamil Nadu for the third time, having won the state assembly elections in April. Having lost her power temporarily, she won the 2015 elections and became the 1st person after Dr. MGR to have won two consecutive elections.
Jayalalithaa passed away on 5th December 2016, after being hospitalized for 75 days. Her death created shockwaves across the state, breaking the hearts of her devoted followers and comrades. Following her death, the government decided to construct a memorial to honour her memory and pay respect for her dutiful service for 25 years as the people's leader.
As an individual, Jayalalithaa was a voracious reader, a polyglot, a good listener, an avid music fan and a strong independent woman who serves as an inspiration for women all around the world. She showed that women could succeed in a male-dominated world.
Photograph: https://en.wikipedia.org/wiki/File:Amma_memorial.jpg

As a leader, she was always aware of several delicate facts and issues happening around the world and this made her a lion among the ministers and officials. She expected her subordinates to be very thorough in their departmental affairs. She had excellent working relationships with other leaders including Hilary Clinton, the late Smt Indira Gandhi and our current Prime Minister Narendra Modi. She cultivated good friendships with many party leaders, irrespective of their ideological differences. Jayalalithaa ruled the state with an iron fist.

Jayalalithaa was a truly multifaceted personality and a visionary. Her determination, proactive approach, bold decision-making powered her to the highest position in the TN state administration 5 times in spite of her minor setbacks and flaws. Her death is a great loss to India and Tamil Nadu in particular. She was liked by many for her towering personality and bold approach and efficient governance. May her soul rest in peace.