With the Scion of Ikshvaku out in stores, it was no wonder that Amish Tripathi descended in Chennai for the promotional activities and events of the first book in the Ram Chandra series. Speaking about the book, his life, his inspiration and much more, it was more than enlightening to have a conversation with this new-gen icon who was received with much fanfare. Volleys of questions were posed, yet he answered them in the same calm and elegant demeanor. With lots of luck on our side, we got a chance to meet him in person and have a conversation. Here's the short chit-chat we managed to grasp with Amish amidst his busy schedule.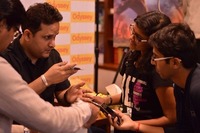 Tell us about your childhood days, sir.
I was born in Mumbai. My early years were in Odisha. My father used to work at a small place near a little town called Rourkela in Odisha. I did spend some time in Tamil Nadu as well. I studied in a boarding school in Ooty.
Did you read a lot of books during your childhood days?
Yes! In my family, everyone reads a lot. So I grew up in that culture and hence I definitely read a lot.
Name some of your favourite books and authors.
To be frank, I read too much to give you an all-time favourite. I read about 4-5 books a month. So whenever someone poses this question to me, I normally tell them the books I enjoyed reading over the last few months. The current list of books which had me engrossed was the Simpsons and their Mathematical Secrets by Simon Singh and two books by Dr.Ambedkar which are Pakistan or the Partition of India and Who were the Shudras?
Do you read fiction?
Only 10-15% of my reading is fiction. I mostly read non-fiction. And yeah I am currently reading Flood of Fire by Amitav Gosh.
There's a claim that today's generation prefer e-books to traditional hard bound books. What's your take on it?
Umm…I think the e-book revolution has just begun in India. It will definitely grow, but I don't see it replacing physical hard-bound books. Even in a developed market like the US, only 20-25% of the market consists of e-books. The rest is constituted by physical books. And in Europe it's even less with around 10% of the market being dominated by e-books. So e-books will definitely grow but I don't think it will take over.
Which type of books do you prefer, e-books or hard bound books-the traditional way?
I like both! (And he grins with a glint in his eye) When I was young there were no e-books. But now it's available in today's world. Sadly, I am growing old day by day. But nevertheless I enjoy reading both.
Why did you choose writing over a blooming business career?
I was definitely happy being a banker. It pays well, you know! I didn't choose to be a writer. To paraphrase Shakespeare, "It was a career which was thrust upon me." But I am enjoying this phase.
Any advice to the budding writers out there who look up to you as a role model?
First of all don't look up to me as anything! (He says with a jubilant laugh, which makes me want to look up to him with more admiration) My suggestion to writers is always one thing. Write with your heart. Whenever you write anything, don't care about what anyone else will think of it. Write for yourself. This brings another practical aspect of life which one needs to have in mind- You need to earn money. Unless you have a rich daddy. I don't. (When he noticed us shaking our heads too, he added) So both of us don't! Therefore, have a job on the side. And write a book on the weekends. Then you can keep your writing pure.
Do you think Indian mythology is being given the importance it deserves?
Oh yeah! It's a part of our genes and bones. It may not be given the importance it deserves in a small part of India, but that is negligible. But in the rest of India, mythology is very important.
In all your books there is an underlying meaning written-as in Asuras&Devas, Good&Evil, etc. Does it come naturally to you?
Of course it comes naturally. I am a lover of philosophy. And in traditional India, a story without a philosophy was considered a body without a soul. So a story should have some philosophy imbibed in it. Like in the Shiva trilogy, the philosophy that I wanted to discuss was "What is Evil?" And in the Ram Chandra series, the philosophy that I am trying to put forth is "What is an Ideal Society?" On the surface it can be a good, fast-paced story but it should have some philosophy inside.
What are your plans for the upcoming Book Reading Day?
I am going to read!! (And it's followed by his amicable laughter)
And your advice to the younger generation on this wonderful day?
READ!!! (This time he laughs even more loudly) And start with my books (He says with a wink and a hearty laugh)
When can we expect the next book of yours in the Ram Chandra series to release?
I am going to start writing soon. On an average it takes me about 18 months to 2 years to write a book. And I will definitely try my best to bring out the next book as soon as possible.
The Guindy Times thanks Amish for his insights on the realm of reading.
Photography: Karrishma Ram