On November 3rd, The Centre-for-Entrepreneurship Development, in association with the Confederation of Women Entrepreneurs (COWE), held a guest lecture on following your spirit, delivered by a person who has done just that - actress Rohini - right here at the TAG auditorium.
An actress with a career spanning 130 films, an artist who has lent her voice to most of Kollywood's heroines of today. A critically-acclaimed lyricist, and an award-winning screenwriter. Director, social activist, talk-show host, theatre artiste, and mother - the number of feathers in actress Rohini's cap is simply one too many. At 46, she is impeccably dressed commanding the attention of the entire hall with her every movement. When you look at that famous, make-up-free face, one thing that strikes you is the confidence and calm authority exuded by someone who's carved their niche in life.The passion that drove her to reach where she is now, is evident from the way she speaks.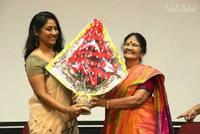 Here are a few excerpts from the Q&A session!
You have dabbled in so many things - acting, dubbing, screenwriting, theatre and now directorial. Was all this a planned endeavor?
Not at all. You take life as it comes, and respond to it accordingly. I entered into films at the age of five - since my family was well-steeped in the industry. As a child, though, acting to me was all about getting to legitimately bunk school and going to exotic locations. It was only from my teens that I realised the amount of passion and smarts that went into executing each aspect of a film. This led me to experiment with other facets of film-making, such as dubbing.
I've always been keen about Tamil literature and writing. I also developed a taste for the rigorous training that theatre artistes go through. This lead me to experimenting with different dimensions of theatre management, and screen-writing and directing are those aspects that have stuck with me.
Did you face any challenges on your quest to be a director, because you were a woman?
I most certainly did ! In spite of being an established name, it is unduly difficult to get producers to fund my scripts and directorial ventures ! Most cine-industry professionals reason that this is because a woman filmmaker will not adhere to the sure-shot-success formula for Indian movies - throwing in mindless action scenes, 'item' songs, obscene scenes that entice the audience more than they take forward the storyline. Through all this, though, you have to persevere, and have the determination to see it through to the end.
First-generation entrepreneurs find it a Herculean task to source funds for their start-ups - even more so if they're women, owing to less belief in their ability to successfully steer an enterprise. How do you think this can be overcome?
I believe that when you truly put all your mind and efforts into something consistently, throughout, you will achieve what you want to. What determines your fate more than your circumstances, is how you view those circumstances. Focus on possible solutions, instead of the problem ! Funding is, of course, an issue, but then you also have nationalised banks offering cheaper loan schemes exclusively for women. In fact, the irony here is that, in rural and sub-urban India - where women find it most difficult to break out of their confines - you also have the most number of SHGs and national schemes to help you do exactly that. COWE itself provides guidance and support to over four hundred full-time entrepreneurial women in the country.
What pushed you to become such a passionate, determined social activist?
I do not prefer being called a social activist. What I do is no heroic activism for any great cause. It's simply my way of responding to the social gradients I see around me. I feel this is an integral part of living - at any epoch in the history of humanity, there definitely will be some cause for collective social concern, some area where people will be suffering, and hence definitely something that we can do about it. One has not lived until one chips in their bit to make the world a better place for others.
On the whole, it was an inspiring talk and the event wrapped up with nearly the entire audience scrambling to get a selfie clicked with one of the most talented stars of yesteryear Tamil cinema.