With the objective of developing space technology and its applications to national tasks, the Indian Space Research Organization (ISRO) is involved in several ambitious projects, from indigenously-building India's first satellite, Aryabhata, to successfully launching Mangalyaan into the Martian orbit – a feat that only two other countries have managed to perform, at a fraction of the cost incurred by them. The Multi-Object Tracking Radar (MOTR) is one such project recently launched by ISRO.
MOTR is a radar that can simultaneously track up to 10 different objects in space, in a range of 1000km. Dr. Seshagiri Rao, the ISRO Associate Director who headed the MOTR project, delivered a guest lecture as a part of CEG's Kurukshetra in the CM auditorium, IRS building this afternoon. The following are excerpts from a chat with the respected national figure:
What inspired you to achieve so much in space research?
I belong to a small village in Andhra Pradesh. In my 10th grade, I used to read the news saying Russia is launching rockets. I thought I should work in area where rockets are being launched. I didn't know that in India they were doing any space related work. Later, after 6 months, I saw about computers in newspaper. I got fascinated and thought I should work on that. Fortunately, I am able to work with both, space as well computers. When I was recruited in 1976, I was recruited as programmer. Over the years I've come up to the field of space research.
What is your opinion on the position of India in space exploration?
As far as India's space exploration activities are concerned, the importance is given to the common man, which proves advantageous to the country as a whole. For example, if you want to know details about a given type of crop – such as how much yield to expect in a year, where to find the best soil for its cultivation - it is possible through remote sensing. Communications and weather monitoring are other areas where space organization is focused on, and delivered important requirements for the country.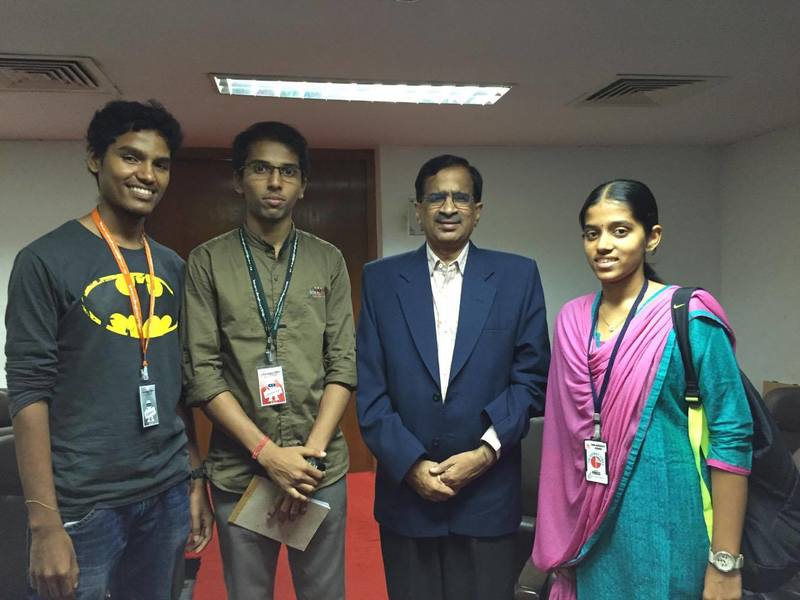 What do you consider as your greatest achievement?
I would say my greatest achievement is having built a state-of-the-art machine control centre which drew praise from all quarters. Apart from building the multi-object tracking radar, another moment I am proud of is when our rocket took off from the launch pad and we were able to see it real-time on TVs. I've been involved as a team member in all of these right from the start of my career at ISRO in 1976, and I love it.
What projects are ISRO currently working on?
ISRO is going to have GAGAN, a navigation project. We also have plans for Chandrayaan-2 and the Aditya launch for studying the Sun.
Tell us something about your experience in ISRO.
It is fantastic. I actually joined as a programmer and I got promoted up to a distinguished scientist which is highest designation for a scientist in ISRO. I am thankful, contented and happy, technically, personally and from an all-round development point of view.
Can you brief about the MOTR project for our readers?
MOTR is a state-of-the-art system which was available to only a few countries. Now, India has got the capability to produce similar radar and put it on the market, where Indian industries capable of doing the same are also involved. Similarly, if any country demands, we can actually make and supply to them at a far lower cost than competing vendors, thereby increasing our market share.
Now that you are here, how do you feel about Kurukshetra and our college?
It is very nice, I am happy to see that the entire show is managed by the students of the university which is a rare thing. They get exposed to many contrasting areas - for example, logistics and technical. There is involvement, team spirit, the eagerness in knowing the state-of-the-art technology, all of which adds to the students.
What would be your message for our students?
Successful people cannot relax in chairs - they are relaxed only when they work. They sleep with a dream, wake up with a commitment towards it and work for it – this is what you need to do to achieve the kind of success you dream of.