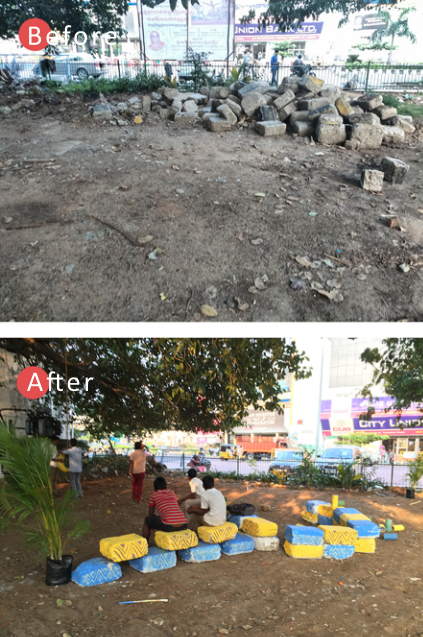 The University of Westminster, London has been conducting an international competition in South Asia wherein 500 undergraduate architect students from 42 cities needed to choose a neglected, under-developed area in their neighborhood and revamp it to be efficient enough for regular use.

The competition takes place in three phases.
Phase 1: To find an abandoned spot. Submit an idea/blueprint for its revamping. The most creative ideas go through.
Phase 2: Turn ideas into actions.
Figure out and imply economical ways and means to modify the spot into what could be used for regular functioning. Shoot a documentary of the place during its evolution and upload it on YouTube. The videos among the most likes qualifies for the final phase.
Phase 3: Create awareness among the people about the makeover and bring it into full functioning. This phase ensures that the modifications made by the students do not go in vain and actually serve their city.

What did our teams do?
The team PROJECT CLEAN (third years) - M. Lalith, M. Harshini, K. Kawin, P. Abinaya chose a dump site behind Madhya Kailash. The place has been the roof for many antisocial activities over the years. Bearing a bus stand on the other side, these students found the place to be a potential park for people who can wait under the shady trees instead of being victimized to the scorching sun's heat at the stand. On site materials (tyres, pebbles etc) became comfortable furnitures, fancy swings of the park. Whilst another team from the final years - U. Soundaryan, S. Saranya, S. Yamuna and Pon Sundar - brought about a more fancy approach to the revamping. They chose another similar site near Madhya Kailash and gave it a traditional touch. With paintings all around and other forgotten games sketched on the floor, the place seems to be a lot more fun than it used to be. They call themselves "THE KOLAM" and have managed to revive our beautiful culture from the past.

How far have they come in the competition?
Becoming the pride of Anna University, both the teams have earned their place in the TOP 13 that qualified among the 143 universities that participated, after phase 1.
Now that surely needs to be appreciated!
The teams have uploaded their videos on YouTube and to go further they need our views and likes. After all, for all the work they've done the least way we could acknowledge it is by casting our likes.
Click on the links below to be directed to their videos and DO NOT FORGET TO LIKE.
https://www.facebook.com/permalink.php?story_fbid=1492659967706012&id=1464342607204415
https://www.facebook.com/permalink.php?story_fbid=1492659827706026&id=1464342607204415
Their deadline is on Jan 15, 2016.
Spread the word!
Team - Poject Clean Team - The Kolam