A picture is worth a thousand words. With this in mind, two graduates of the School of Planning and Architecture – Rupashi G and Ankita Sanjeevi– came up with the initiative of painting public walls with messages that would educate people and instill hope in them.
One such idea was the 'Cancer Awareness' portrait, which took shape after Apollo Hospitals granted them permission to paint their compound wall at Cenotaph road. The three day event saw the outline of the 'Tree of Hope' which symbolizes how sheer confidence and positivity can help one overcome cancer. It was sketched on 24th December (Saturday), shaded on the 25th (Sunday), and the final details were done on the third and final day (Monday).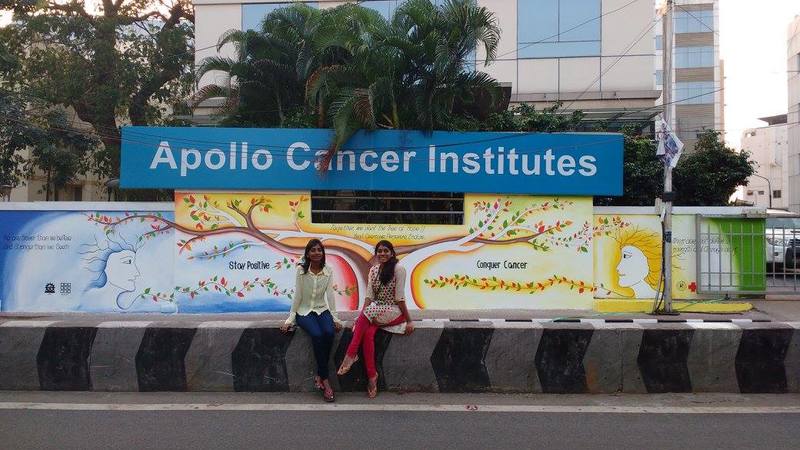 As we reached on Sunday morning, we witnessed a crew of volunteers – mostly from the Rotaract Club of SAP and a few outsiders from various other colleges around Chennai- engrossed keenly in their work. Being ably guided by a professional painter, all eyes were on the work-in-progress.
Our reporter had the chance to speak to Ankita, one of the organizers, who shed light on everything from the inception of this idea to its conduct.
How did you happen to start with this idea?
First of all, Rupashi and I have similar opinions of spreading positive messages to the society, and we both felt art is a strong medium to reach out effectively. Art is mostly seen as something abstract and incomprehensible to people. So, we thought of combining art and words to communicate an optimistic message to the society.
We started off by looking for walls to express our message, and Apollo Hospital authorities were kind enough to consent to our idea. Initially, we had planned something related to organ donation, but Apollo has started a campaign called "Conquer Cancer" and we thought we would chip in too.
Can you shed light on 'The Tree of Hope'?
Basically, you can see two people on either side of the tree placed in the center. The one on the left embodies a cancer patient who is about to pass through the 'Tree of Hope', while the person on the other side is a survivor of cancer. You can also see both of them harnessing hope from the tree, which is a metaphor for hope.
How did you source your logistic requirements for this project?
This time, we did not face many hardships as Apollo sponsored us. But as it is, we are looking for sponsors for our upcoming projects.
The initiative looks easily achieved from an outsider's perspective, but that must not have been the case. What were the difficulties you had to face to get this approved?
We had earlier tried to get a wall near Greams Road, but it was not feasible. So, we came here. The wall initially had a coarse outer surface which was not favorable for painting. But the administration of the hospital had the wall smoothened out. The next part involved transforming a design on paper to that on a wall, which is usually comparatively tedious and time consuming.
How do you think this would benefit the society?
We see a lot of passersby who stop their vehicles, take a look at and then move on. When they leave, they're sure to feel energized. Also, when patients enter, they look at the painting and they start becoming positive and begin feeling hopeful of overcoming their problems.
You must have brainstormed a lot before narrowing on this concept. How did the transition from a design on paper to something that could be approved by Apollo happen?
(Laughs) We actually went through three iterations to get our design perfectly satisfactory. Rupashi and I discussed and modified a lot each time, since we were coordinating the design. The transition took us about a fortnight, with both of us having to spend quite a few sleepless nights on it. We had to sketch and replicate it on Photoshop. Finally, the design was shown to the Managing Director of Apollo, and only after she approved we were able to proceed further.
Is it your first project? If so, how are you planning to take it further?
It is our first project. We are looking for more public walls, mostly in and around commercial buildings, and then slowly hoping to move on to private houses. We, as architects, believe that if we can paint and color Chennai with positive concepts like these, we are sure to make an impact in some way or the other in various people's life.
As we worked, various people approached us, requesting us to do the same for their walls as well, so we are hoping to move it forward from here.
It is a Sunday, it's Christmas, yet you are here. What motivates you?
Spreading smiles in people's lives is the benefit we reap out of this. As you see, there is no monetary gain involved here- it is all purely volunteering. Architecture students would easily be willing to help out, but we did not want to do it that way because ultimately, it is not about work; it is about getting people involved in a good cause. At the end of the day, if you feel happy and content that you have done something for Namma Chennai that is all that matters.
How has the support from your teachers been?
The three iterations on the design part was actually done after consulting our Professors. Sibi Sir - who was involved in the painting of CEG campus wall - and Yuvaraj Sir have helped us a lot throughout this; it would be an understatement to say we were inspired by Sibi Sir's work on the CEG wall. We tried to inculcate the same vibe here, and have used the same color combinations and techniques to convey a strong message.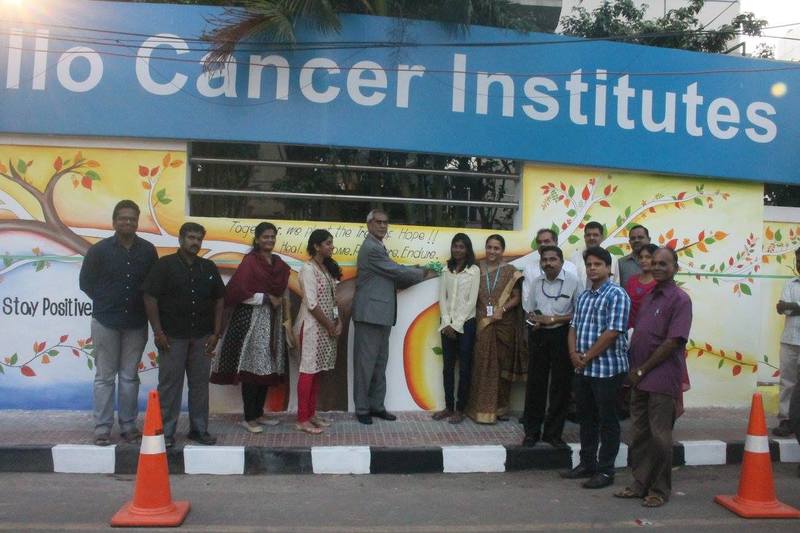 Later on Monday, at around 3 PM, the inauguration ceremony – which witnessed the presence of Dr. George Jacob, Director – Medical Services, Mrs. Kamakshi, General Manager – Operations, and the core management of Apollo Cancer institute, along with a few Professors from the main campuses of Anna University – took place, announcing the completion of the painting.
The Guindy Times congratulates Rupashi and Ankita, and the other volunteers for their work, and wishes them luck in all their future endeavors.