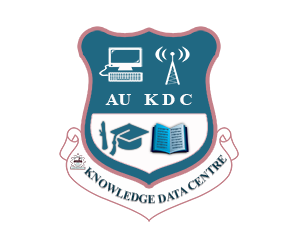 Anna University Knowledge Data Centre provides the AU faculty and students with software and technology resources such as ADaMS – where faculty enter students' marks and attendance, FIS – which is a database of the professional details of the faculty members and so on.
Another important task handled by the AUKDC in recent semesters is the payment of fees for students, which has been made completely online. Dr. D. George Washington, Director of AUKDC, was more than willing to answer the queries of the students when the Associate Editor, the Guindy Times approached his office.
When asked on how one should pay fees with loan, he said "The student can get a Fee Structure Certificate from the web portal by entering the bank name, branch name and then the IFSC code of the branch into the web portal. Following this, a digitized certificate is automatically generated by the next day. On producing this to the bank, the bank either remits the amount online, or transfers the amount through the NEFT (National Electronic Funds Transfer) system. We have given our account ID for this purpose alone – for the comfort of students who pay their fees with a loan. Others can't pay through DD, cheque or any other mode – only online."

"If a student has already applied for a loan the previous semester, we already have his or her data – so we will enable the student to make the branch name. If not so, the student will have to give a request letter here, after which he or she will be enabled to make an entry here - if his or her number is not available in our database for loan application."
Furthermore he went on to add for the information of the students who will be paying the regular way, "I strongly recommend them to have a net banking account in any one of these three banks – SBI, IOB, or Indian Bank – since they charge zero commission for college fee payments in online banking. Through cards or offline banking, however, commissions are involved.
Third semester students, for instance, will have to pay fees worth six additional semesters - in addition to six more exam-fee payments - which amounts to 12 such payments. Think of the money you can save if you avoid commission charges 12 times," he says.
Another problem with debit and credit cards is that there is sometimes a two-day gap between the remittance and credit of the amount between the student and university accounts. With net banking, however, there is no such delay.
Apart from the obvious advantage of being in service 24/7, they also eliminate the trouble of waiting in long queues.
It is hence strongly advised of students to open a net-banking account to make the entire process hassle-free. Apart from the obvious advantage of being in service 24/7, they also eliminate the trouble of waiting in long queues. In addition, they instantaneously generate a temporary report; a permanent receipt is generated in 48 hours, which can be used for important documents such as Income Tax claims.
The Guindy Times thanks Dr. George Washington for his prompt response.