What if a small screen beauty, a short film king, a music maestro, a Telugu heartthrob and many other popular personalities come together for one big venture? The answer to that question is the Meyadha Maan team!
Agni 2017 witnessed the presence of the biggest group of Chief Guests ever-the outstanding team behind the soon-to-release film Meyadha Maan. The trailer received positive responses from the youngsters, especially on social media with the songs by Santhosh Narayanan topping the charts within a week of release.
The Guindy Times got a chance to interview this crew who answered all our questions with utmost patience and love.
To PRIYA BHAVANI SHANKAR (PBS) – Heroine of Meyadha Maan
GT: Your first serial/venture in acting, KMKV – Kalyanam Mudhal Kadhal Varai (the top-rated serial telecast in Vijay TV), took your fan base to the "top level" in Tamil Nadu. How thankful are you and how does it feel to have fans, especially among the youngsters, who had watched that serial only for your presence?
PBS: "Top level" is a very powerful phrase (laughs). But honestly, I feel that whatever I have now is only because of the start of KMKV. Getting such a response as a small-screen newcomer is anything but a nightmare. I am grateful that it happened to me. KMKV took me to each and every household. It was a massive and unexpected reach that our team had.
GT: Few rapid-fire questions coming up
Which is more important in the cinema industry – success or self-satisfaction?
PBS: Not just in cinema, but for everything in life, self-satisfaction is more important than success. Success doesn't have limits-we all just want to go from one level to another and keep achieving whatever we desire. Self-satisfaction comes only with success.
Pick one - small screen or big screen?
PBS: Small screen, definitely (fingers crossed).
Hypothetical: You are offered separate acting roles with Thala and Thalapathy. Which would you prefer?
PBS: I would prefer changing the hypothetical question (laughs). I'm bored answering diplomatically all the time. So, it's better I don't answer at all (smiles).
We heard recently that you'd be participating in Bigg Boss Season 2. Is this true? If not, do you have any plans in the future regarding that?
PBS: No, It is not at all true. I have no plans regarding the same.
GT: Now that you have entered into the film industry, what is your idea of an aspiring character you'd like to play in the near future?
PBS: More than defining an aspiring character, I just want to play a realistic character –a character everyone can relate to. Not the lusu heroine type roles. I never want to do that and I'll never do it in my lifetime.
GT: Are there any similarities between Priya in KMKV and this Priya Bhavani Shankar?
PBS: Yes, of course, there are similarities, but it is not a hundred percent. Priya in KMKV is like a perfect woman with all good qualities – (seemingly infinite) patience, level-headedness etc. In real life, I'm a normal kind of girl. I get angry often, and if somebody shouts at me, I give it back then and there.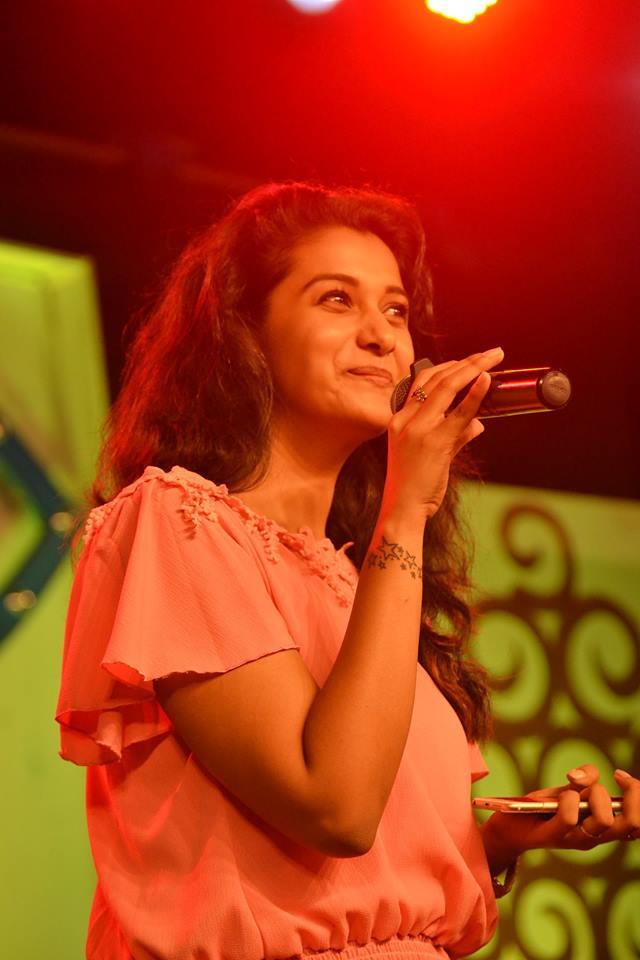 To VIVEK PRASANNA (VP) – Supporting role in Meyadha Maan
GT: How does it feel to be at CEG, Anna University?
VP: Anna University is the kind of college everyone aspires to study at. It is amazing to just enter and walk around in such a big campus in Chennai, it's like an evening walk in the park, with all the greenery (laughs). The dream of every youth in Tamil Nadu is to be here. Honestly, I feel proud to be here.
GT: Few words about the role you played and the Meyadha Maan trailer received a great response and we all are watching it repeatedly. What can the public expect in theatres, this November?
VP: is like a rough notebook- you can plan and scribble in it. Though it doesn't look neat, it'll carry a lot of memories when you turn the pages years later. It's very relatable, just as how Meyadha Maan is. The director has already said this, but I'd like to repeat it: A very story has a heroine like Madhu (Priya), a normal kind of sister (Induja), one huge friend circle, and an Idhayam Murali type hero (Vaibhav). It's 180 minutes of entertaining family drama!
To INDUJA (INDU) – Heroine's sister in Meyadha Maan
GT: Firstly, we welcome you to Tamil cinema. The welcome by the youngsters around our Agni stage will be more powerful. Tell us about how you feel standing in front of this huge crowd, representing Tamil cinema.
INDU: Being a Tamil ponnu, I feel grateful to be standing in front of these encouraging youngsters. They are the backbone of Tamil cinema, who will take it to the next level.
GT: The movie is based on a short film Madhu. Is that a reason why you decided to work with this successful team, after having watched the short film?
INDU: When the script was narrated to me, I didn't know about the short film. Later, I watched the short film and became more confident about my decision of stepping into Tamil cinema with such a huge film.
GT: Thank You so much, team Meyadha Maan for your time and patience!
The Guindy Times wishes this team behind Meyadha Maan the best of luck for the future (the movie is set to release on November 14, 2017) and thanks the Arts Society of CEG for the interview session.