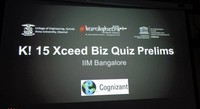 We, CEGians, exceed expectations of people not familiar with CEG, always, and that's how XCEED... okay, that's not why Xceed was named as such. I'll stop joking around. We, CEGians, wanted to go beyond i.e., exceed the boundaries that Kurukshetra (henceforth referred here as 'K!' as we love to call it) could have reached with just the CEG brand. So, it was decided that a miniature version of Kurukshetra would be held in far off campuses and attract students from there by showcasing the quality of our events and the professionalism with which we carry them out. Here's an interview with Jeeva Anand, the man behind Xceed '15 (to be accurate a bit of '14 too).
Xceed for K '15 vs previous editions
Two IIMS and an IIT made a difference.
Team
Ours is a 4-man cell. Apart from me, there are three third years who have assisted me in carrying out Xceed.
Events carried out as part of Xceed:
X-code at IIT – Kanpur and Biz quiz at IIM – Bangalore and IIM – Kozhikode.
Workshops carried out:
Voice Controlled Robotics, Web Development. Both at Kumaraguru College of Tech, Coimbatore
Most challenging campus:
Kumaraguru College of Tech, Coimbatore – managing the crowds was a daunting task there as the registrations had reached a maximum for the workshops.
Most fun campus:
Kumaraguru College of Tech, Coimbatore, again. We enjoyed every bit of the extra hard work we had to do, when we saw how people there were extremely enthusiastic to associate themselves with CEG.
Campus with best participation:
Obvious, isn't it?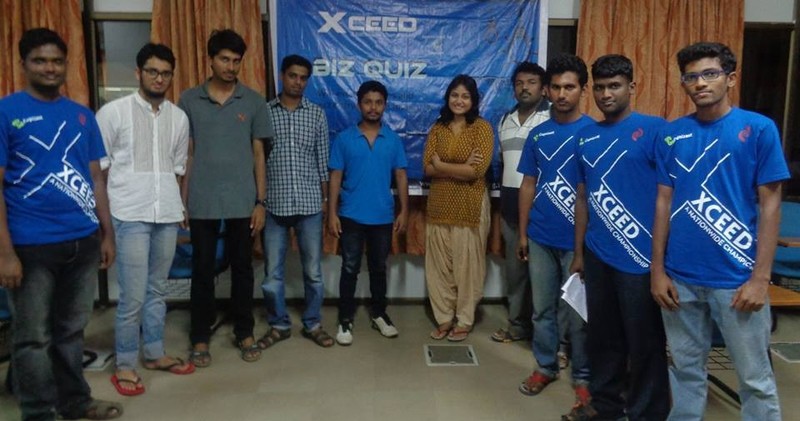 How do you choose the colleges where Xceed is to take place?
We chose the colleges to cover regions which we had not charted in previous Xceed editions. Though we've taken Xceed to Maharashtra and Madhya Pradesh before, we were more selective this time and preferred South India. We selected Kumaraguru College of Tech, Coimbatore based on the fact that Coimbatore is the second largest city in TamilNadu and the region has around 60 engineering colleges. On the other hand, we selected an IIT to spread the name of K! among students not so familiar with CEG. IIMs, well because they are IIMs.
How did you get the contacts of these colleges?
Firstly, there is something sort of a Memorandum of Understanding between the colleges. We help promote their technical event in our college and they promote ours there, by holding events or through direct marketing. Secondly, our strong alumni base at the IIMs gets us a comparatively easy access to hold events there.
How exactly do the student organisations of those campuses help Xceed?
Accomadation, venues and putting up and sharing our posters.
Some other benefit of Xceed an ordinary CEGian like me wouldn't know?
Kurukshetra is promoted not only among the student community, but also attracts potential sponsors for K! in those locations, through Xceed. ;)
So, how does the Xceed team function?
Initially, each of the juniors are given one region to find out good colleges and then are asked to email them; Kerala, Andhra Pradesh and so on. Marketing team of CTF helps us out with some of the procedures.
Winners of Xceed - what do they get?
Apart from cash prizes, they gain a direct entry into the final round of the corresponding K! event.
All in all, Xceed increases the quality and quantity that K! gets to witness, each year (and in the meantime the team members get to travel India and make new…ahem..ahem..'friends').