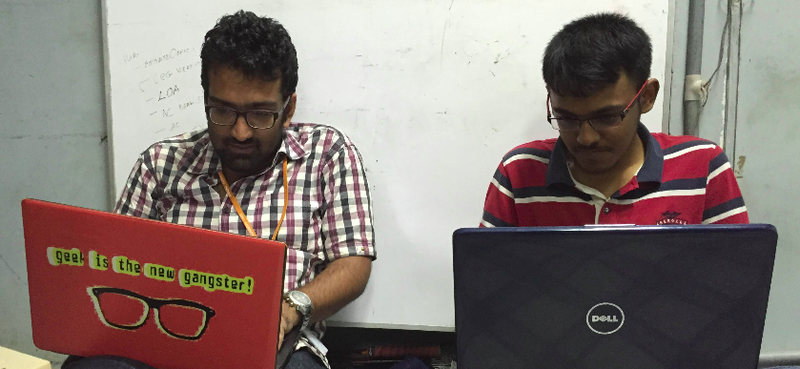 Every year K! prides itself in welcoming even more people to participate in its events – both online and off. With over 20,000 people in attendance and a reach of over 1200 colleges across India and over 800 overseas colleges spanning 75 countries, connecting all these people together is one of the biggest challenges imaginable! The K!Web team pulls this off with panache, putting together a website that caters seamlessly to both the online and offline crowd and makes Kurukshetra more accessible to more people, every year. We bring to you, excerpts from an interview with Prashant Anantharaman and Naveen Anto, as they talk about how they pulled it all together.
Tell us about the Web team
As the name suggests we build the web for the K!ore spiders to place their baits for the K! Participants. To cut the long story short, the web team is in charge of the Kurukshetra website, which is a mammoth project in itself. We also administer the email ids in the Kurukshetra domain.
When did you start your work on the site?
Our first application was rolled out on September 15th. That was the launch of the Student Ambassador Portal. It is safe to say that we have been working since August.
What challenges did you face this year with respect to the site?
The CTF Web Team has the responsibility of the Online Events apart from the K! website itself. Sherlock, ROS and Dalalbull are flagship events. The other two being Athena and Cerebra. The flagship events require a lot of effort from our side.
How do you garner responses to the site?
There is this software called Google Analytics. It is used to track details about users, like their exact location, language, etc. People from various parts of the world visit our website. We have regular participation for our online events from USA, UK, Romania, Peru, Germany, etc.
How is this year's site different from last's year's? Is it better?
Every year CTF gives its best in Kurukshetra. Statistically speaking, the number of participants enrolled and the number of visits are higher. But "is it better?" is not the question that we can answer. We let you be the judge of that.
What else does your team do in CTF?
The Web Team is one of the few teams that have constant work right from our appointment to the beginning of Kurukshetra. We hardly have any time, but we do try to help other teams in any way possible.
Naveen says, "I helped out with Xceed this year when I conducted a Web Development workshop at Kumaraguru College, Coimbatore."
What does the Web team do during the actual days of K!?
We would lend a hand to on-spot registrations and wherever there is a shortage of K!ores. For example, on one particular day this year, there would be 8 workshops running simultaneously with just 4 workshop K!ores. We would definitely lend them a hand in such a situation. Other than that, we are like farmers after harvest.
Apart from the core members, who else is part of your team?
We always had juniors helping us. Mithul, Shriya and Aadhavan were the super enthusiastic team mates that we were gifted with, who accompanied us through the journey from start to finish. There are a few others who helped us with the online events, Harannath, Mohammed, Ashok, Aadithya, Anushiya and Bala Lakshmi, who are all in their third year.
What should students expect when they commit to the web team? Are there any pre-requisite skills or will they be trained in them later?
There is only one question that they must ask themselves, "Am i interested?" If yes, then welcome aboard. We will help you!
How do you split the work amongst yourselves? Did you plan it all ahead beforehand or is it a more 'spur-of-the-moment' thing?
Well, it's more of a design and develop thing (Naveen as the designer and Prashant as the developer). But everything can't be planned beforehand. There are also 'spur-of-the-moment' happenings.
Apart from the site, you are also responsible for setting up portals for events like Sherlock and RoS – what is that like? How do you juggle everything?
That's the best part. There would be things needed for the main site, there would be problems with the game, there would be players from different parts of the world and that's where the juniors really held our pillars.
The K!2015 website was launched by former Union Minister Shashi Tharoor – what did it feel like – to have him as part of such a significant moment for you and for the K! team?
Yes, it was a very special moment. We felt very proud to have such an eminent person launch something that we worked really hard for. It felt great when he congratulated us for the launch. It felt even better to see the kind of crowd that had come to witness the launch and the speech by Shashi Tharoor. The entire K! team was behind us that day saying it was OUR DAY. Well, it was a big day for the Guest Lectures Team of CTF as well!
How has CTF made a difference in your lives?
During B.C (Before CTF) era, whenever a problem was encountered, the fastest solution was the chosen. Here in CTF we learnt that the fastest solutions may be good but we must always focus on solutions that are scalable and those that lasts long. On a lighter note, the spelling mistakes have increased owing to the replacement of all first occurring 'c's with 'k's.