Just like the cyclotron, k!ore members are high in energy and have been accelerating things at high speed with the tenth edition of Kurukshetra just a day away. However, when we did manage to borrow few minutes of their busy schedule, here's what they had to say….
HUMAN RESOURCES [Interview by Mohana Murugan(ECE, 1st year), Sevitha(ECE,2nd year) & Muthu Kumari(EEE,2nd year)]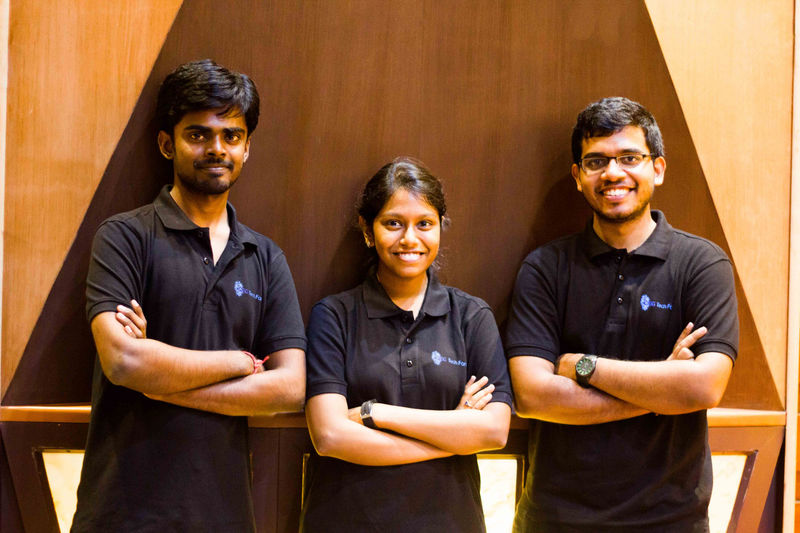 The team that makes a backbone of any organization would be called the Human Resource (HR) team. Mukesh Raja from Mechanical department, Hafeeza & Mithul, from CS department are student directors in CTF who lead the HR team for k!. With warm and genial attitude they share about their work in HR team.
1. How you became a part of the HR Team?
Mukesh : I was a part of the HR team when I was in the first year, after which I directly attended the HR interview in the 6th sem . Since I was interested in administration and management I chose the HR team.There were two teams QMS and HR last year but now being the new constitution, QMS was scraped out and their role was given to us whereas last year's internal marketing was under HR but now it's done by the marketing team.
Hafeeza - During the k!ore selection process I chose guest lectures, workshops and events but was later absorbed and put under the HR Team . Usually QMS does this. When the interviews are simultaneously going on for various teams, they choose the suitable person for the QMS, absorb them, test them and appoint them as the k!ore. the same happened with Mithul too.
2. What is the work of the HR team?
The main thing is to monitor all the other teams. They would be preparing a timeline once they are appointed as the k!ore. We would get those timelines and check whether the process is going on accordingly. We arrange the k!ore team meets and also the meets with the administrators and document them. We will also be acting as a point of contact to the administration. We would be solving the disputes too. So, overall coordination is our main work.
3.Do you have any responsibilities during k! or is your work done beforehand?
Our juniors will be having work during k!, but as a k!ore our work is done beforehand. But we do have work during the k! days too. We would form a team called the Rapid Action Force team which will be consisting of the k!ore members and also our juniors. The rapid action force team will consist of the k!ore of those teams who don't have work on the k! days, like the k!ores of marketing ,creativity, design, projects etc. whose work are mostly winded before the days of k! . As HR team, we will be regularly update the administration - two to three hours once and see to that we don't face any problems in the food stalls, electricity , time schedule and also some of them are unexpected . Generally we will be roaming around the campus and monitor if things are going good.
4. How big is your HR team?
Wehave 40-50 junior organizers, 50 coordinators from the second year and volunteers from the first years. Our team would have the maximum number of volunteers because as first years they firstly have to gain knowledge about what is k! and so ,they will be able to choose their interest during the second year .
5.Since when have you been working for k!16?
We have been working for K! since the time we got appointed as student directors. And not only HR, the other teams would also start their work by the month of April. Teams like GL, workshop and events would analyze the previous year events; contact the organizers ;get the positives and negatives of those events and would analyze how to improve it. This analyzing part would be done during the first two months. Only the intensity of the work varies from team to team. Teams like design and marketing would have work till the start of k! whereas teams for the workshops and events would do hard work during the initial 4-5 months, but once the workshops are fixed their job is done. Their next work would be to market their events. Teams like logistics and hospitality would put in all their efforts during the final days. Only after the events get finalized, all of the requirements would be given to the logistics team and they will be off to work.
6.Do you work round the clock or have any fixed timings?
It depends on what work we have. We try to split the work as much as possible and make sure that we don't overwork. We are not workaholics.
7.How is work at HR - cool as k!arnival or hard as battle?
It is actually pretty cool. But it becomes hard sometimes. We have to deal with the people. We have to adjust ourselves according to their way of working and their character .Basically adaptability is very important.
8.What qualities must a HR core have?
Stress Management, Time Management, good communication skills, proper planning and the most important of all is convincing people. On the whole, planning, convincing, dealing with different people and adapting to situations are necessary to become the k!ore.
9.How do you split the work among yourselves?
It actually keeps changing according to the situation. Say if we have 10 works a day we would split those as three per head. It depends on time availability too. We would have work every day and split them among ourselves.
10.What are the challenges faced by the HR team?
Convincing people is the biggest challenge. We have to fix protocols , try to avoid clashes and also find solutions without hurting others. One major work that we did this year is framing the constitution for CTF. They gave the holacracy constitution as reference and asked us to pick the ones that will be useful for CTF and make the suitable changes to the constitution. Another big challenge we faced was framing the meets, asking for the accountability of teams and other things.
11.Are there any fun memories that happened in CTF?
We had it last week with Angelo Vermuelen. After finishing the guest lecture, he had train at 7.30 to Bangalore the next day. We asked him whether we could take him to any of the places in Chennai. But he loves to interact with people and so we brought him to CTF and all of us had a chat with him for about an hour after which we headed to the red building and Anna Statue and took photos and also told him about the heritage of CEG.
12.What's your view on the turnout from our college?
It can defenitely be improved .One of the biggest difficulties is that we could not reach the students to the maximum extent. For other colleges we market the event whereas in our college. We couldn't reach the students and explain how interesting the events are.
13.Do you think that the internal marketing is lacking?
No. It's not lagging. To improve it we have introduced teaser questions this year-so that the students could know more about the events. We have divided the events into seven domains and for each event we have given teaser questions. We also give prizes to those who answer them. In that way we try to make them understand the interesting part of the events.
14.What can we expect from this k!16?
We have improved the workshops and k!arnival. Last year K!arnival was entirely fun based. But this year we have three workshops – Rubik's cube workshop, caricature workshop and Photoshop workshops so that students can learn something along with the fun. We have also been trying for forensic science. Last year we had 14 workshops but this year we have reduced it to 9 but with high quality. First of its kind in Asia we have a workshop for creative coding. Some of the events have been scrapped off and new events have been introduced. We are making small improvements in every event –for example in Sherlock we have been drawing the designs and then converting them to the digital form. We have a very special person for the inauguration - Abhas Mitra - the man who disproved Stephen Hawking's black hole paradox. Angelo Vermuelen is also coming again. He has also appreciated the GL and Hospi teams in his page.
INDUSTRY RELATIONS [interview by Sevitha(ECE,2nd year) & S.B. Neevatha(Material Sc, 1st year) ]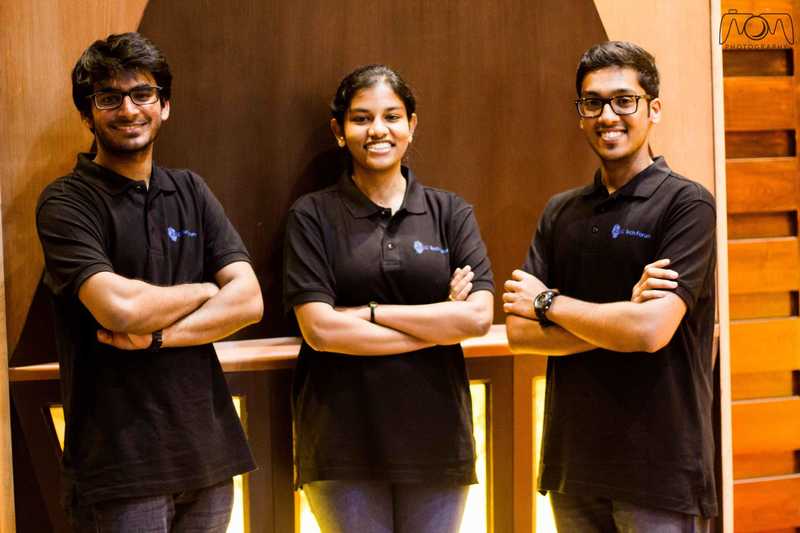 This year's IR team has Navnith currently doing 4rth year in Computer Science. Apart from him, we have two more student directors with the IR team, Ramya from ECE Dept. and Priyadarshan from Mechanical Dept.
Ever wondered from where all the monetary support comes from ?
Here's the kores of the IR team briefing us on kurukshethra's pot of gold !
Q: What's the main objective of IR team?
A: To run Kurukshetra, we offer more than 10 lakhs prizes in cash, so, to run an event of this magnitude, we definitely need sponsors. CTF is entirely a student-run organisation and we don't receive any monetary support from the college. The IR team takes care of sponsorship and start-up weekend. So, sponsorship is a major part of what we do and we bring in the money to run Kurukshetra.
Q: How do you split the work among the three of you?
A: We mainly don't split any work. We try to do it together but a part of what we do is trying to approach companies in different sectors. We segment it to different sectors and each of us takes care of a sector. Once we start talking to a company, then one person goes fully throughout with negotiation and everything else.
Q: What are the sectors you have split among yourselves?
A: This year we mainly split it into IT sector, the software companies, companies which fall under general engineering, that would be mechanical, electrical, and we we also concentrated on start-ups.
Q: Do you coordinate with any other team?
A: IR brings in the money and Finance decides how it's going to be spent. We constantly work with the Finance team. Apart from that, we have a lot of interaction with the Logistics team because on days of k!, we need to have a lot of deliverables that we offer our sponsors. Banners, posters etc are taken care by the Logistics team, so we closely interact with them.
Q: So, you get sponsors and your work is not done. You come and look into the other team's work and collaborate with them?
A: We work with a lot of teams and in CTF, at least from this year onwards, we are trying to work in a way where everyone tries to do their job, apart from that, also try to help other teams. So, if I can do something else, I will try to help them out with that aspect. This year we did a social initiative, E For Educate. While I was a part of IR, I was also a part of the social initiative circle and we did that together so we do have a lot of collaboration. Apart from sponsorship, something which IR does is Start-up weekend. Start-up weekend is another pile of our work. Although it's an event, the IR team conducts it entirely.
Q: Can you brief us on start-up weekend?
A: Start-up weekend is a platform for people. They can be students, working professionals or and can come in and get mentorship on their ideas. You have an idea, we get you VCs , angel investors, previous start-up founders and guys who can listen to your plan and say "Hey, this is not solid. You need to do this and make it better" or "It's a good idea. It already exists."
Q: Are there any challenges faced by as a team?
A: To be very specific, challenges which we faced this year was that a couple of companies were willing to sponsor but because of the floods, they had to reallocate those funds to other rebuilding initiatives and for their employees. It was a little difficult to get sponsorship but we overcame it by looking into other companies, talking to alumni and looking at other resources which we generally don't go to.
Q: How have you improved from the previous version of k! ?
A: This being our tenth edition, we have a couple of new events. If you go to our website, you can see that we have tagged the new events. There are at least 7-8 new events. We are doing new events so it's not a repetitive thing. We want the participants to have a new experience every time and apart from that we did the social initiative for the first time. It went extremely well. We collected over 1,100 kg of e-waste just from schools alone and we are planning to give it to Bhoomi, an NGO which will help with children's education.
Q: How do you handle the problems you face, like when you go to a company and they don't respond properly?
A: I think you need to grow a thick skin when you work with IR. Some people are very responsive and treat you very well whereas some people just don't have the time. Ideally, you can minimise that by going to people who you think are interested in k!. There's no point in going to someone who isn't very interested in k!. You go to people who would like to work with k!. You look at what is their best interest and how you can cater to that. If you have something to offer, then they will offer you something in return. It's a simple business deal.
Q: Does it emotionally affect you?
A: No, it doesn't. Like I said, you need to have thick skin. My initial sponsorship work wasn't with k!. I had done it earlier. The first time is generally difficult because you probably feel like "I'm just a student." You generally talk to GMs and CEOs, so when you're talking to someone of that level, you feel scared about how they're going to respond. I think eventually, once you get your first break and someone is willing to sponsor some money, it'll be much better. You'll feel that it's worth it.
Q: How do you get these contacts?
A: Our contacts would mainly be from our seniors. We go through a couple of companies in the past so we have their contacts. We don't look at only partnering with a company. We want to build a long lasting relationship. We offer the best to the company every time. Generally, sponsors who are there this year would like to continue with us the next year. That's like the standard set. Apart from that, we look into companies which are newly launched. If someone is having a new product launch, do they need a branding and marketing and then based on that, we contact them.
Q: What are the major benefits for the companies sponsoring k!?
A: We offer a couple of things. Recruitment. That's what you see in events when they say "We give away internships", so that's one avenue. They can recruit interns. Apart from that, we give them branding. If it's a relatively new company, we give them posters and banners. We associate them with an event so all the participants participating in the event get to know about the company. Some companies get a chance to talk to the participants. We give them a slot to tell them about their company and what they do. Apart from that, stalls are given to companies when they sponsor so they can display products or they can just have their employees there and talk to the participants about their products.
Q: How do you go about approaching a company?
A: First we approach the companies which have worked with us in the past because that's a better turn out rate. Simultaneously, we also work on looking at contacts and companies which we definitely want to work with this time, who would be willing to associate with k!, who have a product launch. Simultaneously, we do these two things. Once we are done with that, in the end we look at education institutes like coaching centres, that's towards the last.
Q: Do the companies follow-up on how the money is spent?
A: Yes. All companies do. If they sponsor an event they're like "Tell me what is going on with the event. Show me the questions of the event." There are a couple of other companies who are looking at only branding so there's no point in contacting them in the middle so they contact us after the event saying "Could you tell me where our logo was posted? Where was our company branded? Show me some pictures of the event."
Q: What are the qualities of an IR k!ore ?
A: As I mentioned earlier, you need to have a thick skin. You need to be very quick so when you are talking to a representative of a company, you need to figure out what he needs. They won't tell you "Hey, I am looking for this." You need to take the conversation in a way, gauge his interests and come up with an offering which will be suitable to him. If you go to Microsoft and say "Hey, I'll give you branding.", it doesn't make any sense as everyone knows Microsoft, so you need to be able to figure out what the other person wants and deliver accordingly. Apart from that, you shouldn't give up. You should work till the last.
Q: When do you approach them for sponsors?
A: We start approaching the big companies from the time we become k!ore, that is somewhere around April-May. The smaller ones, educational institutes are contacted from probably December or a month before k!. We keep approaching companies till 3-4 weeks before k!.
Q: As of now, what does the IR k!ore do?
A: When I talk about approach, I mean the first mail. Things keep coming up so now I have to follow-up with companies to send them their banners, then I need to follow-up with companies to send the money in. We are also having some negotiations which are still going on. Some companies still haven't either said yes or no. So we negotiate with them and get them through.
Q: Do you personally meet representatives from every company to negotiate their sponsorship?
A: I'd say 90% of the companies' representatives are met with to get things sorted, but there are a couple of companies in Bangalore. We did go to Bangalore to talk to a company and got sponsorship from them. SAP labs for instance, we did all the negotiations through phone and email. We didn't go to meet them in person and when they came to college to recruit, we met with them.
Q: Are all sponsorships are done by walk-ins or do you meet them in person?
A: We don't do much walk-ins generally. We send a mail and then get in touch with them, setup an appointment and meet up with them to discuss. We don't randomly go and meet them as it has a lesser turn out rate.
Q: How are the companies assured of the quality of the event?
A: We have been doing it for 10 years now. It's based on our previous success. We have a report on every event. When I go to a company to pitch an existing event, I tell him the company which sponsored the event the previous year so he knows that it's a standard event. We tell him the number of participants that turned up and the format of the event. That's our assurance. Apart from that, we have a UNESCO certification for k! which means that anything that happens here is certified by UNESCO. We are the first college to get it in South India and we still have it till our 10th edition. That gives them the confidence.
Q: What are the standard companies sponsoring us?
A: I'll tell you the sponsors this year. We have SAP labs, TCS, CTS, and India's fastest growing start-up DUTA. They're a company which provide you on-the-spot notifications on WhatsApp and Telegram and other messaging apps. You just need to subscribe to them and if you don't want notifications, you can avoid it. Based on your topic of interest, you can segregate and they will give you updates on whatever is happening in IPL bidding, minute to minute updates and then, match scores. Similarly for politics, entertainment, etc. The founder is a person from Stanford giving it the much needed credibility.
Q: How has the journey been so far with just a day more to go ?
A: It's been exciting and I think we are going to give you a killer edition of k! this time. It's the 10th edition. It's going to be superb. We have a lot of prizes to be won. We have many sponsored events. At least in coding domain, I can tell you we have OSPC sponsored by DUTA, the company is going to offer internships to the winners. SAP labs is helping us with Ninja Coding. It's a new street coding event. It's going to be very interesting. My journey has been interesting. There were a couple of ups and downs. At some point of time, we felt we couldn't make it but I think that's how it's going to be all the time. It was stagnant for a while and then money started flowing in and then it got better. Things have been going in a very organised manner. We have a very specific way of meets happening and we reach conclusions in a very logical manner.
FINANCE [interview by Muthu Kumari(EEE,2nd year) & Aruna A. (CSE,1st year) ]
I am Sharukh Mohamed and this is my friend Shahin Fathima. We are from IT department. I have been in finance department since my first year and she has been in since second year. I am interested in finance because I believe that I am good in Mathematics. Finance comes with trust and responsibility. My motto is: if you trust me, I can work.
"BEWARE OF LITTLE EXPENSES, A SMALL LEAK WILL SINK A GREAT SHIP". The kores of the finance team have taken the words of BENJAMIN FRANKLIN and the restless minds of theirs works on being thrifty !
1. On being in the finance team, what are the responsibilities you have on your shoulders for k! ?
Our responsibility is to allocate the budget properly and try to make k! as successfully well-being as possible. We should look at k! as a far sighted event and CEG Tech Forum as a whole. We need to plan the budget as sparingly as possible without compromising on the quality.
2. Can you throw in some light on aspects that roped in sponsors for this year's edition of Kurukshetra ?
We believe in Quality over quantity. So, if we conduct a quality k! this year , it will surely bring in more sponsors next year. It is necessary to satisfy this year's sponsors too in whatever they are asking and conducting a very good k!. It's all based on quality of the previous editions of k!.
3. Money matters are not a joke. Are there any specific tactics you follow to manage all the money?
Basically, the most important factor is trust. The other thing, during internal auditing, the person has to settle the bill and give the reasons for the expenditure. In most of the cases he will ask only for his expenses and not any other further requirement. Our internal auditing helps us in keeping a check over on what is spent where and how much has been spent. This is what we do to make it clear from our side.
4. There might be a lot of headaches involved, how do you deal with such sweaty situations?
It isn't suitable for me but we have to handle with a little cool head. In the finance team, one should be a cool head and the other should be a hot head, else it gets hard to deal with such kind of pressures. Being a hot head is necessary in finance but by being so can sometimes lead to irrational decisions. Hence in those situations, cool head would help. Therefore it is necessary to balance between the cool and the hot head. Since it's a matter of money, it cannot be lead to personal conflicts.
5. So, how cool should one be to manage the cash flow in the techno management fest?
Well, it depends. How much ever money that comes in, it gives you even more responsibilities to manage it. You can be a hot head to a level above that you are going to lose your head and in the end it is the organization that will have an adverse effect.
6. As a part of finance team, when will you be satisfied in the whole process of k! ?
The complete satisfaction comes only in the month of May. Being in the finance team, it is not over until the auditing is done.
7. What is the spirit that keeps you going?
As mentioned earlier, we work on trust. If someone trusts us, we will work till the goal is reached. So basically saying, our senior trusted us with his work and because of that, we are still in this team.
8. What role does the finance team play during the fest?
We have a lot of expenses during the fest too. The fund management is minimal on that day. We help with the HR and logistics.
9. What do you think would be the requirements to be a part of the finance core?
One should trust each other. Knowing the budget one should be able to plan the expenditure properly. The person shouldn't compare the previous year's curves and should always expect something new. On the whole one should be able to pull off a stronger and better k!
10. Any fun moments you would like to share being k!ore member?
It was a beach day in December. About 30-40 of us went and spent a good time together.
Seeing the bustling room of CEG Tech Forum, there's no doubt that this boulevard of hard work will lead the road to success. Wishing the k!ore team for a grand success of k!16.