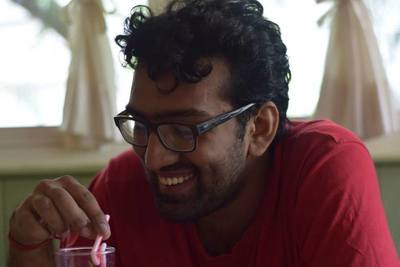 "GRE, MS in US, IVY LEAGUE SCHOOL – your dream, ambition or future? Prashant Anantharaman , now across the bridge calls out the strategy."
Right from the beginning of 3rd year, which is the 'high time' to appear for GRE, you will start being haunted by nightmares about how to land with an admit in one of the TOP COLLEGES with SCHOLARSHIP. How to prepare? SOP? LOR? Transcripts?Which university? Dilemmas?Financial sustenance?...........HELP?!! Here you go.
Prashant Anantharaman, a 2015 alumnus of CEG, now with an admit in Dartmouth, Hanover for MS in Computer Science with a 100% scholarship for his second year and 50% scholarship for his first year, renders his GYAN about the preparation for GRE and the whole application process.
GRE
1. Was MS part of your original plan?
A. Getting placed or MBA was never my plan. I was confused initially between writing GATE or GRE. Eventually dropped the idea of GATE.
2. When did you start preparing and the ideal time is?
A. I prepared for exactly one month. I put in 4-5 hours a day. Ideal time to take your GRE an TOEFL would be by September-October. Dates around that time get booked very early, so make sure you plan it well.
This was the vague timeline I followed.
Till August – Preparation for GRE and TOEFL
September – Took my GRE and TOEFL, shortlisted universities I wanted to apply to.
October , November – I worked on my SOPs, got my transcripts.
December 1st week – I finished my applications, sent my GRE and TOEFL scores.
3. Your preparation?
A. I used online materials. I used GRE-Edge. I liked their way of enforcing self learning. You can use their portal to get your doubts clarified, the trainer gives a feedback about your performance in every test and tells you how much closer, or away you are getting to your target.
http://tiny.cc/grematerial – all of what I have.
THE APPLICATION PROCESS
4. How long does this process normally take?
A : This is up to you. If you have the soft copy of your transcript and your SOP ready, then you can finish an application in a few hours. Some universities may ask for an additional essay - a personal statement or a diversity essay, etc.
The applications open by August-September. With deadlines starting from November, December and going on till April-May.
5. Ideal number of universities to apply?
A : I had applied to 7 universities. Ideal number is under 10. You pick 3 or 4 really good ones. Another 3 or 4 moderate ones. And pick the rest as the safe options. There are universities in the US that will offer you admission whatever be your GPA, GRE score. With a bit of research, you should be able to figure out which ones they are.
6. Your top choices were…? How should one prioritise, ranking or scholarship?
A : Very few universities offer scholarships for Master's programmes. Ph.Ds are generally fully funded. I had applied to Harvard, Dartmouth, CMU, Stanford, Berkeley, Michigan Ann Arbor, Texas Austin. I had mostly picked universities based on the rank.
Most universities explicitly state that they don't offer any scholarships for Master's students.In case of financial constraints, one must choose wisely. Some states are known to be less expensive for living, and the fees in those states are also generally lower. For example, both living expenses and fee in universities in California are really expensive. Whereas in Texas, both are known to be not so expensive. There are also a wide range of State Universities, which do not have such a high fee structure. State Universities in general are considered pretty good.
In most universities, in the application they ask you if you want to be considered for a scholarship. In a few others, they specify either that scholarship isn't awarded for this course at all, or that everyone is considered.
In other cases, you will have to go to the university without scholarship and get to know professors and approach them for an opportunity of Teaching Assistantship or Research Assistantship.
Applications cost higher when you apply to the higher end of colleges. Each application will cost you $50 to $125, some universities require transcripts to be sent (Each costs 500 rupees), some even require 2 transcripts. You will have to courier them (Each 800 rupees approx.). To each university, you will have to send your GRE score ($27 to each university) and TOEFL score ($19 to each university).
My advice would be to not pick universities because the application is cheaper, and not reject universities because the application is costlier. So depending on the financial constraints and the overall profile - GRE/TOEFL/CGPA/Projects/Research/LORs, you could choose your colleges. Universities don't have a cut off for GRE and TOEFL scores in general. They always consider your full profile. CGPA, LORs and Research generally matter more.
7. Going about your statement of purpose…
A. In my SOP I initially spoke about why I ended up doing computer science in my undergrad. Then I spoke about what interested me in college, namely I enjoyed teaching. I was associated with the Free Software Foundation Tamil Nadu that gave me a chance to go to a lot of private colleges to conduct various workshops and sessions. Then I went on to talk about my internship with Samsung R&D.
If you are working before applying to grad school, you should also mention what you have been doing, and why you think a masters degree would do you good.
You could also mention professors whose research in the university has interested you. You would have to do a lot of research about each and every university before writing your SOP.
8. Where do I get my transcripts?
A. In our college there is a transcripts section near the Centre for Distance Education near the DOTE Campus. You walk down the road past the Mechanical Department workshop and just keep going straight, the road turns left. A few metres ahead on the left you will see the transcripts section.
When you apply, check how many universities you are applying to actually need physical transcripts to be mailed. You will have to get a DD for (500 * the number of sets you would need), and that many xeroxes of your 6th Semester marksheet if you are in your final year now. If you have passed out, then you will have to get that many xeroxes of 8th Semester Marksheet and Provisional/Degree. You will have to put all this in an envelope and fill in a form they would give if you show the DD. You can check the procedure here - http://www.annauniv.edu/coe/transcript.pdf
9. How many letters of recommendation is usually sufficient? Whose words have more value?
A . Most universities required either 2 or 3 letters of recommendation. So I think it would be safe to approach three faculties. It is sometimes better to go to a faculty who knows you well so that they can write a lot of good things about you. But in general, its good to go with faculty who are very renown in their field, and do a lot of ground-breaking research, so that whatever they say can have a lot of weight. It is sometimes really hard to catch hold of these renown faculty since they are very busy. They need to make some time to actually write the letter of recommendation, and then it takes some time for them to send it to the universities as well.
A research internship at IITM or IISC or some other university or reputed research lab would add a lot of value to your profile, and you could get a letter of recommendation from the professor you work with.
In your resume
10. Your internships…?
A: My first internship was at a company in Nigeria. It was a hardware integration project and I found it very hard to cope up. The software ran on C# and I had to spend a lot of time getting used to it and learning .net .
My second internship was at Samsung R&D Institute Bangalore. I got this internship through campus placements. I worked on a graph processing application for big data. Eventually I got a pre-placement offer based on my work.
11. About publishing papers?
A:It isn't mandatory, but it is a huge plus. Sometimes just working in a reputed research lab or with a reputed professor and getting his/her recommendation is sufficient.
To do publish, You should approach some faculty of your department or related department who is focussed on research. You could check their papers online and know if you are interested in working with them. Faculty from our college will generally appreciate you coming to them volunteering yourself for research work. Another option is you could approach reputed faculty at IITs, IISc, or CMI etc, after checking their work online. Most of them would not reply to your mails, but you shouldn't give up.
Destination Dartmouth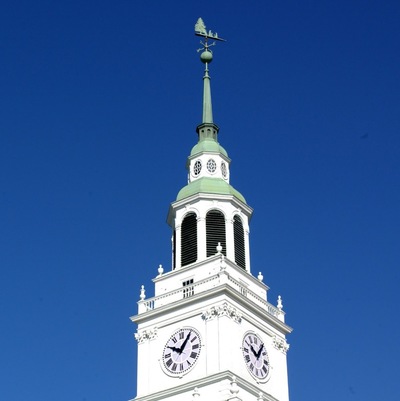 12. The score bar here and important requisites from a student to be here?
A. No university has an official, explicit bar. Your GRE, TOEFL, CGPA and your profile are considered as a whole. Although, it is widely considered safe to have a score somewhere around and above 320 in GRE, and 90+ in your TOEFL.
I myself had a 321 in GRE, 107 in TOEFL and a 8.3 CGPA while applying.
13. The highlights of Dartmouth in comparison with others…
A. Dartmouth College is a part of the Ivy League of Institutions. Dartmouth is located in the calm and peaceful state of New Hampshire. It's the smallest University in the Ivy League in terms of the intake. It has one of the most beautiful campuses in the USA.
The Algorithms course at Dartmouth is handled by Dr. Cormen himself.
HIM
14. Did you, given Anna University has a premium placement cell, sit for job interviews? What did you consider were dream companies coming here?
A: I wasn't allowed to attend placements. I had a pre-placement offer from Samsung R&D, Bangalore. I wasn't thinking about placements even before the offer came, but once it did, things took a different path. People from all over started trying to sway me into joining the company saying Masters without a few years of experience would be a waste.
My parents asked me to follow my dreams, and then I decided to apply to the higher end of really good colleges. I was mentally prepared to receive 100% rejections. I thought if I don't make it, I would work for a year or two and try again.
I didn't really consider any company as my dream. I had an eye out for Chronus Corp. since they work on Ruby on Rails, a technology I really admired. They had a high cut-off CGPA for the internship, so I couldn't give it a shot. And placements I wasn't allowed to sit anyway.
15. About your time at CEG?
A. I am not sure I can say I made the best of it! I enjoyed college and hostel life a lot!
I was involved in a lot of activities of CEGLUG in my second year and third year. I got really busy with Kurukshetra 2015 preparation in my final year. I used to play a lot of football, and we used to play at really odd times, like at 4 am.
NOTE: We sincerely thank Prashant for his time amidst schedule for the interview. Despite the intimidation of the interviewer by the interviewee, Prashant proved to be a super cool senior anna about the whole thing.