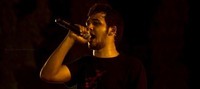 It was around 3 p.m. when a Maruti Swift entered the villa. The door opened and there he was - the HIPHOP TAMIZHAN himself, who humbly apologized for making us wait, despite the fact that we didn't allow him to eat his lunch. Being the 1st Indian artist to release a Tamil Hiphop album and with 2 films in hand, 24-year old Adhithya Venkatapathy has come a long way from being a neighbourhood boy to an International celebrity.
How and when did the transition from a regular Engineering guy Adhithya to Hiphop Tamizhan Adhi happen?
Rapping started as a hobby for me after listening to Michael Jackson's "Jam". I tried to learn music from the internet during my college days and did some crazy stuff with my laptop. Being one of the earliest users of Youtube, which wasn't very popular during that period, I used to post them for fun under the pseudonym "Hiphop Tamizha" with an image of Bharathiyar, so that I don't get caught by my parents.
Radio Mirchi Ma Ka Pa Anand gave us just 5 minutes on his show where I performed my single "Club le Mabbu le"
When did you seriously think of taking Hiphop Tamizha to the next level?
I became friends with Jeeva Beatz throught Orkut in 2005. We both were very passionate about this whole thing and decided that we should create an independent music scenario in India, that too in our own mother language, Tamil. We mailed several companies, approached several radio stations and spent a year without doing anything in life but trying. We did the election anthem called "Ezhuvom Va" in 2011. We thought that it's going to change our lives but it was unsuccessful. Radio Mirchi Ma Ka Pa Anand gave us just 5 minutes on his show where I performed my single "Club le Mabbu le". It became viral, crossing over 2 million views within a week on Youtube. Finally, an international brand called Remy Martin were surprised by our determination and after listening to our track they decided to launch us as the official "Hiphop Tamizha" brand.
What was the reaction from your family when you decided to step into music?
They were shocked. They didn't expect that from an above average student like me. I skipped every placement interview to escape from getting into a job. Moreover, mine is a family of academicians. My dad wanted me to pursue higher studies. But he gave me a year to do what I want, with the only constraint that I shouldn't expect any sort of help from him. After realizing that I am trying to do some good work, he encouraged me. He is my Idol.
How did the journey affect you personally?
Initially, when I came up with the idea of doing rap for my college's music club, they booed me. I got a bit upset but I decided to continue. I came to Chennai in 2011 with the hope that I would succeed. But I knew that in life, you need patience to win, unlike movies. I survived in a 10x10 room. There were days when I didn't even have enough money to buy food. But after joining MBA, I got some pocket money which helped me and life became a bit easy.
Why aren't there any girls in your team?
We are not against girls. It's just that we started as boys from the neighbourhood and we continue to be the same. I don't think any girl can adapt to our rugged lifestyle. We even slept outside Satyam Theatre, the night before Hiphop Tamizha's launch. Even now, we boys are a gang, who always hang out together, play football, go to movies and chill out. Also, when we announced that we needed female rappers, there wasn't any appreciable response.
How's life as a celebrity?
A celebrity is just a common man who is celebrated by people. People recognize me when I go to malls or roam around in my bike. But, my life hasn't changed much. I still eat street food, go to Bessy and drive around the city. My dad even now asks me only about my education. The only thing that has changed is the money I earn.

Adhi's Favourites
Favourite song of his own: Iraiva
Favourite song from childhood: Ullathil Nalla Ullam from Karnan
Favourite actor: Sathyaraj
Favourite actress: Surabhi of Ivan Vera Mathiri
Favourite music artists: Jay-Z, Mackelmore and Ryan Lewis of Thrift Shop
Favourite Hangout in Chennai: All tea kadais in and around RA Puram
Hobby: Playstation
Teacher: My Dean Mr. Guruswamy who constantly motivated me to become somebody rather than being a nobody.
Adhi's views on education:
Being a Chavara Vidya Bhavan's student , Adhi finished his EEE from Bannari Amman Institute of Technology, Coimbatore. He is a state rank holder in TANCET and graduated MBA from Madras University and is currently pursuing his Ph.D from Bharathiyar University. Adhi strictly follows the motto "Education is first. Entertainment is next". He advises all his fans to take education seriously. According to him, education is not what you are studying. It is what you are learning and what you are exposed to. He believes that a student should attend a class only by the excitement that he is going to learn something new. It should not be because of mere pressure.
Dream to be an individual who sets a blueprint for others to follow.
What are your future projects?
I have signed 2 films for which I'm going to do music direction. I'll continue doing independent music and "International Tamizhan" album is under progress.
Your words to our students:
Live with an ambition. Dream to be an individual who sets a blueprint for others to follow. Life is not all about money. Discover your passion and nurture it. Even if you fail, never get de-motivated. And never forget, "English Pesnalum Namellam Tamizhan Da"