"It's a pleasure performing for you guys! You all have been terrific!"is what singer Nikita Gandhi of 'Ladio' fame, has to say about CEG. The dentist who shot into the limelight with the Rahman number 'Ladio' from the film 'I', took to the stage for Agni 2016 and was floored with our energy. Energetic, dynamic, vibrant and lively, an aura of pulsating energy surrounds this singer with a dreamy voice who sets the stage ablaze leaving the audience wanting more. We caught up with her after her vivacious performance and she was all the more enthusiastic to answer the numerous questions we put forth. Here are the excerpts from an exciting interview.
Although you were a student of dentistry, you ultimately decided to pursue your passion for music. How did the shift happen?
I am originally from Calcutta and came to Chennai to study dentistry in Ramachandra College. When I was in my third year, I started working with A.R.Rahman sir for an independent project. I hadn't taken music seriously till I caught a break through ARR sir and it has changed my life completely. I did finish my course, but for the last two years I have been juggling between music and dentistry. So once I finished, I focused completely on music.
How did you manage to balance working in two contrasting fields?
It was crazy actually (laughs). There were times when I hadn't slept at all because of rehearsals and recordings, but also had to attend classes the next day! Invariably, I had some music related work during my tests and exams as well. It was hectic, but definitely fun!
Do you still practice dentistry?
I was pursuing an observership, but I am barely a year out of college.I have been doing music full time now, with dentistry taking a backseat. My goal was to finish my course despite all that chaos. I think I did manage to succeed!
Now for the inevitable question – How did it feel to work with ARR sir?
It was amazing! Initially, I was a little nervous about how it would feel to meet him in person, but he is extremely cool. There is something about him which eases your tension and eliminates your stage fright. I thought I wouldn't know what to say to him but it was like a completely normal situation. I didn't know what kind of a person he would be. You just see people on screen but you don't have much of an idea about their personality. In fact, he's just as 'normal' as me!
How do you find Anna University?
Awesome! I could feel insane energy emanating from the crowd!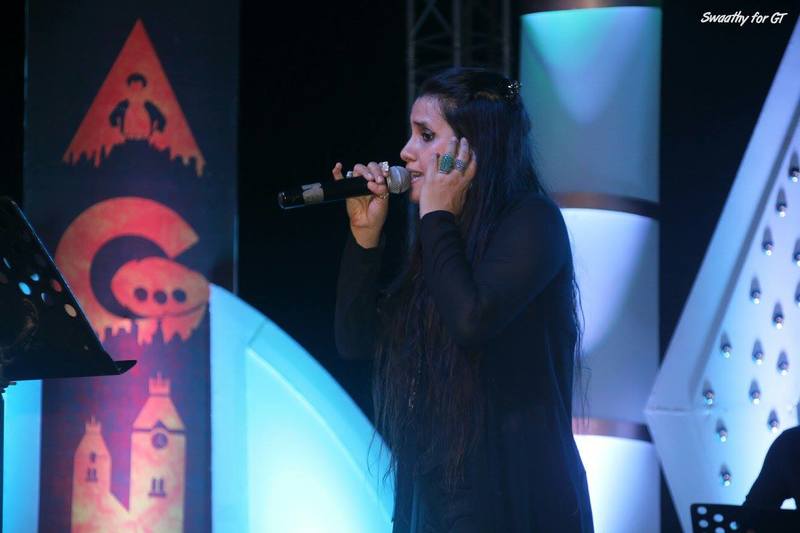 How different is performing on a stage and singing in a studio?
There's a huge difference! On stage there is more focus on your performance and your chemistry with the audience. However, in a studio it's about precision singing. I think I enjoy the stage more because it's more organic and you get to interact with many people.
Tell us about your views on independent music.
I make my own music and I think that every musician, singer and artist should do the same too. There seems to be a rise in independent music, with the emergence of platforms such as YouTube. I performed a few Coke Studio songs for the crowd today. Coke Studio is essentially an independent music platform. It's nice that it is being received well by the public. Madhan Karky has introduced DooPaDoo which is an independent music platform in Tamil. A lot of people from the film industry are also promoting independent music. It's good to know that the initiative has been taken!
What can you tell us about your band?
They're awesome! (pauses and then breaks into laughter) what do I say? They're all pretty young and our drummer is only 19. Everyone is fresh out of college but they're all professional musicians. They're the lifeline of the performance.
How do you manage to sing Tamil lyrics?
You should tell me that (chuckles). I don't know how many mistakes I've made. This performance was definitely tough for me because I usually perform songs which are a mix of Tamil and Hindi. There are not too many Tamil songs. As I do a lot of shows in Kerala, I have even started singing Malayalam songs. Whatever the language, I love performing! Today my choice of songs were predominantly Tamil, and so I was hiding behind the lyrics for many of them to ensure I didn't make any mistakes!
What are the genres of music you are most passionate about?
I like doing a lot of English and Sufi numbers. I am also a trained Hindustani singer. All the other styles are evolved from this. But nowadays I don't think anything is genre-specific. Everything you hear has overlapping genres- you can barely classify songs anymore. I love doing all styles. If you take a look at my collection there will be one Ghulam Ali song and one Alicia Keys song, among several others.
Nowadays a lot of singers are emerging through different platforms such as YouTube, Facebook, etc. What are your thoughts on this trend?
I think it's awesome. Because of these platforms there are many independent musicians and so many people would not have got the opportunity to be who they are and where they are right now. They would not have gotten an audience if not for these platforms. Many people like Jonita (Gandhi) for instance, have risen to fame from the internet. It's amazing that the power to make it big is accessible to everyone now.
We, The Guindy Times, thank Nikita Gandhi for taking time off for this interview, and the Arts Society of CEG for facilitating the process