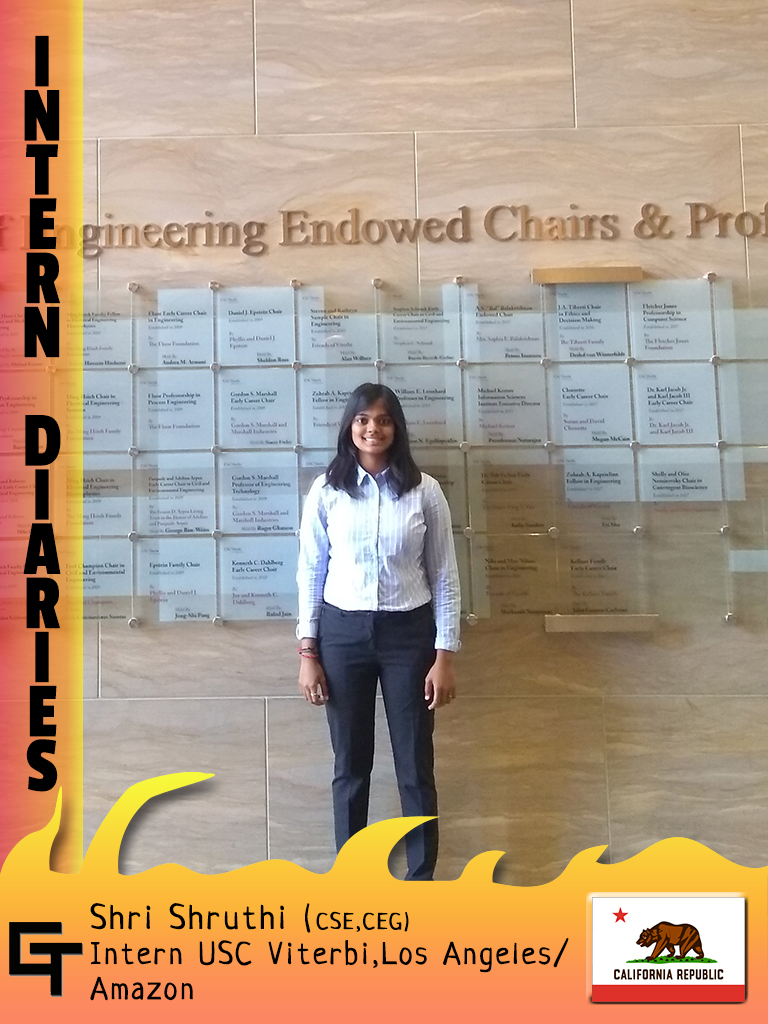 "The expert in anything was once a beginner".
Since a lot of students are aspiring to have such a beginning in their career, GT has taken an initiative to guide students with its new series called 'Intern Diaries' which aims at interviewing some of the interns in our college on their intern life including how they applied for it and the status of their internship in order to help aspiring students.
One such intern experience has been shared by Shri Shruthi who is currently doing her research internship at Viterbi School of Engineering, USC along with a corporate internship at Amazon.
"I believe that every internship has its own challenges. If challenges are not there, it won't work well", says Shri Shruthi, a final year student of Computer Science and Engineering.
Interviewer: Suwamiya Nandakumar
Interviewee: Shri Shruthi
GT: To begin with, the Guindy Times warmly wishes you for successfully completing your internship at Amazon. Could you start by telling your juniors how you came to know about the internship at Viterbi School of Engineering, USC and how you applied for it?
SHRI SHRUTHI: Viterbi School of Engineering, USC offers internship programs every year. The Viterbi India program has been sponsored by IUSSTF, Indo-US Science and Technology Forum. You can apply for this online. I got to know about this program from some of my seniors. I also heard about other internship programs such as the DAAD-WISE program through which you can intern at Germany and the MITACS program through which you can intern at Canada.
GT: When is the right time to start applying for internship programs?
SHRI SHRUTHI: For internships at Viterbi, the online application process opens in the month of September and closes at the end of November. So you need to fill the application and enclose the LOR – Letter Of Recommendation. You also have to mention your projects and internships and select three professors with whom you would want to work. If they like your works and projects, they will select you. In the Viterbi-India program, a maximum of 20 students from India have been selected every year.
GT: The most important thing in the selection process is resume screening. Can you give your juniors a few tips on how an ideal resume should be?
SHRI SHRUTHI: You need to make sure you highlight your projects, your previous internships and your publications in your resume. You should mention your basic information, obviously. The work experiences which you are mentioning in your resume should be listed out in the reverse chronological order that is from recent to past. You need to prioritise your details based on the kind of internship that you are going to apply for. For example, for a research and engineering internship, you should highlight the details about your projects, internships and publications in your resume.
GT: What was the most challenging part of the interview and how did you face it?
SHRI SHRUTHI: At Viterbi, we didn't exactly have an interview. For DAAD and MITACS programs, they just ask about your projects and some technical questions. A general foundation is basically very important for an interview if you want to ace it easily. More than that, when you apply for an internship with your resume, they will definitely ask you about what you had done in your projects and your previous internships; your answer to that question influences their first impression of you.
GT: Since CEG is known for 'alumni power ' and 'seniors' support', how much did your seniors help you to prepare for the internship?
SHRI SHRUTHI: My seniors helped me a lot with the application procedures. Even for the DAAD programs, they helped me to apply for the professors with whom I wanted to work with and also referred me to the professors with whom they have worked before. After I got selected, they continued to direct and guide me.
GT: Does the institution, where you are interning now, provide food and accommodation for you?
SHRI SHRUTHI: We are not sponsored by the institution. But the IUSSTF, Indo – US Science and Technology Forum which is a contract between Indian Colleges and USC sponsors us and provides us a stipend. They book our flight tickets. Using that stipend, we have to plan our accommodation, food and everything else.
GT: What are the difficulties you are facing during the internship?
SHRI SHRUTHI: I believe that every internship has its own challenges. If the challenges are not there, it won't work out well. My internship has plenty of challenges. It is nucleated with new people. In academics, you may know some topic but sometimes you don't. If you don't know something it will add up to the challenge. For me, it is kind of new. But I like to work on new topics. This is the biggest challenge I feel I face but I like it.
GT: At times, new places can cause homesickness, especially for someone who has never been away from home. Is that ever a challenge for you? Can you give your juniors any words of advice?
SHRI SHRUTHI: No, I do not feel any sort of homesickness, but it doesn't mean that I don't miss my home. Once you start liking your environment and focus on your work, you won't feel homesick. Only if you give up and lose hope, you may feel that way, I suppose. So, you need to make sure that you are in a peaceful environment during your internship. It will matter a lot. Roommates are also important since you are going to stay together and work in a short space.
GT: How much does your internship help your career? What are the benefits you are going to get out of it?
SHRI SHRUTHI: In Viterbi, I got to have a new research experience and an opportunity to work with different people. I learnt, from those people, the way they used to get their work done. In academics, I got to meet a lot of PhD Scholars, M.S. students and well-experienced Professors. I was inspired by such hard-working people. In research internships, from your professors itself, you can get a LOR to apply for M.S. If they have any industrial contacts here in the US, it could be really helpful. Say you are applying to Amazon, you can get a referral from your seniors who were working before and attend the interview processes. More than that, you can get a lot of contacts.
GT: Can you share some words of wisdom with your juniors who are aspiring to do internships this forthcoming year?
SHRI SHRUTHI: If you want to do a research internship, you can start working with your professors in your own college in small projects. As for other internships, you need to prepare by putting in an extra effort. From the foundation itself, you can try out a lot of projects. If you have a lot of project work experiences, it will help you hugely. Because everyone wants students who have a lot of work experience and practical knowledge. And also if you get a letter of recommendation from a professor with whom you have worked in projects, it will be valued higher than the normal LOR. Because normal LOR just says how you are in the class but project-wise LOR talks of your technical skills, your experiences etc. So people are more likely to notice you and select you. Make sure you highlight your positives in your resume.
GT: What do you think about GT's Intern Diaries?
SHRI SHRUTHI: I am also a part of GT. I really like it. I think it is going to help a lot of people and I hope everyone utilises this opportunity.
The Guindy Times thanks Shri Shruthi for spending her valuable time with us for the interview and wishes her to reach glorious heights in her life.