"A career should not be something that is forced upon us; but what we choose to do."
With this thought, the Society of Mechanical Engineers, College of Engineering Guindy (SME – CEG), organized a career guidance program on October 4th, 2016. Titled 'Craft Your Career,' this workshop, which was held at the Henry Maudslay Hall at the Department of Mechanical Engineering (DME), comprised of interactive sessions on five different sectors, viz. information technology, manufacturing, entrepreneurship, public sector units and higher studies.
"Opportunities in Information Technology"
A Talk by Mr. A J Balasubramanian (Director, Aigilx Health- an online platform for medical solutions)
A commonly heard name in the Alumni Association of CEG (AACEG), Mr. AJB is a Mechanical Engineering Graduate from CEG. He spoke on the transition of his career into a different field and what it takes to succeed cross-functionally.
The highlight of his speech was the diamond model of ASSET – Ambition, Soft Skills, Education and Talent, enumerating that the right balance of all these components would lead to success. According to him, soft skills are not something that can be taught by means of a fixed method, but have two main aspects – dealing with one's own self and dealing with others. He substantiated this with the hesitation of the students to answer a question openly, or even ask questions. While they are encouraged to be confident, they also have to speak in a non-offensive and relatable way towards their listeners.
Why should one concentrate on academics?
"Firstly, one has to do justice to the time he spends during a course of study; secondly, the interviewers probe into the areas of interest of the interviewee.", advised the speaker. Quoting "Education is what you remember after forgetting", he insisted that providing solutions to real life problems by understanding the situation is far more important than scoring marks.
When asked about the shift from being a Mechanical Engineer to someone in a different field today, he detailed on the concept of portable competency, which would primarily require the trait of adaptability to change at any point, and the ability to work with different kinds of people.
Mr. AJB also spoke along the lines of hard work, stating the principle of '10000 hours of intensive work', which can be split of 1000 hours for 10 years, with the 1000 hours still being compartmentalized as 5 hours per day for 200 days a year.
"Money may be a medium for happiness, but it is not the ultimate goal; so do something which you are not perfect at," he opined, signing off with the metaphor that one should always increase goals incrementally like the high jumpers raising the bar in steps of one centimeter or two.
"Industrial Expectations in Manufacturing and Production"
Talk by Mr. K. Thangasamy (Manager, Sundaram Fasteners Limited)
While knowledge of the textbooks might come in handy occasionally, Mr. Thangasamy emphasized that communication skills, ability to lead, updating oneself with the latest trends in technology and automation advancements, and ability to multitask are some of the characteristic attributes that would make one a perfect fit in the work environment.
He also shed light on the difference between a supervisor and a mentor elaborating that a mentor is the one who bridges the gap between the various ranks of a company seamlessly, without taking the position of authority.
The speaker also threw light on the ideas of versatility and being ambitious, adding that the leadership traits ought to come from childhood, and cannot be fed in during corporate life.
Brainstorming, discussing and learning more!
Interactive session on 'Entrepreneurship' with Mr. Balamurugan Kanakasabai (Founder of startups-Amshuhu iTech Solutions Private Limited, and Learn and Publish )
Mr. Kanakasabai began his talk by stressing that passion towards a solution, and converged focus on one solution are the two important prerequisites to become an entrepreneur, apart from aspects like adaptability, knowledge about markets, and perseverance. He answered quite a lot of interesting questions put forward by the students.
"Would capital not be a hindrance to an idea?", asked one of the students.
"Capital is one primary requirement, at least during the nascent stages of the growth phase of the startup. However, your idea would demand the inflow of capital resources. There are angel investors who are ready to invest in out-of-the-box, revolutionary ideas, and crowdfunding has become the talk of the town now. So, it is important that you have a good idea, rather than probing too much on the lines of capital in the beginning stages", replied the speaker.
The session, which inspired all the 180+ participants, brought the forenoon to a close.
The post-lunch sessions started off with two speakers giving a sneak peek into "Life at Public Sector Units".
Two incredibly inspiring speakers: Mr. Vikram G. and Mr. K.V. Ramani
Mr. Vikram G, who graduated as a Mechanical Engineer in 2014 from CEG, delved deep into the nuances of life at Public Sector Units. Having secured AIR 409 in the GATE exams, he joined BARC (Bhabha Atomic Research Centre), after which he shifted to IGCAR (Indira Gandhi Centre for Atomic Research), Kalpakkam.
Mr. K V Ramani was one of the proud pass-outs of the first 'four year Mechanical Engineering batch' in 1984 from CEG. Working with BHEL (Bharat Heavy Electricals Limited) for the past 31 years, he was able to provide insight into how a public sector job is actually more open to development in terms of research and engineering, and also comfortable, than the corporate opportunities.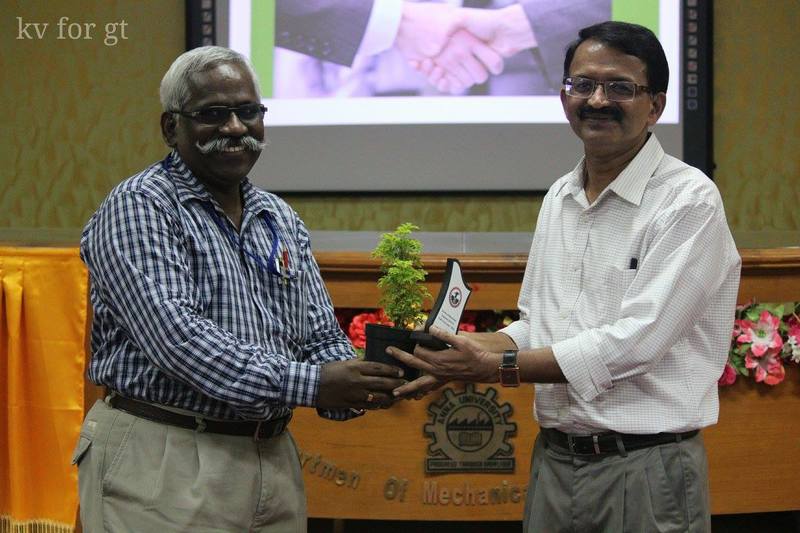 There was sheer distinction in the talks, as Mr. Vikram's thoughts were reflective of a beginner with mounting interests to pursue further education (he is studying M. Tech in Nuclear Engineering from Homi Bhabha National Institute, simultaneously), while Mr. Ramani's words on the exposure and work culture came out as a result of the invaluable experience gained over the years.
Concluding session: Opportunities for Higher Studies
Talk by Mr. Rajesh Balasubramanian (Founder of 2IIM coaching institutes)
An Electrical and Electronics Engineering graduate from IIT-M with a PGDM from IIM – B, the speaker's caliber was evident as the session opened up right away to questions from the participants.
Excerpts of the interactive session:
Q: If I am to do a management degree, what is it that I should take away from the four years of my engineering life?
A: Management is not something exclusive; you are going to be a Manager of something you are familiar with, which would be your engineering knowledge in this case.
Q: How important are CGPA and arrears while applying for Masters (both research and management)?
A: It may sound a bit alarming, but CGPA does matter quite a lot while applying for any course. Your aggregate might not be the factor that decides your expertise, but it does act as a trump card for preliminary filtering of applications. So, I would advise you to maintain a great academic record. Anything above 8.0 can be deemed as good, although I would recommend that you aim higher.
Q: How easy or difficult is it to crack CAT?
A: CAT is an exam, which tests your fundamental knowledge in mathematical and comprehensive ability, apart from logical reasoning. Anybody who is aware of 9th grade Math can crack CAT with adequate practice. One important aspect to keep in mind is the time constraint that comes into play with any competitive exam. That being said, I assure it is not that difficult. You can not only pass these exams, but also ace them, being students of one of the top ranked institutions. This applies to other examinations like GRE, GMAT, etc.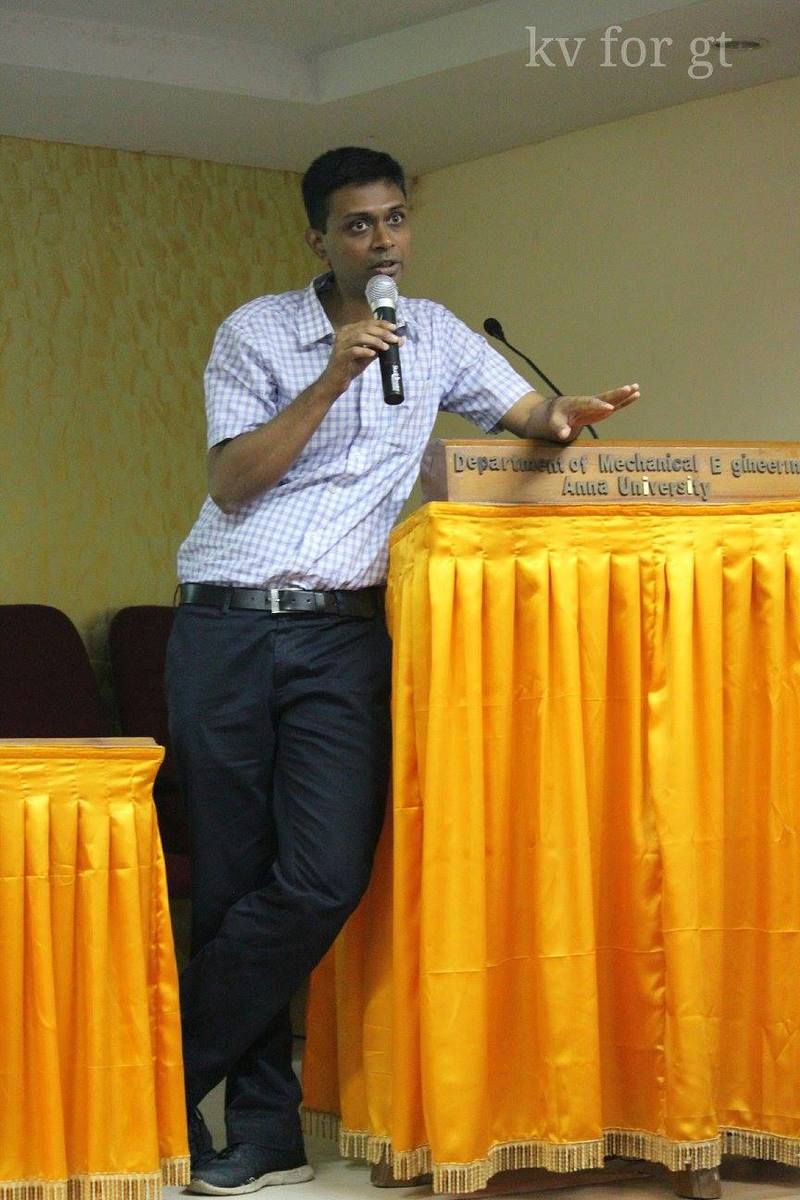 Q: How much do the TOEFL preparations vary from that of GRE?
A: GRE is a test that focuses on how much you can adapt yourself to the grad schools abroad, and that is precisely the reason they have quants and verbal in equal quantity. TOEFL gives an overall picture of how well you can survive with the lingua franca in the country where you would pursue your higher studies; for this reason, there are separate listening, speaking and writing parts.
A fitting end to the day's events
As the final session drew to a close, the participants could be seen visibly elated to have found a way towards their career choices. As a token of gratitude, all the speakers of the day were presented with a memento; a sapling was also presented to all the six speakers, in line with the eco-friendly theme – Mech It Green – that the Society of Mechanical Engineers is embarking on this year.
Dr. S. Senthil Kumaran (President, SME) thanked all the guests who had embellished the day with their inputs, and wished all the participants luck in their future endeavors.
In the shoes of the participants
"The workshop was very useful and informative. It was an eye opener about entrepreneurship and also on PG programs. Looking forward to more of this kind", exclaimed Ram Balaji, one of the participants when asked about the proceedings. The certificate distribution followed, bringing the curtains down for an event that differed from the norms of your regular symposium.